GRAND RAPIDS, Mich. — Chuck E. Cheese is celebrating its reopening at its 28th Street location.
The Community Reopening Party is Friday, Sept. 1 from 5 p.m. until 7 p.m. and comes after the restaurant completed its remodeling.
At the party, you can enjoy free grab bags for the first 50 kids, cake, a raffle and special appearances from Helen, Munch and Chuck E. Cheese.
The grab bags include either a two-hour "All You Can Play Games" pass for the event or 250 e-Tickets to use toward prizes.
The location is also offering five free "Play Points" for each back-to-school supply donation, with a limit of four items.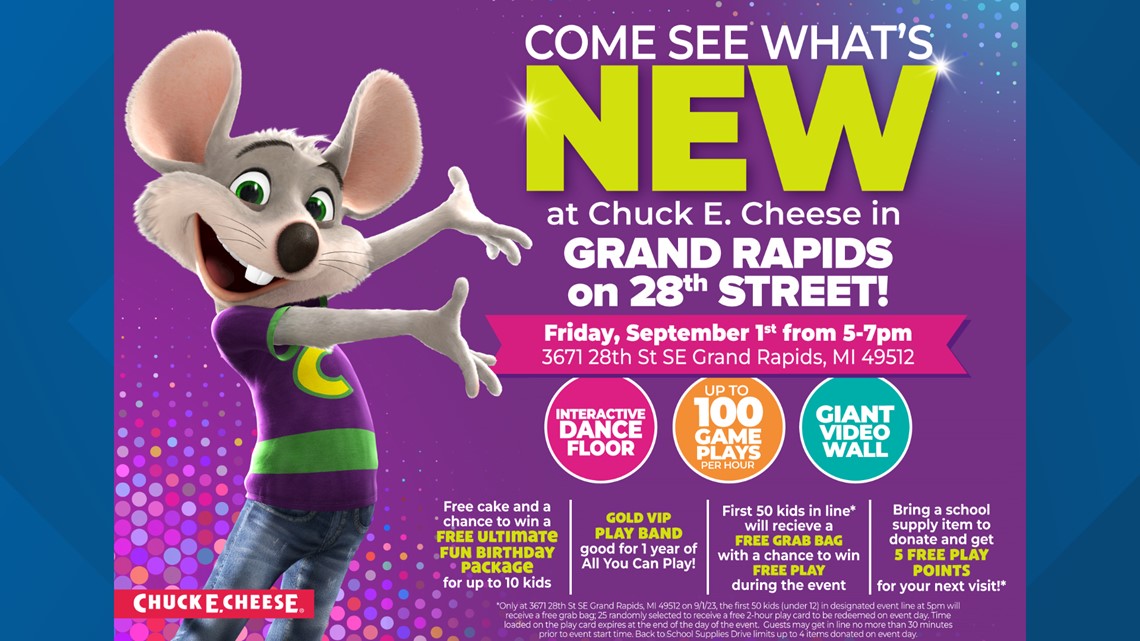 Chuck E. Cheese will also be donating 20% of all proceeds from the event to one of the company's local non-profit organizations.
New features at the location include:
Popular arcade, sports and kid-focused games
Interactive dance floor
Large format video wall and screens
Audio connected throughout the fun center to provide an immersive experience
"The Chuck E. Cheese experience has been reimagined to plus up the fun for families with more games, updated technology enhancements, and innovation within its fun centers," the company said in a release.
This is the second location in the Grand Rapids area to reopen after a complete remodel. The Alpine location celebrate its reopening earlier this year.
The 28th Street location is located at 3671 28th St. SE in Grand Rapids.