GRAND RAPIDS, Mich. - If you were downtown Grand Rapids at any point Saturday morning and were wondering why hundreds of cyclists were filling the roads -- it was because of the sixth annual Gran Fondo.
More than 1,700 participants were expected to bike through scenic West Michigan on Saturday, June 23. The timed, non-competitive cycling event benefits Michigan State University College of Human Medicine's skin cancer awareness, prevention and research.
The Gran Fondo is a nationally recognized cycling event and has drawn participants of all ages from 20 states – some as far as Florida, Utah, Texas, New York – and even London. Cycling legend George Hincapie will also join the event, riding the 80-mile route. Italian for "big ride," cyclists of all skill, and now ability, levels will ride 12, 25, 40 or 80 miles. Some participants are avid cyclists, while others are riding to honor a loved one or their own battle with skin cancer.
Some of the first handcyclists raced in the Gran Fondo as well. Two of the Mary Free Bed Wheelchair and Adaptive Sports team rode in the event Saturday morning.
Tyler Anderson, from Jenison, was born with spina bifida. With being in a wheelchair his whole life, Tyler got involved in wheelchair sports. He was the first Michigan athlete to make the national sled hockey team. Now he coaches with a youth sled hockey team when he isn't racing on the handcycle.
Bryan Wilkinson, of Brighton, was injured in a dirt bike accident when he was 19. Wilkinson had a complete T5 spinal cord injury leaving him a paraplegic. After recovering at inpatient at Mary Free Bed Rehabilitation Hospital, Bryan started playing wheelchair basketball and tennis. He created a handcycling team for Mary Free Bed and even started a business to help those in adaptive sports.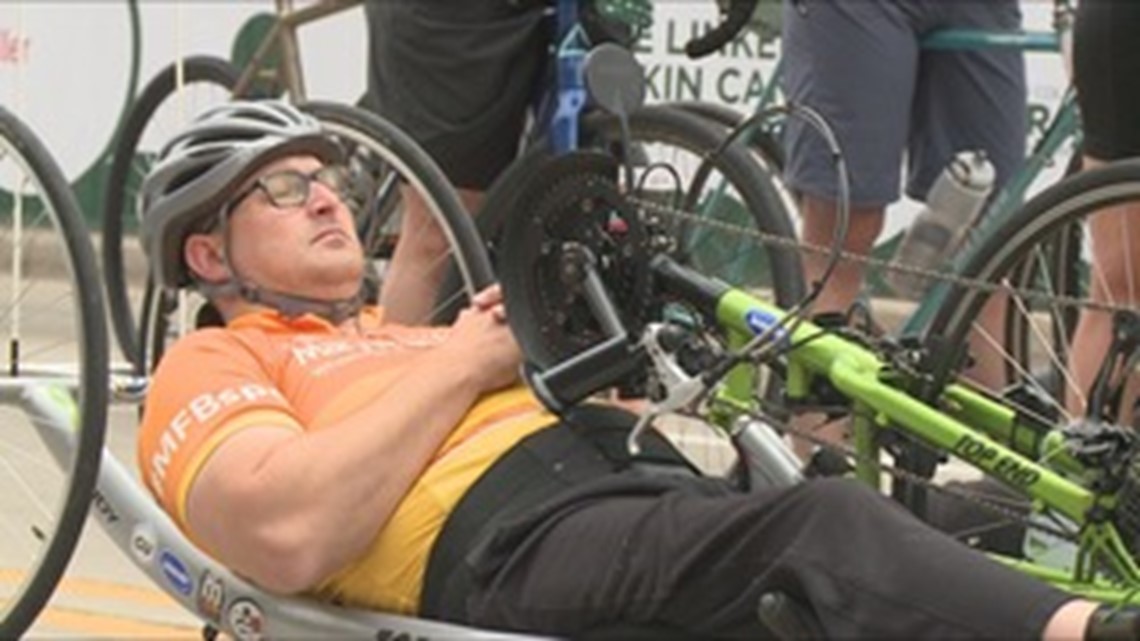 All routes start and finish in downtown Grand Rapids with the longest route's halfway point at Lake Michigan. Riders enjoy superfood stops along the route and celebrate at the Finish Line Festival with live music, craft brews and a grand feast.
Since the event began, the MSU Gran Fondo has raised more than $810,000 and funded several skin cancer studies, including researching a new drug that stops the spread of melanoma by 90-percent. Participants have already raised an additional $140,000 this year.