GRAND RAPIDS, Mich. — SUPREME PIZZA PASTA BAKE
1 lb. penne pasta (any kind of pasta will work)
2 cups pizza sauce (or improvise with a combination of tomato sauce, pizza sauce and/or marinara)
Assorted toppings - cooked sausage, bacon, pepperoni, green olives, onions and mushrooms (whatever your family likes)
1 teaspoon salt
½ teaspoon pepper
1 teaspoon granulated garlic
2 cups shredded mozzarella cheese
Parmesan cheese
Red pepper flakes
Basil
Add pasta to boiling, salted water and cook according to directions on package. Drain and set aside.
In a large bowl, mix the pizza sauce, toppings, and the seasoning ingredients together. Then add the pasta to the mixture and fold all ingredients together. Place in a 9-x-13 baking dish and top with shredded cheese. Bake for 30 minutes, or until cheese is completely melted.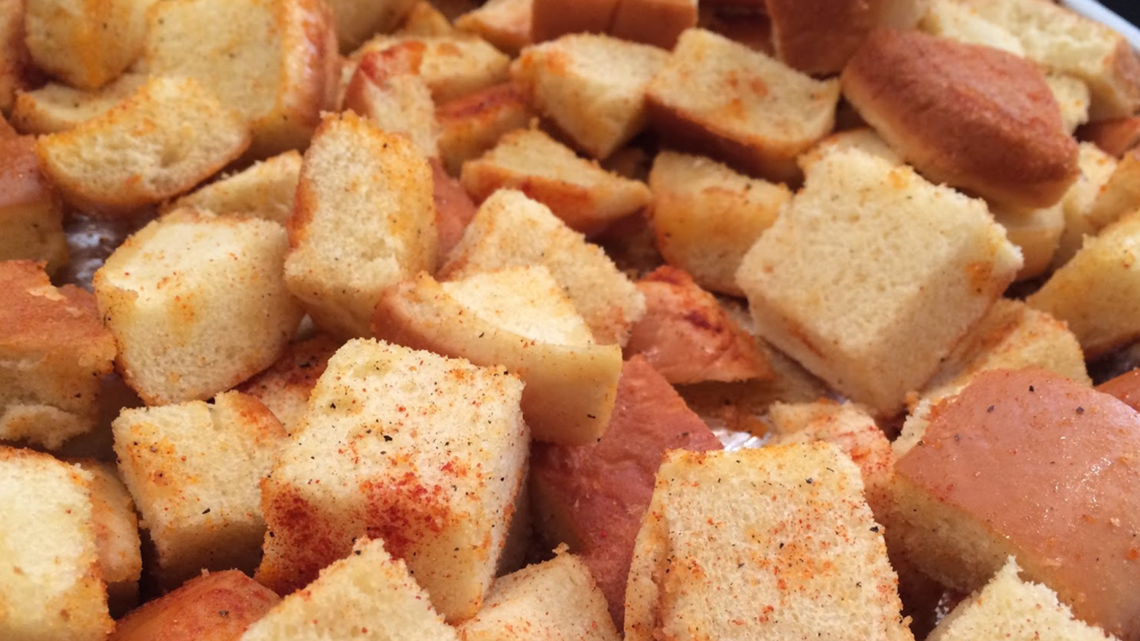 1/2 cup oil
2 garlic cloves, grated
1 tablespoon house seasoning (salt, pepper, garlic, onion and smoked paprika)
1 pound French baguette or country bread, cubed (about 10 cups)
Combine the oil, garlic, and seasoning. Add the cubed bread to a bowl, then toss in the oil mixture to thoroughly combine. Add the cubed bread to 2 large baking sheets. Bake for 12-15 minutes.
Let croutons cool and add to a zip-top bag or an air tight container and store in a cool pantry.
Croutons are the perfect way to elevate your weekly meals. Use them on soups, salads, chili, or place them in a food processor and use them as breadcrumbs in meatloaf and meatballs. They can also be added to an egg bake. I have 7 different ways to use them, along with recipes, on my website Nom News. https://www.nomnews.com/single-post/2020/03/22/Quarantine-Cooking