Evan Edwards of Grand Rapids is hosting a unique seminar in which participants will learn about the origins of plants while using them to prepare meals. There's also suggested reading material that will be discussed on a weekly basis, and it's all part of an effort to bring similar learning opportunities to West Michigan.
"It's kind of like an intensive book club seminar and dinner," Edwards said. "I think we're going to have a great time. It's going to be good food, we're going to talk about some really great texts, but it's also a step toward having some kind of institution in West Michigan, a place where there's already extraordinary food and extraordinary agriculture, where students can come and experience that at both a practical and theoretical level."
The seminar, which starts Aug. 17 and runs through mid-October, is titled "The Life of Plants." It will offer a chance to learn about locally grown food — in this case, produce that was sourced from Green Thistle Farm in Clarksville.
"If I'm going to be cooking food and I'm going to be working with plants and working with the moral responsibility of stewarding plants from the farm to the table, then I should understand that whole process," Edwards said. "It's life-giving in the same way that cooking is. It's something that I think everybody should have some experience in. And I think, through the pandemic, there's been a huge push for people to start growing their own food. And I think that's one of the best things that's come out of the pandemic."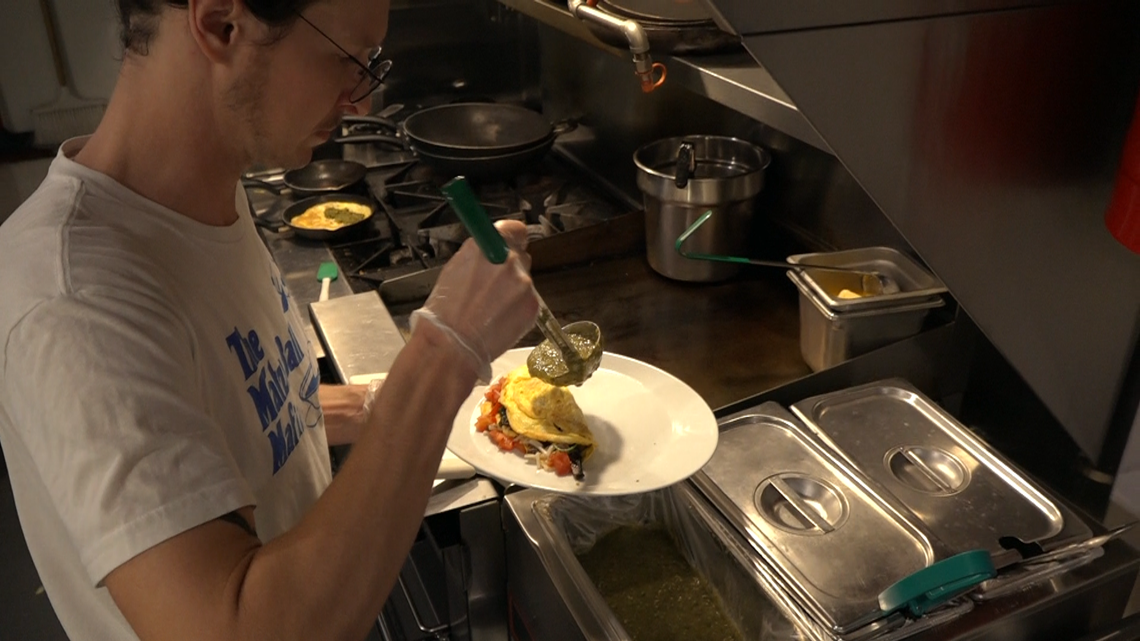 Edwards has two drastically different resumes, one involving a career with food and one involving academics. His dad owned a restaurant, so he's worked in those environments since childhood and still loves preparing food for people. But for the last six years, he's worked in universities doing adjunct work and teaching in different departments, and he's currently pursuing his PhD in philosophy at DePaul University in Chicago.
"I've been trying to find a happy medium between the two," Edwards said. "The hope is to have a space where students can come and do some sort of programming, classroom work, and then beyond that have a kitchen space, market space, and some sort of agricultural space, whether it's a farm or just a garden, where students would be able to get their hands dirty with these things that we're talking about on a theoretical level.
"We're talking about the philosophy of food, theories of agriculture, economics. One of the things I taught at DePaul more than anything else was business ethics. Its great to talk about these things. I feel like I was able to communicate with students a bunch whenever I was working at these universities, but as soon as the bell rung, they were out, and I did not see them until later that week."
His goal, he said, is to have a space where he can do more than just talk to students, by offering a hands-on approach to learning. And he's recently been able to turn his dreams into a reality. Edwards is the director of Kepos College, a new microcollege located in the Creston neighborhood of Grand Rapids. The upcoming seminar is the first course being offered at Kepos.
"It's sort of taking the model from this place that I worked at last fall called Thoreau College in Viroqua, Wisconsin," Edwards said. "It's a small school and it's part of this microcollege movement. We had 11 students and four faculty members. So the teacher to student ratio is quite high, so you get a lot more close contact with the people that are instructing you. We lived in communal housing, we grew our own food, we had lunch every day. That was most of my job, was making lunch and feeding the students.
"But then we would have afternoon work sessions where some students would go off and work in the greenhouse to sort of generate income there and learn about gardening, and some students would come to work with me in the kitchen. We would do preservation of all the stuff that was coming in from our gardens. It was a life-changing experience, after being in a university system for so long and restaurants for so long. It kind of seems like those are the two main institutions, and I found this place that was really the sweet spot between the two. And it was incredibly bittersweet to leave there. If anything else, I need to do that here. So that's more of the long-term vision."
To learn more about "The Life of Plants" seminar and Kepos College, CLICK HERE.