COMSTOCK PARK, Mich. — A stay-at-home mom of 18 years decided to go back to school to set an example for her daughters. Along the way, she combined two of her passions — geology and art — to create a product for sale right now at the Grand Rapids Public Museum.
Cassandra Tiensivu of Comstock Park raised her now 18- and 21-year-old daughters and decided it was time for a new project.
"I always loved science. So for me, if I'm going to do something with my art, and I can incorporate the science, why wouldn't I?" she said.
Since they were little, Tiensivu instilled the need for her daughters to get a college degree — so, she finally decided it was time to practice what she preaches.
"How are they supposed to take my words as fact when I had nothing to back them up?" she said.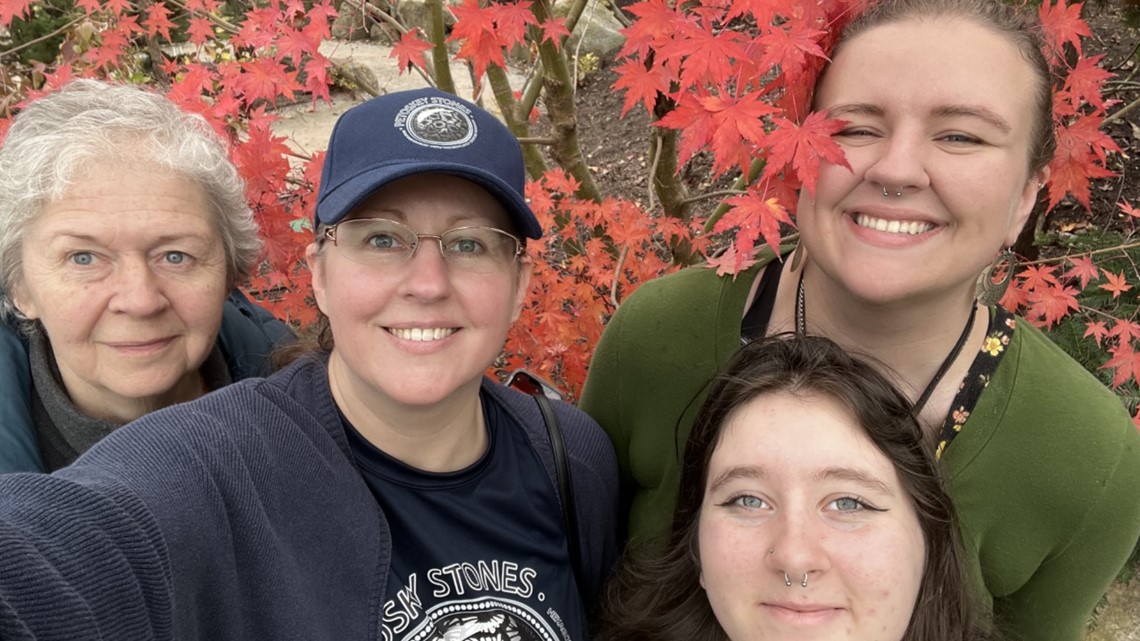 Tiensivu now goes to the same school as her two daughters: Grand Rapids Community College.
"The other day, one of them was like, 'I can't find the water fountain, come and show me where this is.' So we're all like, just together helping each other out."
She had to back away from classes in 2018 after her oldest daughter was diagnosed with cancer. But now that she's recovered, Tiensivu is back and better than ever.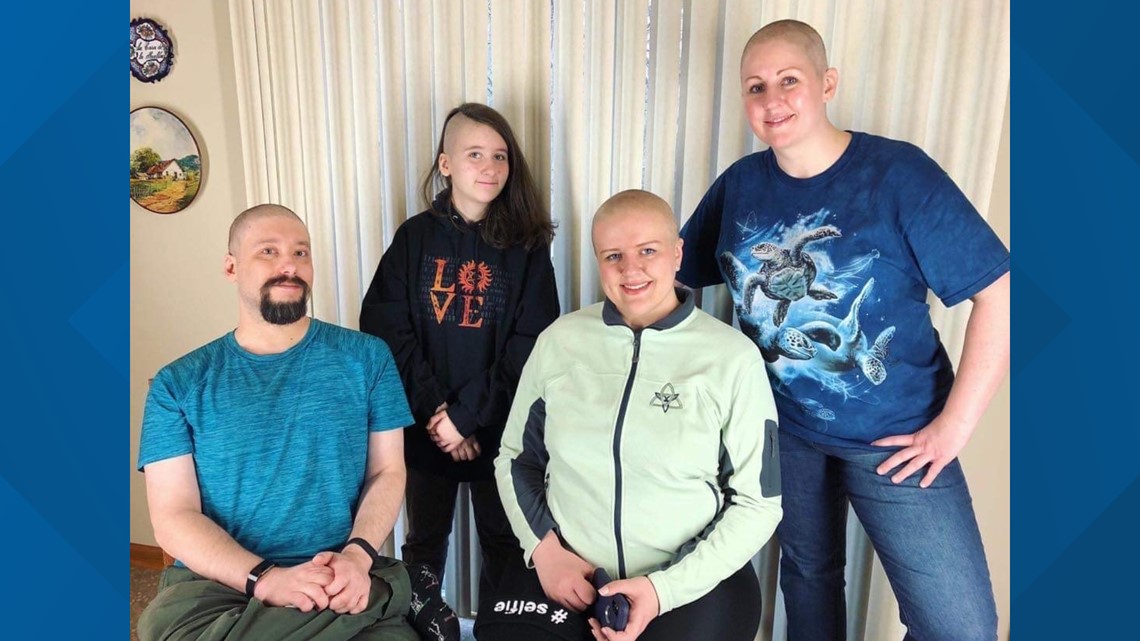 In fact, she and her daughters help each other through their courses every chance they get.
"We're sharing calculators and all sorts of fun stuff," she laughed.
Majoring in geology, she reignited her passion for fossils.
Tiensivu made a drawing of a Petoskey stone and created an enamel pin for a geology conference she was attending, but she figured it was a product more than just people in her field would be interested in.
Tiensivu asked around at local vendors to see if anyone would want to sell them, including the Grand Rapids Public Museum.
"I had just gotten through taking it to another place where the person there was not interested at all, and it was a complete flip. When I went to the Public Museum, they were like, 'These are super cool! We're so interested in these!'" she said.
The pins are sold right next to the checkout counter at the gift shop.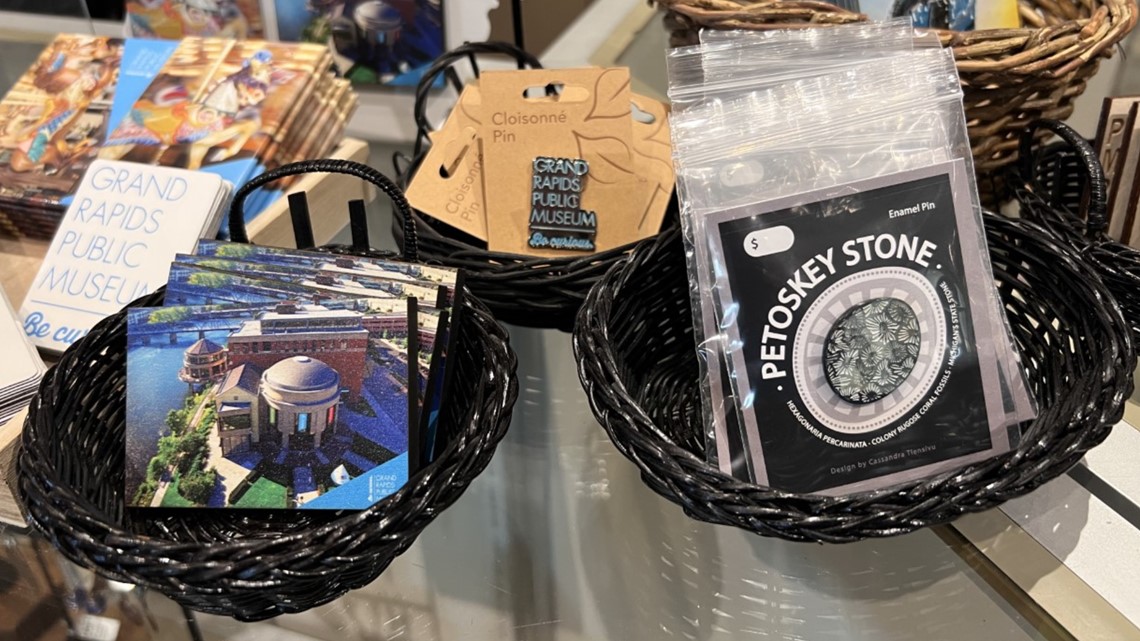 "Totally was a pride moment," Tiensivu smiled.
She said this creative energy fueled her into her next passion project: selling products with space-themed kittens complete with scientific backstories, called Celestial Kittens.
Tiensivu started a Kickstarter for the project and raised over $150 within the first 8 hours.
"Now we just need to keep the momentum going," she said.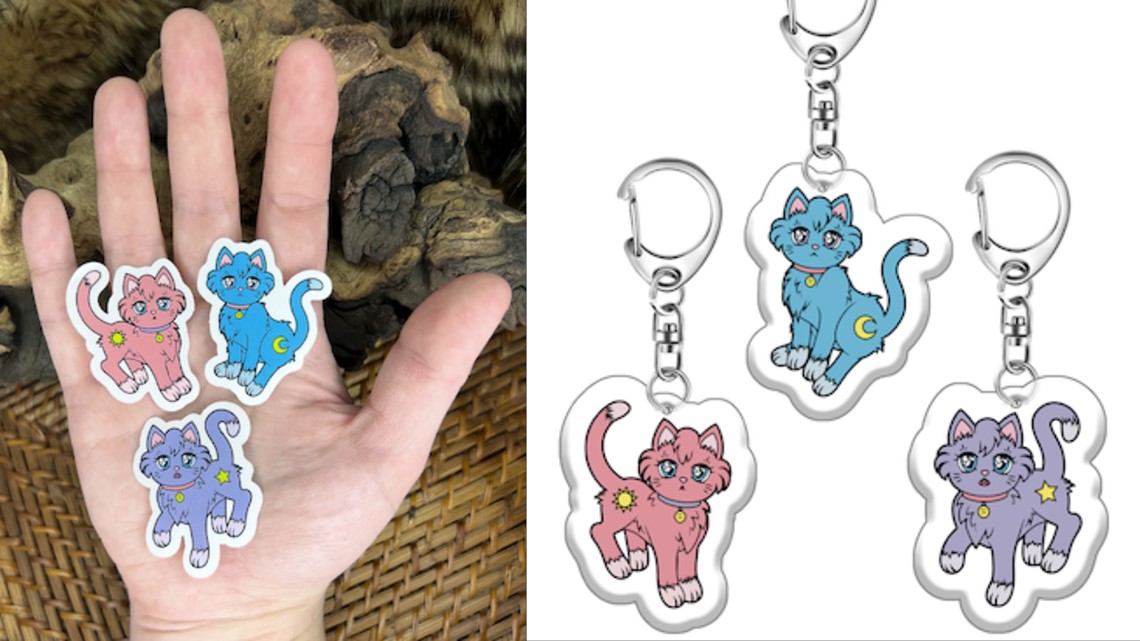 In the future, Tiensivu hopes to her sell her stone pins in more tourist hotspots across Michigan. She also hopes to create a children's book with her kitten designs — to ignite the love of science in children, just like she always had.
Tiensivu took a load of stickers to Helen DeVos Children's Hospital, and says they were a hit with the older kids. She hopes to get her products into more children's hands as soon as her project is funded.
For now, she'll be at her kitchen table, designing characters and working on chemistry homework with her girls.