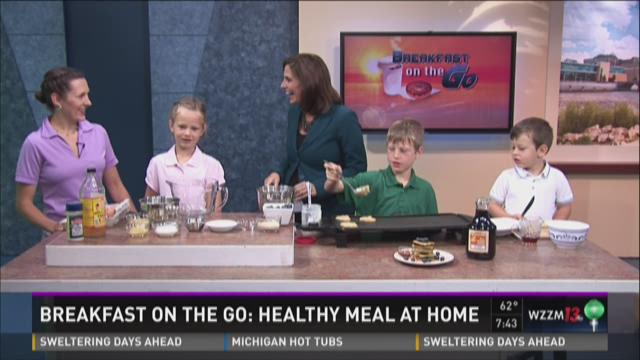 Gluten Free Blueberry Pancakes
•¼ c. unsweetened applesauce
•¼ c. coconut milk (or whole milk)
•½ banana, mashed (optional)
•1 tsp. apple cider vinegar
•3-4 Tbs. packed coconut flour
1.Prep note: If your coconut oil is solid, melt it. I like to use my metal measuring cup right on my griddle as it preheats so I don't dirty another pot!
2.In a medium-sized bowl, mix all the ingredients except the coconut oil, coconut flour and blueberries.
3.(I like to use a tool that can mash my banana right in the bowl.)
4.Heat a cast iron griddle orenameled cast iron pan (or whatever you like to cook pancakes on) over medium heat.
5.Whisk in the melted coconut oil quickly - it tends to solidify when it hangs out with the cold eggs too long.
6.Add the coconut flour, starting with 3 tablespoons. Watch for clumps.
8.Grease your cooking surface with ample fat (coconut oil, tallow or lard are great choices).
9.Ladle out 3-inch pancakes, adding blueberries (or huckleberries, even better!) right into each pancake.
10.Over medium-low or medium heat, cook a minute or so, until bubbles form on top, then flip and cook another 30 seconds or so until brown on the bottom.
And here's the Kids Cook Real Food eCourse: