Years of research show a father's involvement in a child's life yields positive outcomes. One Kent County organization is working to help encourage and support the role of fatherhood. Healthy Kent Dad's Count Fatherhood Coalition is a community initiative that works to educate and encourage dads starting from the time their children are in the womb. Matt Haviland, a member of the coalition, says the goal is to provide the same type of support commonly seen given to mothers.
"Our goal is to bring more awareness and equip fatherhood programs and dads themselves to achieve the goals of being responsible, involved and committed in their children's lives," says Haviland. "When dads are involved we see better academic performance, we see better behavior and higher achievement on tests and so on. And, that is true whether a father lives in the same home as the child or not."
Haviland says, too often, challenges like single parenting, divorce and financial strain can impact those father-child relationships. Dad's Count teams up organizations across West Michigan to provide support groups, programs and events to assist fathers to overcome those challenges.
"Ultimately we are all in this together to help raise children into adults," he says.
On Saturday, Oct. 27, Dads Count is partnering with the Muskegon Area Intermediate School District for the "It Takes Two" fatherhood summit. Haviland says they are inviting all dads and male role models to the free event for a series of fatherhood-focused events. Free lunch will be provided. West Michigan fathers will also be able to connect with other dads and learn about resources available in the community.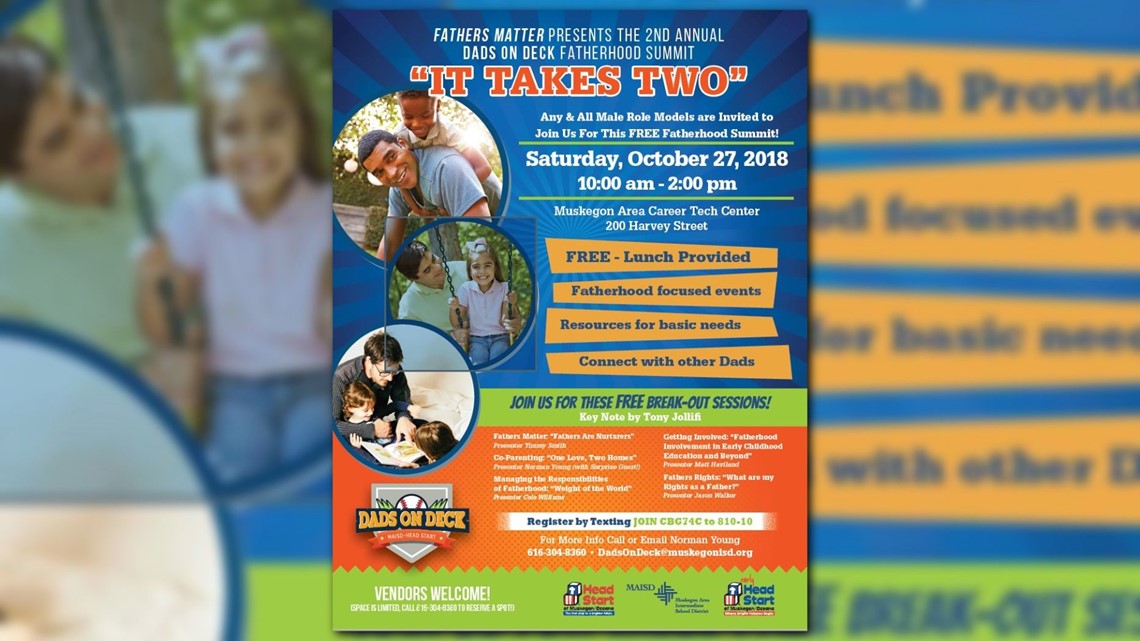 There will be several break-out sessions offering tips on being good nurturers, co-parenting, understanding legal rights and how to be more involved in kids' education. The event is being held from 10 a.m. until 2 p.m. at the Muskegon Area Career Tech Center, located at 200 Harvey Street. Those planning to attend are encouraged to register by texting CBG74C to 810-10.