GRAND RAPIDS, Mich. - Thanksgiving is soon approaching and if you're planning your recipes, we have a treat for you. Some of the 13 ON YOUR SIDE morning teams have come together to share their favorite recipes.
We've divided them up into categories: Savory, Sweet and Drinks. Peruse through and hopefully you find something you might like to recreate! If you do, share a picture with us on Facebook or Twitter by using #BeOn13.


SAVORY
Meteorologist Laura Hartman
Cheesy Potatoes
When I got married a few years ago, I inherited much more than just a husband…I inherited some of his family's favorite recipes as well. These cheesy potatoes are a favorite of my mother-in-law, and once you taste them, they'll be a favorite of yours too. This recipe serves 8-10 people in a 13x9 pan, and you'll never take home leftovers after a holiday gathering.
Ingredients
1 (2lb.) bag hash browns, thawed
1 stick butter, melted
½ cup onion, chopped
1 tsp. salt
½ tsp. pepper
1 cup sour cream
1 can cream of chicken soup
1 cup shredded cheddar cheese
1 cup corn flakes, crushed
¼ stick butter, melted
Directions
Mix the first seven ingredients together. Pour into a greased pan. Sprinkle cheese over top. Mix corn flakes with ¼ cup butter and spread on top. Bake for 90 minutes at 325 degrees.
Notes
It's surprising how little cheese is in this cheesy potato dish. You can always add a little more – I like to stir in the shredded cheese to incorporate throughout the dish.
You can use traditional hash browns or cubed potatoes, depending on your preference.
Make sure the hash browns are thawed. Mixing in the melted butter becomes a lot more difficult with frozen hash browns.
Anchor Meredith TerHaar
Creamed Corn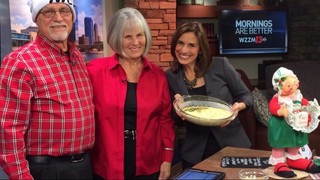 Mer show's us a slightly adapted version of Gulliver's Creamed Corn. It's super tasty!
Ingredients
2 (20 ounce) packages frozen corn kernels
8 ounces whipping cream
8 ounces whole milk
1 teaspoon salt
6 teaspoons sugar (the TerHaars use 6 tablespoons!)
1 pinch white pepper or 1 pinch cayenne pepper
2 tablespoons melted butter
2 tablespoons flour
Directions
Combine all ingredients except last two in a pot and bring to a boil.
Simmer 5 minutes.
Blend butter with flour.
Add to the corn.
Mix well and remove from heat.
Digital Producer April Stevens
Nana's Mac
Growing up, I loved the holidays because it meant that there would be extra cheesy macaroni at every meal. This family recipe has been passed down for quite for generations, and while it is super simple – it's always a crowd pleaser. This recipe serves around 6-8 people in a 13x9 pan. It's important to really pay attention to how everything comes together to make sure it's the best it can possibly be.
Ingredients
3 ½ to 4 cups of macaroni noodles
6-10 cups of grated cheese (we use a mixture of sharp and mild cheese)
1 can of Carnation evaporated milk
4 tbsp. of butter
1-2 eggs
salt and pepper to taste
Directions
Preheat over to 375 degrees
Cook the macaroni noodles to al dente
In a 13x9 square pan, add half the noodles and 2-3 cups of cheese
Pour in about ½ cup of the evaporated milk, straight from the can
Start mixing the cheese, noodles and milk. Add more cheese and milk as you continue to combine. It should start to looking much creamier and orange as you go.
Add the rest of the noodles, milk and butter. Add even more cheese, another 2 cups or so.
Salt and pepper to taste, then crack 1 egg into the pan and mix as well. Do not over mix the macaroni at this point, but make sure the egg is completely mixed in so it won't cook on the surface of your mac-n-cheese.
Cover the top in a layer of cheese and put it in the oven for 30-45 minutes, until the top is golden brown and the edges have started to crisp up.
Notes
If you don't want to buy between 6-8 blocks of cheese, about 4-5 bags of finely shredded cheese usually works just the same.
Leaving your cheese out to warm up to about room temperature makes it easier and melt down before putting it in the over, but it's not required.
If you can't find the large can of Carnation evaporated milk, two small cans are perfect.
Depending on how much macaroni and cheese you're making at once, you may need more than one egg in the container. Pay close attention to how sticky everything is after one egg and add more accordingly.
Don't scrimp on the pepper. Salt isn't as important.
Producer Abigail Stricker
Turkey Meatloaf
A delicious alternative to a turkey dinner. This meatloaf has some of the greatest parts of the traditional Thanksgiving meal including delicious stuffing, cranberry sauce, and of course turkey!
Ingredients
1 box Stove Top Stuffing
¾ cup Milk
1 large egg beaten
1 celery rib finely chopped
1 small onion finely chopped
1 carrot finely chopped
1 pound ground turkey
½ cup whole-berry cranberry sauce
Directions
Preheat oven to 375 degrees.
In a large bowl combine stuffing mix and milk.
Let stand for 10 minutes to absorb.
Stir in egg, celery, onion and carrot.
Combine turkey with mixture and mix well.
Put into a 9x5 slightly grease (spray oil) loaf pan.
Bake uncovered for 25 minutes.
Spread cranberry sauce over top of loaf.
Bake another 20-25 until center reaches 165 degrees.
Serve with additional cranberry sauce on the side.
Photographer Eric Brefka
Mashed Potatoes
You don't have to be fancy if you don't want to. They make instant potatoes you can buy in a box at the store. Eric says those work just fine with butter and gravy. Just remember not to add too much salt.
SWEETS
Producer Mackenzie Brefka
Crumble Pie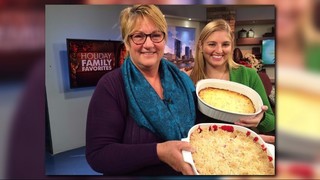 A dessert that will look like you put in a lot of effort, but ends up being incredibly easy.
Ingredients
2 cans pie filling, any kind
1 box cake mix
1 stick butter (melted)
Directions
Preheat oven to 350 degrees.
Pour both cans of pie filling into casserole dish.
Mix melted butter with dry cake mix using a spoon. This may take a bit.
Crumble cake and butter mix over top of pie filling .
Bake 30 minutes or until golden brown along edges.
Let cool just a bit and enjoy.
You can watch Mackenzie and her mom make Crumble Pie and Artichoke Dip last year with us here.
Producer Rhonda Spencer
Chocolate Chip Cookies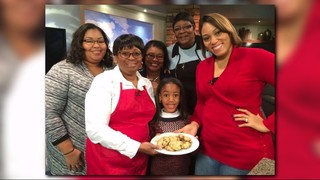 Cookies as classic as chocolate chip never go out of style.
Ingredients
2 ½ cups of flour
1 tsp baking soda
½ tsp salt
½ cup butter ( 1 stick)
½ cup Crisco baking stick (butter flavor)
1 cup brown sugar
½ sugar
2 eggs
1 ½ tsp vanilla
2 cups chocolate chips
Directions
Mix dry ingredients and set aside.
In mixer, cream eggs and sugars on medium speed. Add vanilla.
Add dry ingredients to mixer. Mix well on medium speed.
Add chocolate chips.
Bake at 375 for 8- 10 minutes.
For best results, chill cookie batter overnight or place in freezer for about an hour and a half. You can watch Rhonda make them with us last year here.
Photographer Doug Grevious
Cheesecake Apple Pie
What's better than 1 dessert? Two desserts combined!
Ingredients
Crust
2 cups all purpose flour
1/2 cup firmly packed brown sugar
1 cup (2 sticks) softened butter
Cheesecake Filling:
3 8 oz. packages cream cheese, softened
3/4 cup sugar, plus 2 tablespoons, divided
3 large eggs
1 1/2 teaspoons vanilla extract
Apples
3 granny smith apples, peeled, cored, and finely chopped
1/2 teaspoon ground cinnamon
1/4 teaspoon ground nutmeg
Streusel Topping
1 cup firmly packed brown sugar
1 cup all purpose flour
1/2 cup quick cooking oats
1/2 cup (1 stick) softened butter
Directions
Preheat oven to 350 degrees.
Combine flour, brown sugar, cinnamon, and nutmeg in medium bowl. Stir in butter using a fork or pastry blender until mixture is crumbly. Press evenly into 9x13 baking pan.
Bake 15 minutes until lightly browned.
Now for the cheesecake part. In large bowl beat cream cheese, with 1 cup sugar at medium speed until smooth. Add eggs one at a time and then vanilla. Stir to combine. Pour over warm crust.
Stir together chopped apples, sugar cinnamon and nutmeg (from apples ingredients section) and spoon evenly over cream cheese mixture.
From the streusel topping, combine all ingredients except butter. Stir butter in until topping is crumbly. Sprinkle over apples.
Bake 45-50 minutes or until filling is set.
Serve cold!


DRINKS
Anchor Faran Fronczak
Chocolate Martini
Festive and fun, two words that definitely describe Faran and this drink! She shared a martini recipe that will be sure to please.
Ingredients
2 1/2 oz vanilla vodka
1 1/2 Godiva Chocolate Liquor
1 1/2 oz Godiva White Chocolate Liquor
(For a Mint Chocolate, add 1/2 oz of Creme de Menthe)
Directions:
Combine all ingredients into cocktail shaker with ice. Shake vigorously for 10-15 seconds until ice cold.
Drizzle chocolate sauce in martini glass.
Strain cocktail into martini glass and serve.
Anchor James Starks
Wine
Thinkstock
James says all he needs is some good wine and he's happy. He recommends burgundies.
►Make it easy to keep up to date with more stories like this. Download the 13 ON YOUR SIDE app now.
Have a news tip? Email news@13onyourside.com, visit our Facebook page or Twitter.