GRAND RAPIDS, Mich — Every Wednesday after the final bell rings, the cafeteria at Kenowa Hills Middle School transforms into a card show. Lovers of sports and Pokémon come together as the Kenowa Hills Trading Card Club meets.
"Me and my friends, we bring our cards and we trade. Then some days we open packs and some days we make packs," said seventh grader Noah Hauk.
Noah's buddies and fellow seventh graders Ian White and Owen Griffith are in the club too.
"We normally get into groups and sometimes open the packs up and split up into teams, and we'll see who got what cards at the end," Owen said.
The club started during one of the most emotionally difficult times for students everywhere, the beginning of the COVID-19 pandemic.
"I noticed that there were some social opportunities with COVID getting started," said Deric Chiles who serves as a social worker for Kenowa Hills Public Schools.
"I started up a trading card club that was meeting virtually. It just kind of kept growing by word of mouth and we're now three years later and have probably close to 50 kids that participate in the club."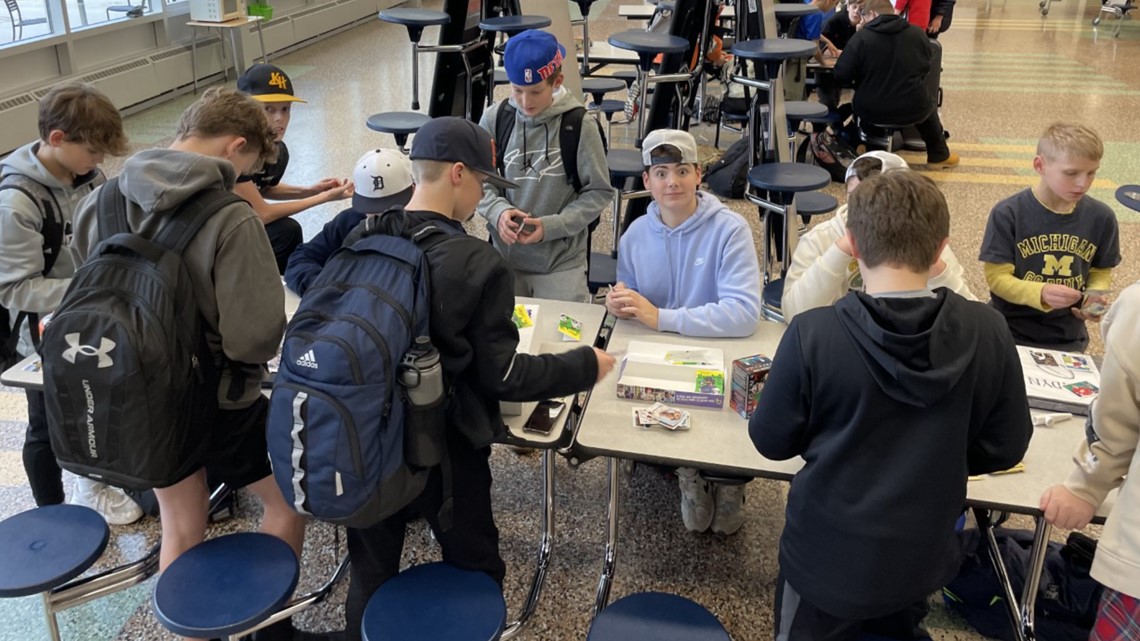 Now, the members of the Kenowa Hills Trading Card Club are using their love for cards to help other kids who are going through a rough patch themselves.
"We got a bunch of leftover cards. So we got the idea to make them into packs and donate them," Owen said.
"They did an amazing job just buying into this project, hearing what we were wanting to do and they really wanted to support the community," Chiles said.
Members of the card club then gifted those donations to young people who are recovering from injuries at Mary Free Bed Rehabilitation Hospital.
"They will be used in our recreational therapy programs, specifically with probably pediatric patients are going to be the ones that enjoy them," said Maggie Smitt who serves as the annual funds director at the Mary Free Bed Foundation.
A look inside recreational therapy at Mary Free Bed
"Recreational therapy is all about using what you love to do to work on your therapy. So for adults, that could be mechanics, woodworking, or gardening. For kids, it might be playing games, or playing with trading cards."
The kids at Kenowa Hills knew the cards would be the perfect gift.
"We enjoy it, so they would enjoy it. They can play around and look at them," Ian said.
"It makes me happy. It makes my day when I make someone's day."
Smitt says there are several options for people who are inspired by the kindness of the card club, and want to make a donation themselves.
"Monetary donations are great. The Foundation does a lot through helping our employees, helping our patients, and helping those in the community. Any support is appreciated. No gift is too small or too large," she said.
"Then, of course, there are items that we can use in our recreational therapy like games and certain supplies. We have an Amazon wish list that has all of the items that our teams will be able to use."