GRANT, Mich. — The evening sun lights up Noah Davy's yard in rural Newaygo County. His home is so far from the road that you can barely hear the buzz of cars passing by. The loudest sound is the song of an Eastern Towhee as it flies from tree to tree.
But then, the roar of a motorcycle engine breaks up the state of near silence.
Noah has just fired up the 750 CC engine of his black 2006 Honda Shadow Spirit with chrome pipes. This bike means more to Noah than almost any passerby would realize because it used to belong to his brother Shane.
"Shane and I always rode motorcycles together, worked on bikes, and this bike was his baby for a couple of years," Noah said.
Noah says Shane was a musical genius who could seemingly play any instrument he picked up. He was particularly masterful with a guitar. Noah says as long as Shane was around, you didn't need to bring the radio to your bonfire, because the sounds of Shane's guitar were always entertaining enough.
"Great guy. Free Spirit. Everybody that ever met him just loved him to death," Noah said.
"He actually moved into a house and in order to get money towards the down payment for that house, he had to sell his bike, which he wasn't too happy about, but he made a responsible decision to do it."
Not long after that, Shane's life took a hard turn.

"I wouldn't wish this situation upon anybody - losing my brother, my best friend."
When sorting through Shane's old documents Noah found the vehicle identification number for Noah's motorcycle. That's when he found his mission. He was going to try to find that motorcycle and buy it back so he could have a piece of his brother again.
"I called police stations. I called the Secretary of State. Everybody told me the same thing - you weren't part of the sale, so unfortunately, we can't help you. So I got to kind of a dead end," Noah said.
"So I reached out to the Grand Rapids local radio show Free Beer and Hot Wings just kind of on a last-ditch effort and a whim. I really didn't think anything would come of it, but they ended up reading my email on air, and through a series of events, listeners were able to help me out. I got the name of the man that bought the motorcycle from my brother."
That man was Jason Stephens - a Sparta resident and the owner of Dynamic Mechanic. Jason put a lot of work into the motorcycle, but when Noah reached out, Jason knew selling the bike back was the right thing to do.
"As a mechanic, I know that there's a very special bond that can be formed between human and machine," he said.
"I agreed to sell it back to Noah and he just walks up to my driveway and gives me a big hug unexpectedly. And with tears in his eyes, he tells me how much this means to him, and he's just absolutely taken aback by how much kindness. As he's driving away, I'm starting to cry a little bit too, because I loved that bike. And there were just a lot of emotions that were in the air that day."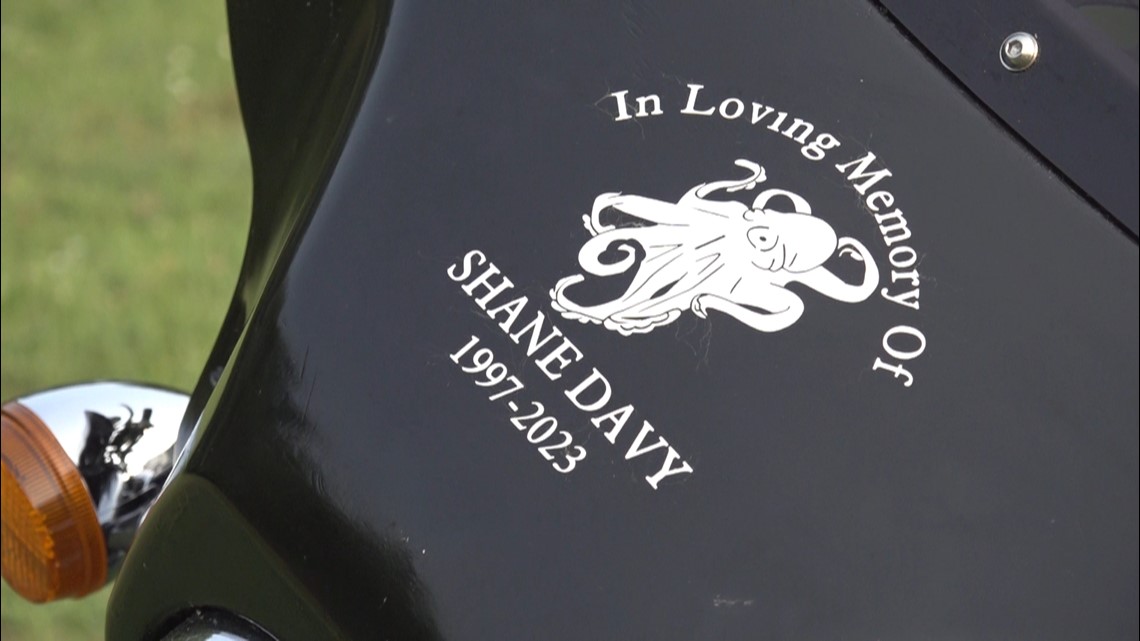 These days, Noah and his wife go on rides to places like Newaygo and Nunica and as the wind passes blows against them, they can feel Shane's spirit.
"This bike - I mean, it's more than just a bike. I mean, I'll ride any bike, but this one is just - it's a piece of him. And I feel like when I'm riding it, I've got him looking over my shoulder. That just makes me feel a little bit closer to him," Noah said.
Along with honoring Noah's memory, he hopes that one thing people take away from this story is knowing that it's okay to ask for help. If you or someone you know is experiencing a mental health crisis, you can call the National Suicide and Crisis Lifeline at 988 to be connected to a trained crisis counselor who can help you. 988 is free and available 24 hours per day.
"It's okay to go get help. You shouldn't feel ashamed. Even if you don't want to go get help, you can reach out to friends. Everybody is willing to come and help you out," Noah said.