MOUNT PLEASANT, Mich. — On a Tuesday afternoon, Calvin Murphy walks the grounds of Island Park. The afternoon sun lights up his olive green Vietnam Veteran hat, bringing warmth to a man who is already experiencing the emotion that this place brings him.
"I live way up in Bear Lake and there are evenings I've driven down here. It's about an hour and a half drive. I get peace just being here by myself. I feel like I'm with them, and they're with me," Calvin says.
Arthur Wright is one of those people.
"He was a big, quiet guy," Calvin remembered with a smile.
"He was a little older than most of us. His story was, he did a hitch in the Army in the late 50s, got discharged, came home to Lansing, got married in 65. And his wife told me that he came home said 'Hun, I lost my job, and I gotta feed you and those babies, so I re-enlisted in the Army."
That's when the smile disappeared from Calvin's face, as he told me Arthur was captured in Vietnam in 1967 and was never heard from again.
"As a former soldier, it always breaks my heart. It's a motto among us - 'No man left behind.' Well, we left a man behind, and he's unaccounted for, and it still hurts today. It's been over 55 years, and it still hurts," Calvin said.
Calvin has already served his country, but he feels like he has more to give. Specifically, he wants to give back to prisoners of war and soldiers who went missing in action.
"From World War I, World War II, Korea and Vietnam, you still have almost 85,000 personnel unaccounted for, and a lot of them were prisoners. They vanished just like Arthur Wright," Calvin said.
"Stop and think what them guys went through. I always just think of the nights they had to lay in a cage or something - praying help would come and it never came. A lot of them passed away in captivity. What was on their mind when they passed?"
Calvin believes these soldiers are largely forgotten today and he wants to change that. With the help of organizations like Rolling Thunder Chapter Four out of Muskegon, Calvin is hosting a ceremony on September 16 at Island Park. Family members of four soldiers will receive plaques hand made by Doug Pickel.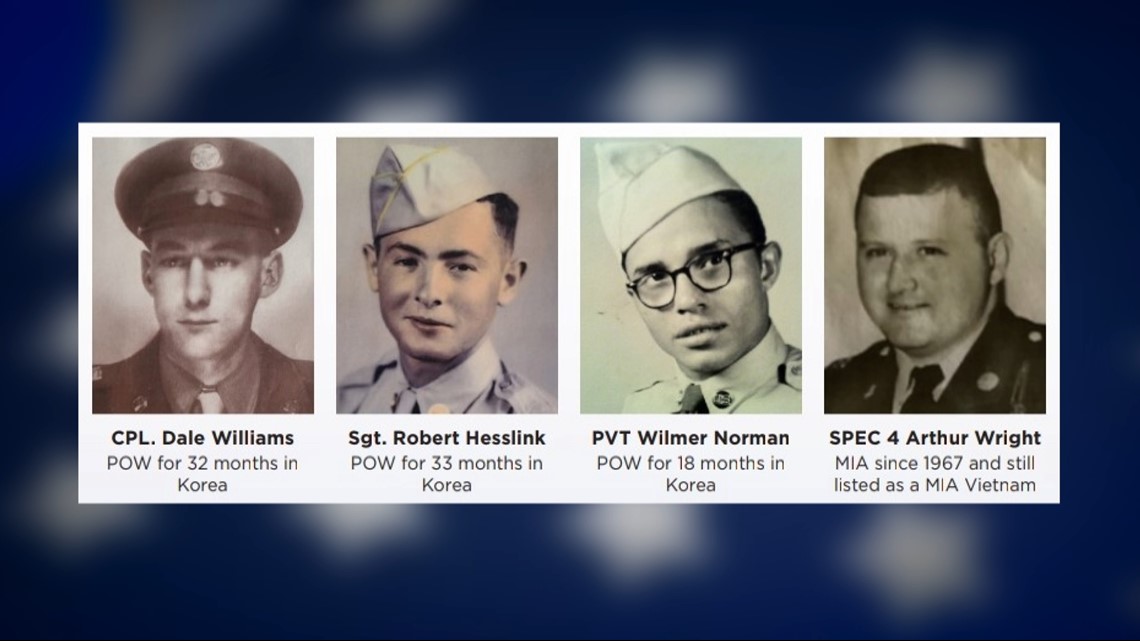 Calvin will ride to the ceremony in the back of a bamboo cage pulled by a motorcycle to give a visual of what life might have looked like for a prisoner of war. He hopes the powerful image will encourage people to keep the names alive of those we've lost.
"It would mean the world that them guys are not forgotten," Calvin said with with a tear in his eyes and a scratch in his voice.
Calvin hopes the ceremony will become an annual event. He is looking for other families of POWs and missing soldiers to honor and says the organizers should be able to do a few of them each year.
If you cannot attend the ceremony, Calvin says you can help by donating to American Legion Post 110, which helps take care of the Michigan Vietnam Memorial at Island Park.