PLAINFIELD TOWNSHIP, Mich. — High school can be a tough time for anyone, but especially when there's a communication barrier. Northview junior Gisel Gallarzo knows the struggle first hand. Gisel is deaf.
"It's really frustrating when hearing people aren't willing to communicate with deaf people, because that's something that I've experienced before," Gallarzo told 13 ON YOUR SIDE, with the assistance of interpreter Jessica Vickers from Deaf and Hard of Hearing Services.
"I moved to this school, Northview, and I felt like a lot of hearing people were having conversations around me, and it just felt really overwhelming to me. I really didn't know how to get involved with their conversations."
But eventually Gallarzo found friends like Mckenna Thompson and Evan Arnold, two seniors who can hear, and who have been a part of Marie Deregnaucourt's American Sign Language class.
"I just took ASL to begin with because I thought it was going to be the easiest class. But then I met Gisel, and I met her friend Anthony, and then I kind of fell in love with it," Thompson said.
"I brought her into my friend group, and she brought me into hers, and her and I would sign away."
Deregnaucourt, who is hard of hearing herself, loves the relationships that ASL has created between hearing students and those in the deaf and hard of hearing community. But she wants to do even more.
"I wanted to be able to create something where people could get resources, make new friendships, make connections, and see what their next steps could be after high school," Deregnaucourt said.
"A lot of our graduates wonder what is out there for ASL or deaf studies or interpreting or deaf education, and they don't know where to look."
Deregnaucourt came up with Northview PAH, which is a signed word meaning "at last" or "finally." The event is called that because something like this is finally coming to Michigan.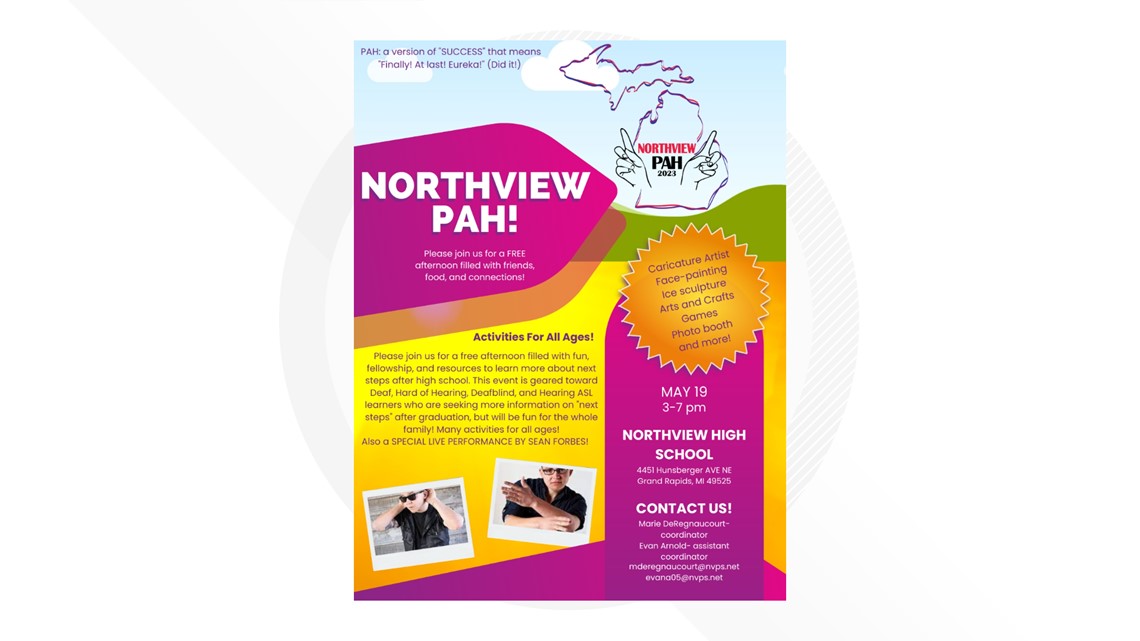 "I have multiple colleges coming throughout the state, and throughout the country. I have multiple businesses looking to hire people who are deaf or hard of hearing, deafblind, anything like that," Deregnaucourt said.
The event will be held on Friday, May 19 from 3 to 7 p.m. at Northview High School, located at 4451 Hunsberger Avenue NE in Grand Rapids. Everyone is welcome to attend.
Arnold, who is serving as co-coordinator of the event likes to think of herself as Deregnaucourt's right-hand woman, and she's excited about all the opportunities this will bring.
"It's so important for people to know how to get a hold of interpreters, how to schedule an interpreter, how to get their hearing tested, how to get fitted for hearing aids, and cochlear implants, and all sorts of things," she said.
Gallarzo will serve as the interpreter coordinator for the event, meaning she'll make sure everyone who needs an interpreter can get one.
"We want this event to bring everybody together to make people feel more comfortable. We want to connect everybody instead of having people separated, because we want deaf people to be able to be a part of all the other events going on," Gallarzo said.
Meanwhile, Thompson has been collecting cans to raise money for the event to help Deregnaucourt, who she says is a teacher who has made a serious impact on her life.
"I saw her struggling, so I was like, maybe I'll just like reach out to people and see if they had help," Thompson said.
Organizers of the event also say a great way for hearing people to help those in the deaf and hard of hearing community would be to learn a little bit of ASL. Deaf and Hard of Hearing Services offers classes both online and in person.
"Michigan has a huge deaf and hard of hearing community. It might be your neighbors. You might go out and see people signing," Arnold said.
"It's important to keep growing that communication so that people who are deaf and hard of hearing can communicate with people who are hearing and it's really important to try to make that effort because we all just want to be communicated to. We just want to talk to each other."