NEWAYGO COUNTY, Mich. — On a chilly May morning, a bus from the Michigan Veteran Homes backs carefully between two trees at the Croton Township Campground. When it comes to a stop, around a dozen of our nation's heroes get off. Some are able to walk down the steps. Others need a lift to deliver their wheelchairs safely to the ground.
They're all here for one thing: a relaxing day of fishing.
"It's been a blessing. I didn't think it would be this fun. I figured it would probably be more labor intensive, but it's just a good time with good people, and a lot of camaraderie with the veterans," said Ed Lewis.
Ed is the founder of the organization. He's also an Army veteran himself, so he knows how big of a difference a day on the water can make for veterans.
"That's what it's all about — getting these guys out fishing and enjoying camaraderie. We've become friends. The only time we get to see each other is when we go fishing," Ed said.
On this trip, Ed and his friend Dan are taking Navy veteran Tony Atlas and Marine veteran Wayne Brooks out on the Big Muskegon River near the Croton Dam. They're on a privately-owned boat that's become part of a fleet made possible by volunteers.
That fleet is about to get even bigger, thanks to the generosity of Tom and Cori Sullivan.
"I've always been into boats and restoring boats. I've worked at marinas in town here," said Tom, who started a pontoon refurbishing business with Cori in Walker.
"Tom's Toons started in 2021, as pontoons became really difficult to shop for because everyone wanted a boat, and there was a shortage."
Tom's Toons tears down pontoons "to the bare aluminum" and puts them back together like new. But something happened to one of the boats they had bought and restored.
"It was stored when it was already refurbished, and the motor got stolen off of it, so somebody needed it more than us, I guess," Tom said.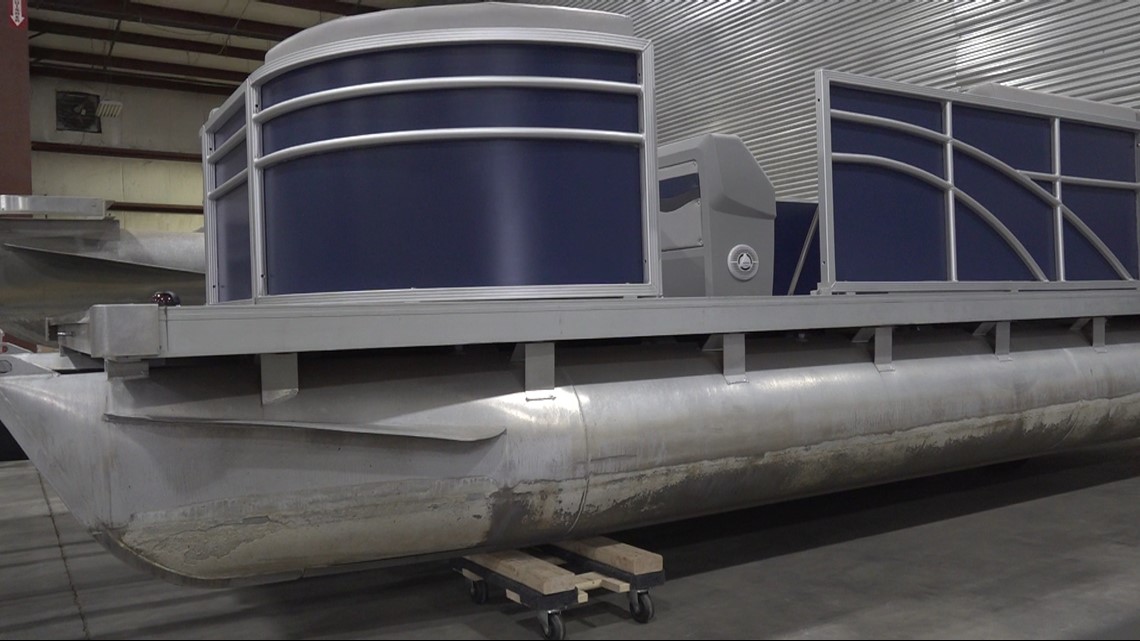 "We were in this predicament where we are going to have to put a new motor on it and we said, if we're going to put a new motor on it, we should donate it. We should give it to somebody who can use it."
The search for a worthy charity was nationwide. The Sullivans were willing to make travel arrangements if they found an organization out-of-state. But luckily, they didn't need to. The Croton Sportsmen for Youth and Disabled Veterans, just a 40 minute drive up the road in Newaygo County, was perfect.
"They were so gracious right off the bat, saying 'We would love the opportunity to take a boat.' They were all on board right from the get go, so it's really cool, because we learned that they actually use the veterans home right here in Grand Rapids," Tom said.
"My grandpa was a veteran who loved to fish, and I married into a family with a bunch of veterans who love the outdoors. And we see the value and what it offers them, so it kind of just fell right into place."
Tom believes a new motor will cost around $4,500. He would also like to put a cover on the back of the pontoon. To cover the cost of all that, Tom and Cori have set up a donation page and they're asking for the community to help.
"From there, anything else that we raise, I'm hoping we can just hand them a check and cover some costs. They had to buy a trailer for this boat. They're going to have to fuel it. They're going to have to maintain it. They're going to have to buy equipment," Tom said.
"What a cool opportunity to be able to just hand them some cash when this is all said and done to cover some of the costs for this year and maybe more."
Ed is very grateful for the gesture and he knows the veterans he serves will be, too.
"I've never met him, but he's already one of my best friends," Ed said of Tom.
"It means a lot. He thinks positive like I do. He's already said 'Well, maybe the next pontoon will have a wheelchair ramp on it.' So, it's like he's looking at the future."