GRAND RAPIDS, Mich — Entering the front gate at historic Sullivan Field on August 8, 2023, there were a certain buzz in the air. It would be clear to even to a passerby with no knowledge of baseball that this night was special.
As you pass the historic stadium's wooden grandstands and close in on the all-dirt infield, it becomes even clearer who the evening's festivities are all for. In a crowd of baseball players, all aged 40 and older, everyone's attention is on Phil Clements.
We first met Phil two years ago. At the time he was 82 years old, still pitching complete games, and thought to be perhaps the oldest guy in Michigan still playing organized hardball. Unlike the iconic baseball anthem from Bruce Springsteen, Phil's glory days never seemed to pass him by.
"I've just been trying to stay on top of the grass and stay in a halfway decent activity state," Phil said.
"I don't do as much as I should do, but I do enough, I guess, to stay at a certain level."
Now he's 84 and he hasn't hung up his cleats yet. But there is some buzz and some speculation in the stands that he might after this season. I asked him if that was the case.
"Yeah, my wife says I've been saying that for 60 years. But I'm getting to that stage," Phil said.
"However, I've been fortunate that they've had the World Series where they've had different age groups. At one time, I thought I was all done at 30. And then somebody came up with a 30, and older league, and then a 40, and older league."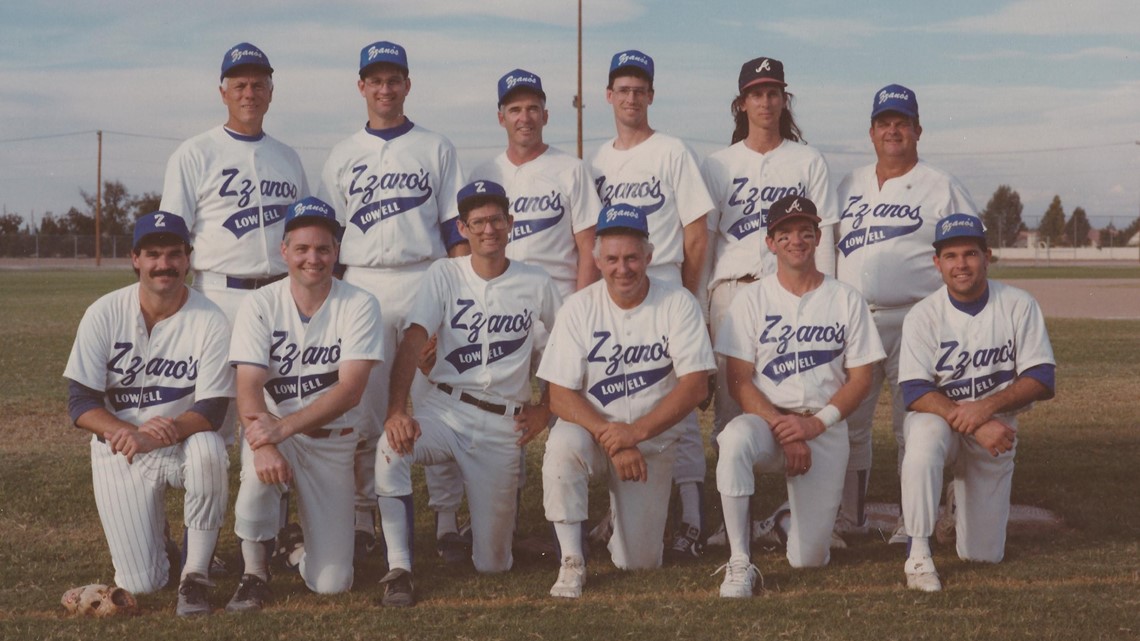 Phil's answer may not be definitive. But he did say, with a chuckle, that "deterioration is starting to set in."
Either way, Phil has fewer ballgames in front of him and the does behind him. So some of his teammates from over the years decided to hold this tribute game for him at Sullivan Field, where he's been playing since he was a young man.
"Phil played baseball at Central Michigan University as an infielder in the early '60s. In '62 he led the team in hitting with an average of .350," said Andy DeVries who serves as the president and co-founder of Fans of Valley Field.
"He played against the likes of Satchel Paige, and he got a hit off of him. I remember watching Satchel Paige pitch here when I was about 10 years old. Nobody got a hit off him, so Phil, congratulations on doing that."
Phil got a baseball signed by all the guys who played in the game, as well as some "Fans of Valley Field" gear.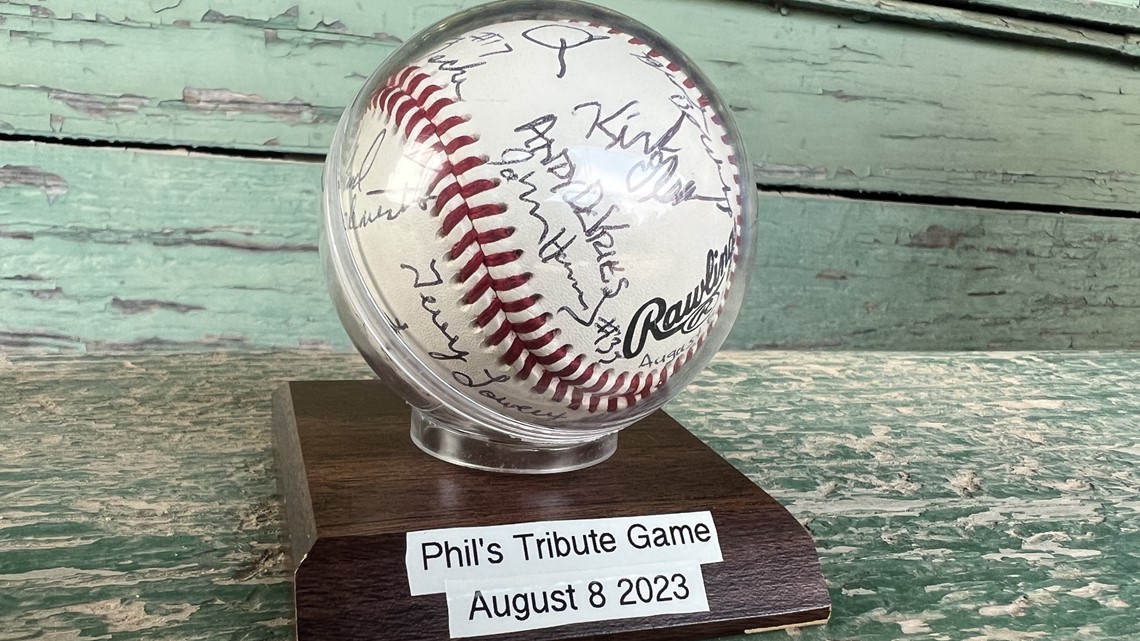 His former teammate at CMU, Al Korytkowski, had the honor of catching Phil's ceremonial first pitch.
"It brings back memories. Last night I brushed up a little bit. I got some of the old yearbooks out and looked at the pictures of the guys that we played with," Al said.
"Just reliving memories and then thinking of all the baseball legends around the world, and I know one of them. I thought that was neat. I'm very honored to be here and to be asked to do it."
Up in the stands, Phil's wife Shirley and daughter Jody watched on with big smiles, just as they have for years.
"It meant a lot to me because they were acknowledging him for the person that he is, and I think that's important for any of us," Shirley said.
"He's a wonderful husband, a great father, and we've enjoyed all of our life together. He's always included us and looked out for his family, even his parents when they were still alive. He was very insistent on having stuff they needed. He's just a wonderful person, and that's what attracted me to him when I got to know him."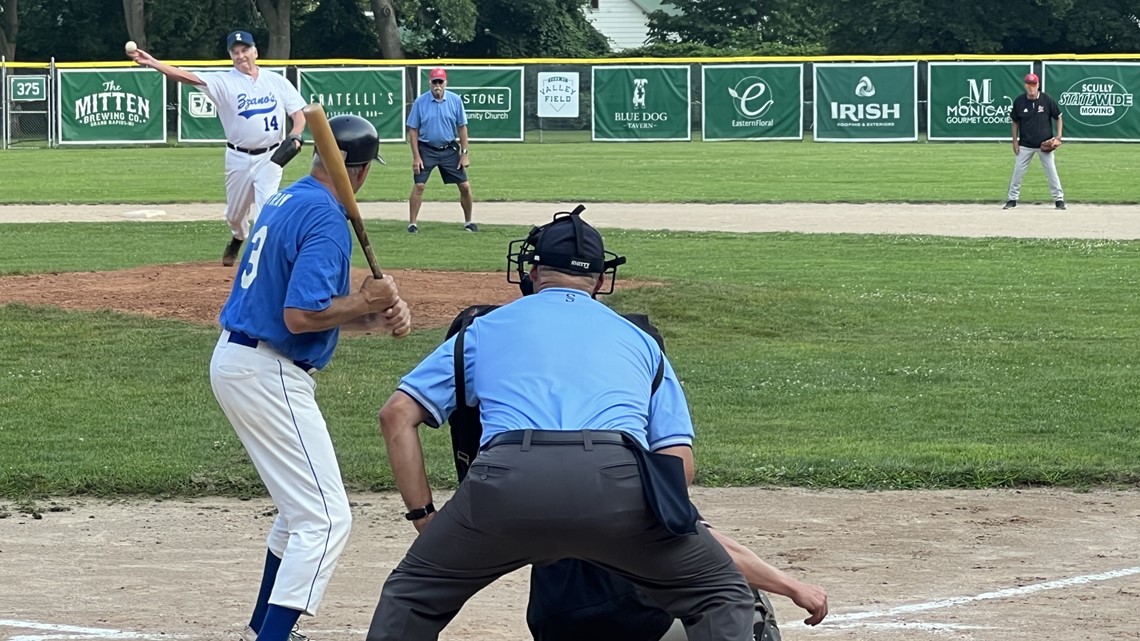 Whether this season is the end of the line or not, Phil isn't quite done yet.
"I'm scheduled to play in the second-ever 80 and over tournament in Canton, Ohio at the Thurman Munson Stadium in September. Then we'll go down to Florida and play in the Roy Hobbs 75 and over World Series," he said.
"This is great here - all these guys I've played against or with over the years showing up. Some of them I haven't seen since my playing days, so it's really gratifying."