NORTON SHORES, Mich. — Ray Van Voorthuysen's kitchen is full of visitors on a weekday morning. Members of Rolling Thunder Chapter 4 out of Muskegon have stopped by not just to say hello, but to honor Van Voorthuysen for the sacrifice he made for his country.
"Were not going for forget a World War II Purple Heart recipient," said woodworker Doug Pickel to the 98-year-old.
"We wanted to show our appreciation for what your generation did because honestly, your generation saved the world, beyond a shadow of a doubt."
Out of a black bag, Pickel pulled out a handcrafted Purple Heart shaped plaque bearing Van Voorthuysen's name and likeness. The plaque Pickel made represents 50 hours of work to show a veteran how much his service is appreciated.
"It means a lot. It's hard to explain how you feel. I'm thrilled with it. It means a lot, and it just makes it all worth while, so to speak," Van Voorthuysen said.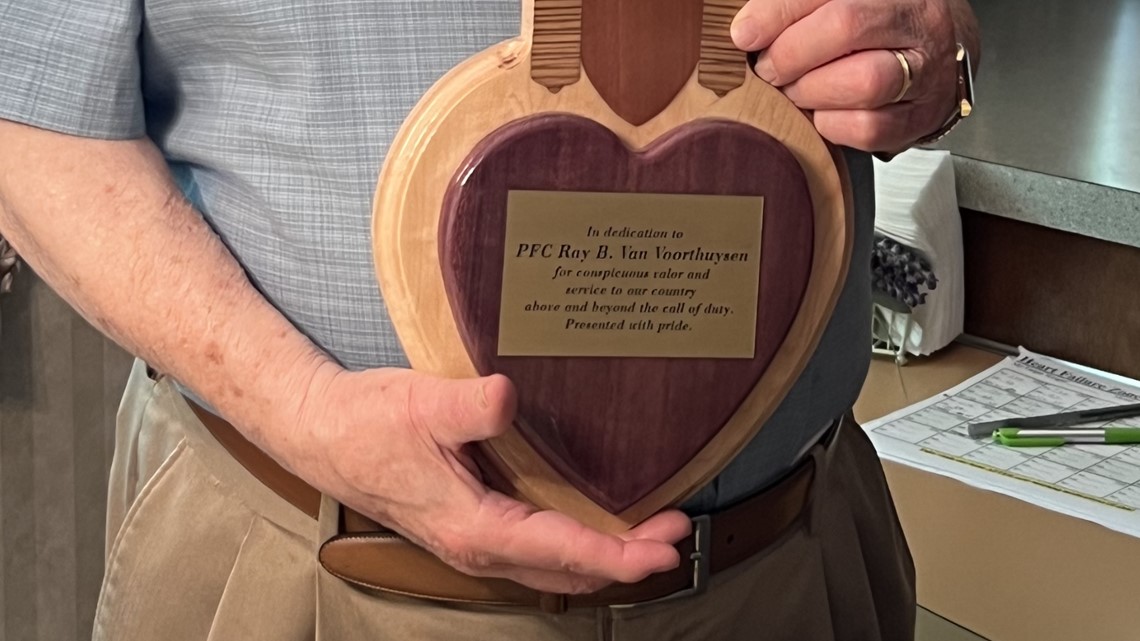 Van Voorthuysen was a private first class in the Army and an ammunition handler. He was drafted in 1943.
"I never volunteered for anything. I was told what to do," he said with a smile.
When June 6, 1944 rolled around, the Allies were gearing up for what became known as the largest amphibious invasion in military history. Van Voorthuysen wasn't there for D-Day. He was on a troop ship in the English Channel looking on as his fellow soldier fought for control of Omaha Beach.
The next day, it was Van Voorthuysen's turn. The troops were carried as close to shore as a landing craft would take them.
"We were packed in there like pickles in a jar. So many guys in the boat, and they couldn't sit. They had to stand tight together," he said.
"We landed and went ashore and for us short guys, it was water was up to our neck and the tall guys it was up to their waist. It was saltwater — terrible, cold water."
When they arrived, Van Voorthuysen witnessed first hand the carnage that had been left behind by D-Day.
"The big Navy ships had put shells in there and they just tore up that whole land," he said.
By that time, Nazi troops had been pushed back, so Van Voorthuysen and his unit did not face any small arms fire. But they still had to worry about artillery attacks.
For more than 300 days that followed, Van Voorthuysen fought in some of the bloodiest battles in the European theater, including the Battle of the Bulge.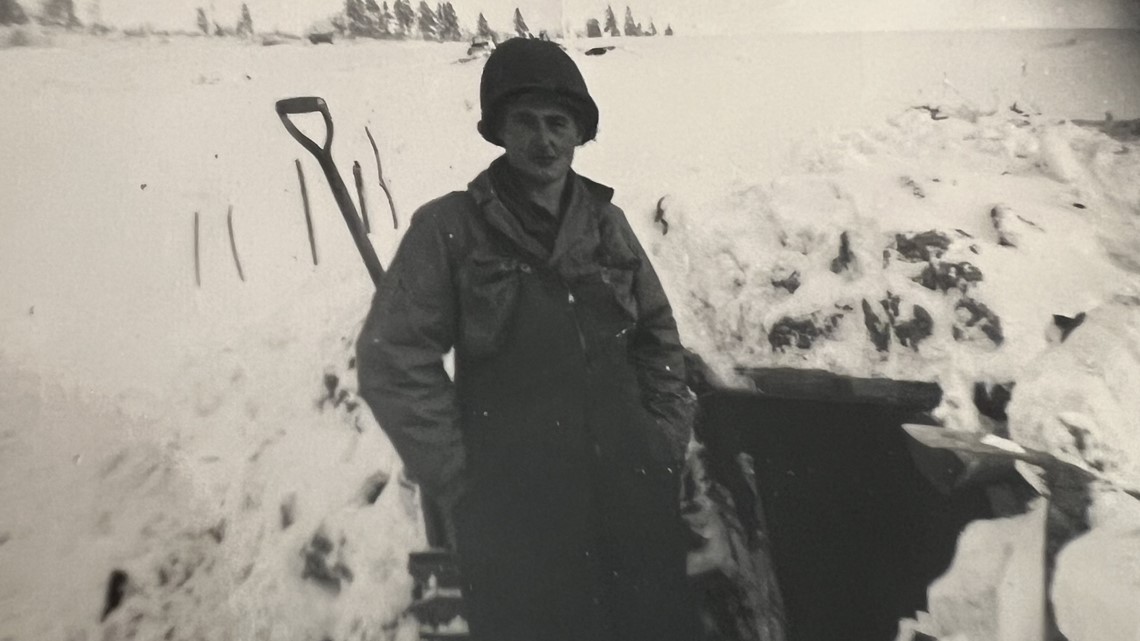 "I don't know how many we killed, but I'm sure it was in the thousands. I have no idea. But you can tell if you walk through or went on paths that you could see all the bodies laying there," he said.
Van Voorthuysen was injured twice in battle.
"I got hit the elbow too, but the two bad ones were the one on the back, and that's a completely healed now. You'd never know it was there. And the thumb, too. You could see the bone," he said.
Van Voorthuysen received two Purple Hearts and a Bronze Star. But if you ask him, he'll tell you he's no hero.
"No, I'm not, because all the boys that died, they're the heroes. I just did what I was told to do, and I came home in good shape. So many boys, you know, they couldn't come home. So many of them lost an arm or a leg. I have all my limbs and I have my mind," he said.
Watch the full interview here: