LOUISVILLE, Ky. — For the first time in decades, chicken nuggets are back at Kentucky Fried Chicken.
KFC introduced Kentucky Fried Chicken Nuggets to its menus nationwide on Monday.
The new, 100-percent white meat nuggets are hand-breaded with KFC's Original Recipe of 11 herbs and spices, according to KFC.
Kentucky Fried Chicken said the nuggets were "wildly successful" in a test run last year and will be added to its permanent menu at participating locations.
KFC Nuggets will be sold as a 5-, 8-, 12- or 36-piece starting at $3.49 or as a combo with Secret Recipe Fries, a biscuit and a medium drink and a kids' meal.
The nuggets can be paired with KFC Sauce, Honey BBQ, Classic Ranch, Honey Mustard or Buffalo Ranch.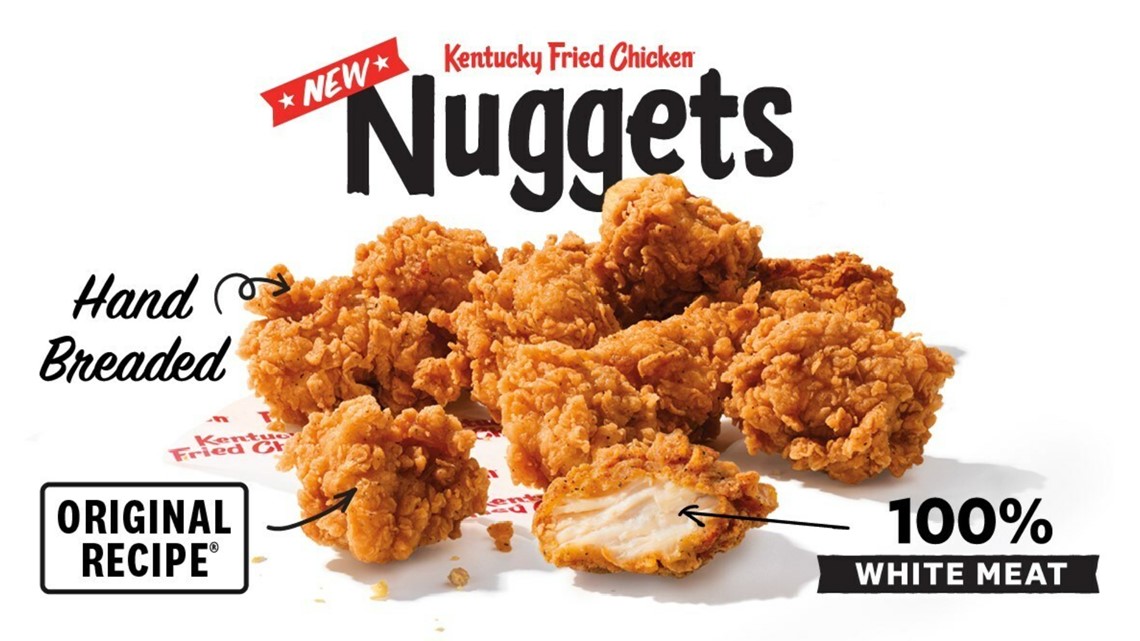 "People have been living in a nugget blandemic and settling for the same mediocre nuggets for far too long," KFC said in a press release. "The fried chicken experts are empowering America to break up with bland and end it with cookie-cutter shapes and open their hearts and mouths to Kentucky Fried Chicken Nuggets."
KFC introduced Kentucky Nuggets in 1984, but phased them out for Crispy Strips in 1996 and Popcorn Chicken in 1998, according to the KFC Wiki.
"As the original fried chicken experts, we're introducing a chicken nugget made the way only KFC can – hand-breaded with our distinctive Original Recipe of 11 herbs and spices," Nick Chavez, CMO, KFC U.S. "Simply put, you've never had chicken nuggets like these – they're the chicken nugget America deserves, and worth the wait. Now that's Finger Lickin' Good!"
Kentucky Fried Chicken also announced its KFC Mac & Cheese Bowl will return to nationwide menus for only $5 for a limited time starting April 3.
KFC said it has upgraded the bowl with the new KFC Nuggets and cheddar mac & cheese topped with a three-cheese blend.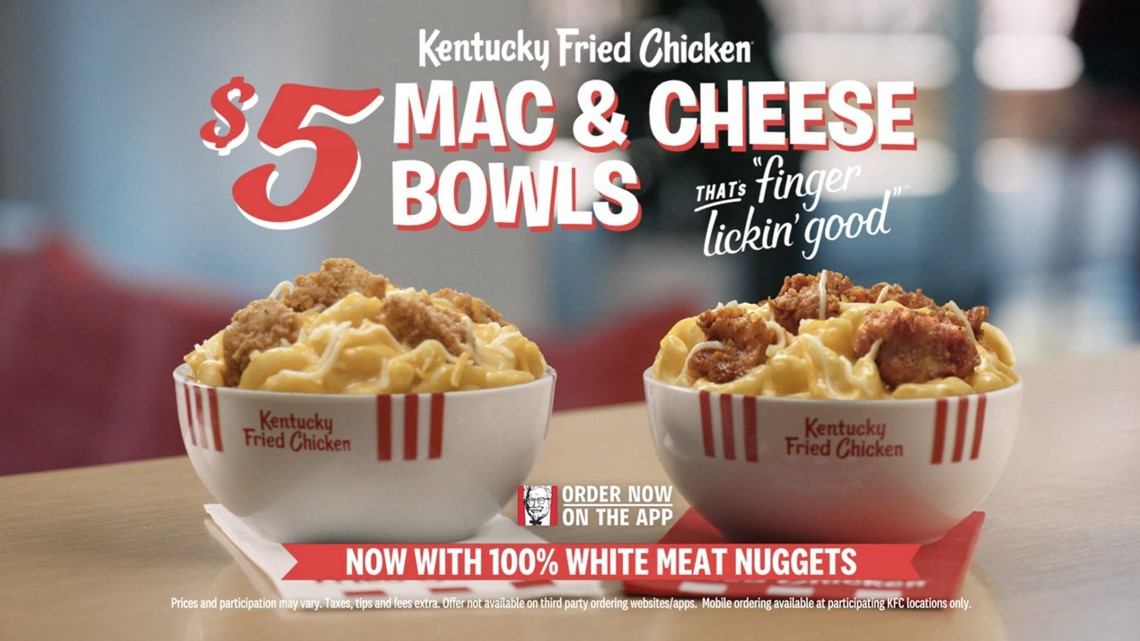 Earlier this month, Kentucky Fried Chicken announced would bring back the KFC Double Down Sandwich for the first time in nearly a decade.
The legendary sandwich features two pieces of extra crispy chicken, two pieces of bacon, and either mayo or a spicy sauce — and no bread.
Since making its debut in 2010, the Double Down developed a cult following on par with McDonald's McRib sandwich. Kentucky Fried Chicken sold more than 10 million Double Downs in its first month. KFC brought it back it back for a time in April 2014.
The KFC Double Down dropped at restaurants nationwide on March 6, but KFC said it would be available for only four weeks.
9NEWS+
9NEWS+ has multiple live daily shows including 9NEWS Mornings, Next with Kyle Clark and 9NEWS+ Daily, an original streaming program. 9NEWS+ is where you can watch live breaking news, weather updates, and press conferences. You can also replay recent newscasts and find videos on demand of our top stories, local politics, investigations and Colorado specific features.