After two strong storms rolled through West Michigan, Consumers Energy said more than 220,000 homes and businesses lost power across the state.
Power is expected to be fully restored by noon on Wednesday, according to Consumers Energy, but a majority of the affected customers will have power restored by the end of the day on Tuesday.
"The weather on Saturday night created additional outages, and just to make sure we can get everyone's power back, we set a longer time period," said Consumers Energy Public Information Director Brian Wheeler.
The utility gave an update Sunday morning saying power restoration efforts are ongoing, but as of 11:30 a.m. Sunday, there were still 110,000 customers without power.
Consumers Energy crews have been working to restore power to thousands since the first wave of storms hit Michigan late Friday night into Saturday morning.
More than 1,700 Consumers Energy employees are working to restore power, including 120 people from out-of-state energy providers.
Consumers Energy said more than 1,500 downed wires have been attributed to the storm.
"We appreciate everyone's patience as we work to safely and quickly get the lights turned back on," said Brian Zionskowski, a journeyman lineworker for Consumers Energy from Traverse City. "Our crews cannot stress enough that every downed power line should be treated as 'live.' Trying to move or clear one may put you in danger; instead, please call 9-1-1 and we'll take care of it as quickly as possible."
Great Lakes Energy has also been working to restore power to people in West Michigan. They said in their coverage area, there are 4,700 customers without power.
GLE said they expect restoration to be completed on Sunday as long as the weather holds.
RELATED: Consumers Energy urges downed wire safety with more storms expected
People should stay at least 25 feet away from downed power lines, and they can report the issue by calling 911 or Consumers Energy at 800-477-5050.
Because of the extreme heat, Consumers Energy is sharing the locations of cooling centers across Michigan and providing resources to help people cope with the outages.
Additionally, the utility and Meijer are going to be handing out water and bagged ice in Jenison on Sunday. From 10 a.m. to 4 p.m. they will be giving away the bottled water and ice at Jenison High School at 2140 Bauer Road.
Be sure to check the Consumers Energy outage map here.
RELATED: Jenison cleaning up after being hit with 'violent' storm
Storm clouds roll across West Michigan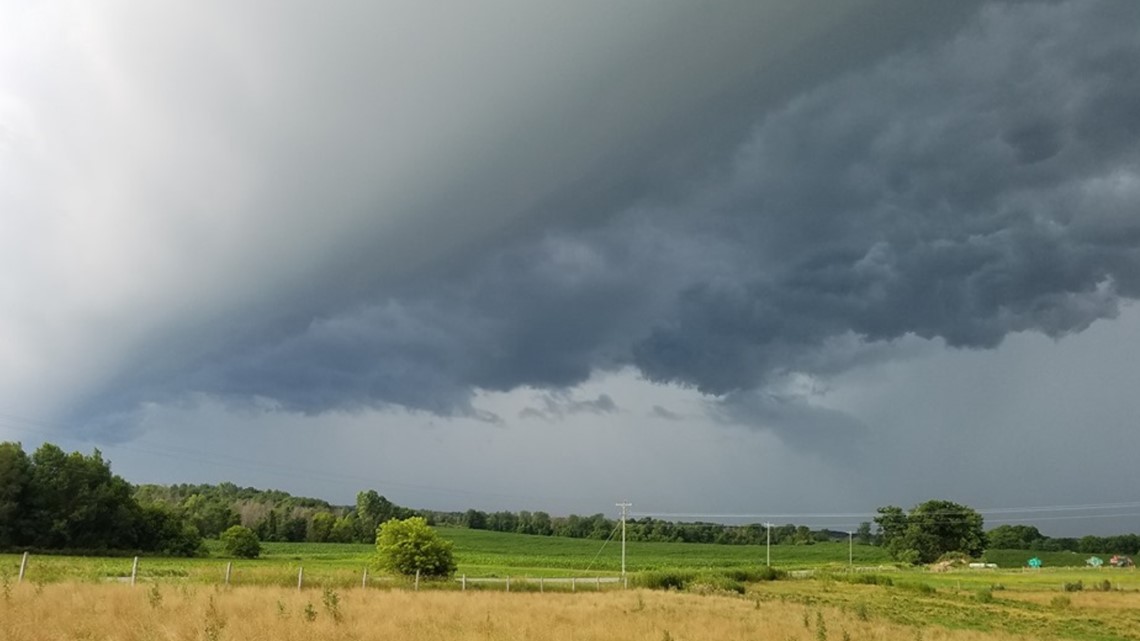 CONSUMERS ENERGY SAFETY TIPS:
►Make it easy to keep up to date with more stories like this. Download the 13 ON YOUR SIDE app now.
Have a news tip? Email news@13onyourside.com, visit our Facebook page or Twitter.