MUSKEGON, Mich. - Opening statements are in the books for one of the most followed murder cases is Muskegon County's history.
Jeffrey Willis, 48, is on trial for the kidnapping and murder of Jessica Heeringa. The then 25-year-old was last seen working at a gas station in Norton Shores on April 26, 2013.
Prosecutor D.J. Hilson spent the first hour of the day giving jurors what he called a "road map" of the days ahead. Hilson mentioned many witnesses who will be taking the stand—including, but not limited to—Heeringa's then-fiance and the father of her child, multiple detectives, sergeants and investigators, Willis' coworkers and now ex-wife and patrons of the gas station Jessica was abducted from.
Hilson wrapped up by saying, "Even without a body in this case, the evidence will show that Jessica died at the hands of [Jeffrey Willis]."
Following Hilson's opening statement, defense attorney Fred Johnson was quick to say he would not take the same amount of time. Instead, Johnson's opening statement was only a few minutes. He told jurors when this case is over, the jurors won't know any more about Heeringa's disappearance than they do right now.
"I believe you will have information that will paint [Willis] as an ugly person, but you will not have evidence that he kidnapped or killed Jessica Heeringa," Johnson said as he wrapped up his opening statement.
The first witness called to the stand was the teenager Willis' allegedly tried to kidnap in the early morning on April 16, 2016. Though she is 18 now, she was 16 at the time of the incident and 13 On Your Side will only refer to her as MJN.
Prosecutor Hilson asked MJN what she was doing the night of April 15. She said she was at a party where she was drinking and smoking marijuana. She said she was there all night, for many hours. By the time she was ready to leave, there were only a few people left. MJN told Hilson she asked one of the friends if she could go home. They went to the other friend's car to find him asleep inside with the doors locked. After unsuccessfully trying to wake him up, MJN decided to walk home alone. She told Hilson she thought she was only a 10-15 minute walk from home. After what she calls a few hours of walking, a silver van approached with the passenger-side window rolled down.
MJN told Hilson the driver asked her if she needed a lift. Having seen a cell phone on the passenger seat, she asked if she could instead use his phone. He told her if she got in the car, she could use his phone.
Once inside, the doors locked and the window rolled up. Johnson asked MJN if she saw the driver, now identified as the defendant, Jeffrey Willis, lock the doors and roll up the window or if the car automatically did it. She told Johnson she did not see Willis lock the doors or roll up the window. She also added that when she asked Willis to roll the window back down, he did.
Now inside the van, MJN asked to use Willis' phone. Without handing the phone over, he told her it was dead. She said she asked him to stop so she could get out. She told Johnson that Willis did slow down, but that it wasn't slow enough to get out safely. Moments later, she recalled Willis pulling a gun out from underneath his seat. Now feeling scared for her life, MJN unlocked the door and jumped out of the moving van.
The prosecutor showed several photos of MJN's injuries from the hospital. Her forearm, shoulder and backside were all badly scraped and bruised. She said when she exited the vehicle she fell down and rolled before getting up and running away.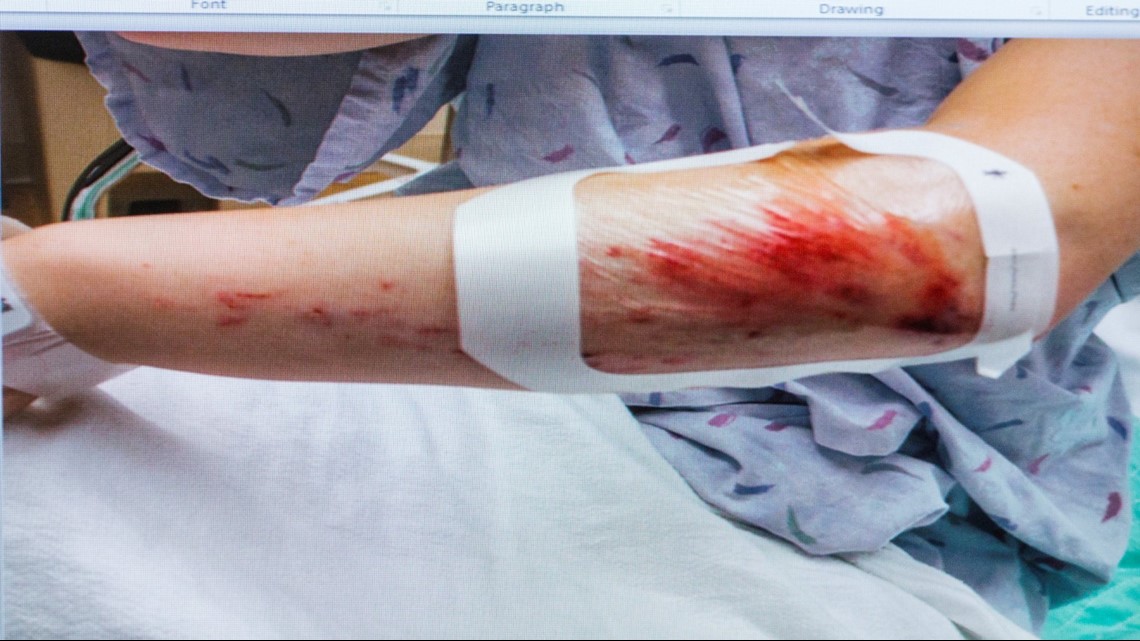 MJN said while running, she turned around to see Willis standing at the back of his van pointing a gun at her. She remembers yelling, "Don't shoot me."
She ran to the nearest home where a Dawn Schmitt was outside. She recalled telling Schmitt someone was after her and she needed help. Once inside, Schmitt said MJN was terrified and would not calm down. She said she tried to hide under her bed.
The audio from that call was played in court. Here is a partial transcript:
"There was a girl who came up in my yard and said there was a guy...Iet her in. She said there was a guy with a gun. She is hysterical right now and I'm shaking," Schmitt told the dispatcher.
"Can I talk to her?" The dispatcher asked.
"Yes, here she is," Schmitt said.
"I had to jump out of the car.... two minutes ago," MJN said.
"He was chubby, had a beard and a mustache," MJN described the suspect to the dispatcher.
"Yes, I had been walking for five hours," she said.
"We do have an officer on the way. I just want to ask you some questions," the dispatcher said.
"He chased me, he was chasing me ... to this house," she said.
"He wouldn't let me out so I jumped out as soon as I saw him reach for the gun," MJN said.
"The officer is right around the corner, OK? How old was he?" the dispatcher asked.
"He looked like he was about in his 40's," she said.
"Are you talking to the officer?" the dispatcher asked.
"No, he's pulling in right now," she said.
Schmitt confirmed the audio matched her memory of that day. She also noted there was blood on her wall from where MJN had bumped against it.
The next witness called to testify was Deputy Jeff Blackmer. He was the responding officer to Schmitt's house on April 16. He explained MJN was shaking, almost hyperventilating and bleeding when he arrived.
After speaking with Deputy Blackmer, MJN was taken to the hospital. That's when Blacker went to the scene she described and found what appeared to be the spot she jumped out of the van. Nearby were her shoes and a .22-round ammunition on the road.
The next person called by the state to the stand was Detective Matt Schultz with the Muskegon County Sheriff's Department. He was assigned the lead investigator in MJN's case.
Det. Schultz explains when he visited the scene, he found a second .22-round, likely in the spot Deputy Blackmer's cruiser was parked during his first visit.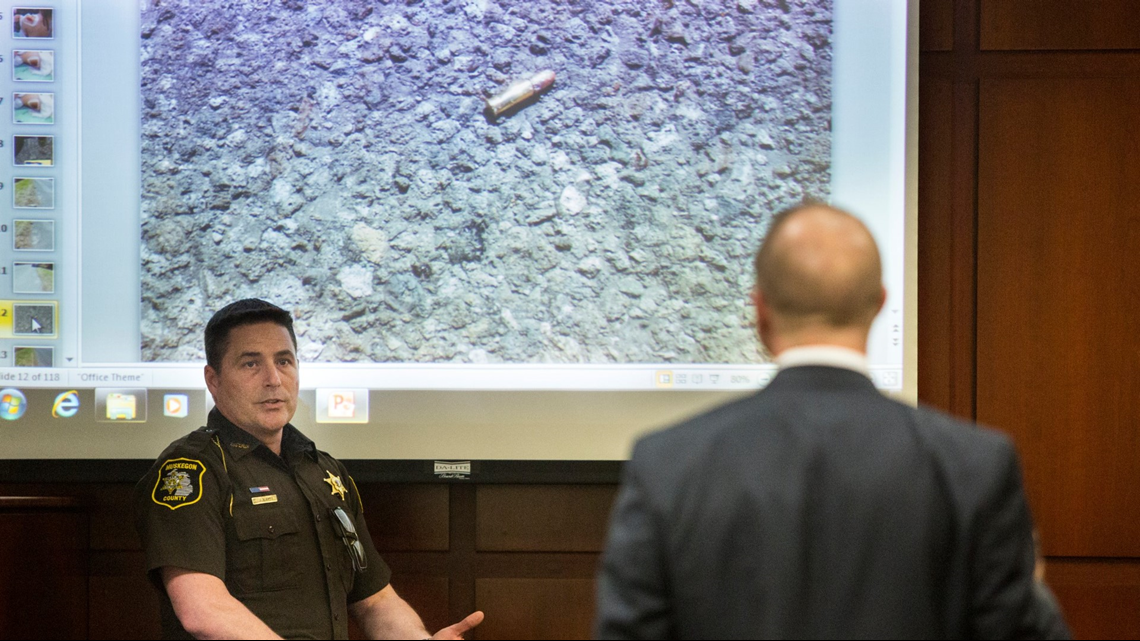 Det. Schultz then described how he, with the help of the Secret Service and other experts, narrowed the search for a silver Dodge Caravan from thousands to just 11. Once narrowed, a lineup was presented to MJN where she identified Jeffrey Willis as the man who tried to kidnap her.
This is when deputies began to surveil Willis. On May 17, 2016, according to Schultz, Willis was stopped and brought in for questioning.
"Didn't really get a straight answer on where he was," Schultz said about asking Willis where he was on April 16.
The next witness, Detective Sergeant Thomas Flowers, specializes in latent finger prints for Michigan State Police. He said he was able to ID Willis' prints on two items found in his van. Those items were on the inside of a toolbox and a piece of paper.
Flowers also provided a detailed list of what was inside the toolbox: a set of handcuffs attached to a chain, another chain, a rope, batteries, J-hook, leather strap with red ball attached (commonly called a ball gag), two photographs of nude women and a man in his underwear, gloves, .22-long rifle ammunition, a single Mizuno leather glove, pair of Reebok leather gloves, metal bar with leather restraints, purple sexual toy, tube of lubricating jelly, handwritten and typed letter with names and addresses on them, the diagram of injection sites, one handcuff key and one random key.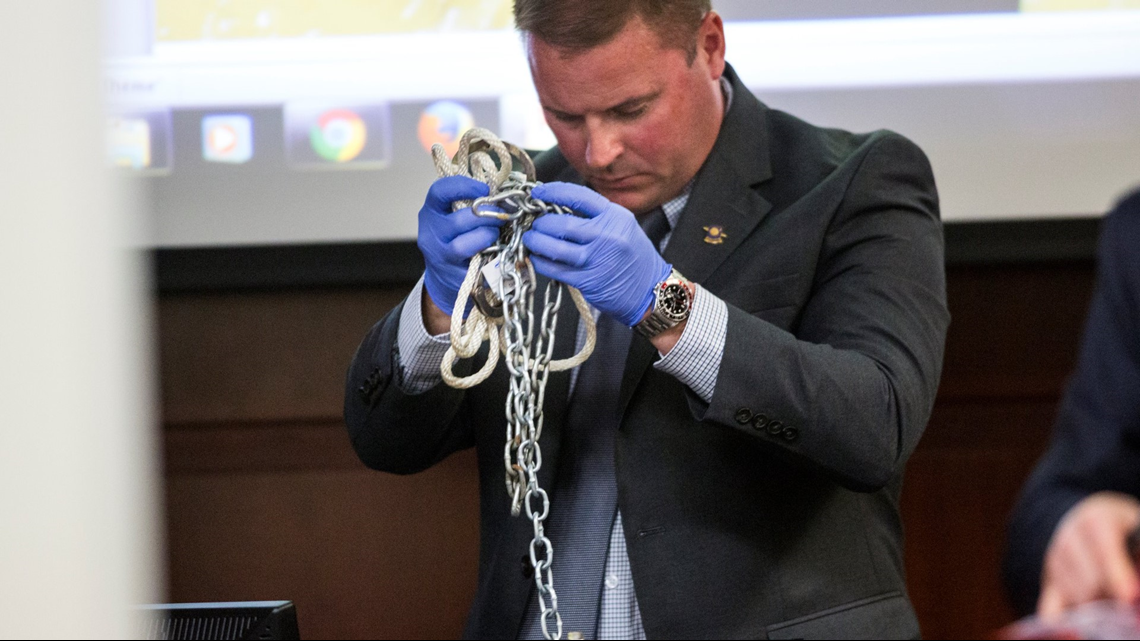 Also inside the van was a Walther .22 handgun.
The next witness was tasked with photographing the evidence found inside Willis' home, shed and van.
Among the items discussed were an additional handgun, two external hard drives, a thumb drive, orange capped syringes. women's underwear wrapped in tin foil and a shirt.
Detective Lisa Freres talked about the scene where Bletsch was found and the scene where MJN escaped Willis' van. New to the discussion was Willis' credit union statements. These were subpoenaed for the purchase of some of the items found in the search, including the tool box.
An item of note inside the toolbox was a printed list of U.S. serial killers. Two names of note were Lawrence Bittaker and Roy Norris. Both names had a dash by them. They are nicknamed the "Toolbox Killers." The two men raped, tortured and killed five women in 1979.
Prosecutor Hilson also asked Det. Freres about a receipt found at Willis' home. It was from the Exxon station Heeringa worked at, and she was listed as the cashier. The date on the receipt was Jan. 29, 2013.
The final witness called to the stand on Tuesday was Deputy Robert Kanaar. He was called to Bletsh's murder scene when it was thought to be a hit and run.
He explained that her belongings were stacked neatly in a pile on the opposite side of the road at Bletsch. He also recalled the investigation changed from a hit and run to a homicide after he was informed of the extent of her head injuries.
Court was adjourned just before 5:30 p.m. and will resume with more witness statements tomorrow morning at 9:30 a.m.