Anthony Kolenko, 40, of Muskegon, is facing three felony charges stemming from the incident: home invasion, aggravated stalking, and assault/resisting/obstructing a police officer.
He was taken into custody after a multi-hour standoff overnight on Sunday.
An affidavit for probable cause filed in the case shows Kolenko had a probation order that prohibits him from having any contact with his ex-wife.
Detectives learned that Kolenko brought over some dogs to the Rockford home on Thursday, Sept. 14. He was supposed to pick them up on Sunday, but he didn't show up.
Around 3 a.m. that night, authorities said Kolenko drove to the home unannounced.
His ex-wife told authorities she was in her bedroom when she got a Ring doorbell notification that showed Kolenko at her front door. She refused to open the door, court documents detail, and at that point, Kolenko is accused of taking a screwdriver to bust open the hide-a-key box.
Kolenko went upstairs to the bedroom where his ex-wife was and forced his way inside the locked bedroom door, court documents allege.
The woman said she told him to take his dogs and leave many times, but he refused as he talked with her.
The woman left the home because Kolenko refused to leave, detectives said
She told investigators Kolenko followed behind her, telling her to keep her voice down and that "he had an AK-47 in his truck and if the police showed up, it would be a shootout and he would die."
That's when some Kent County Sheriff's Deputies showed up and the standoff began.
Deputies saw Kolenko drinking from a liquor bottle, and he appeared to be intoxicated during the ordeal.
He's also accused of telling deputies they were "going to have to shoot him."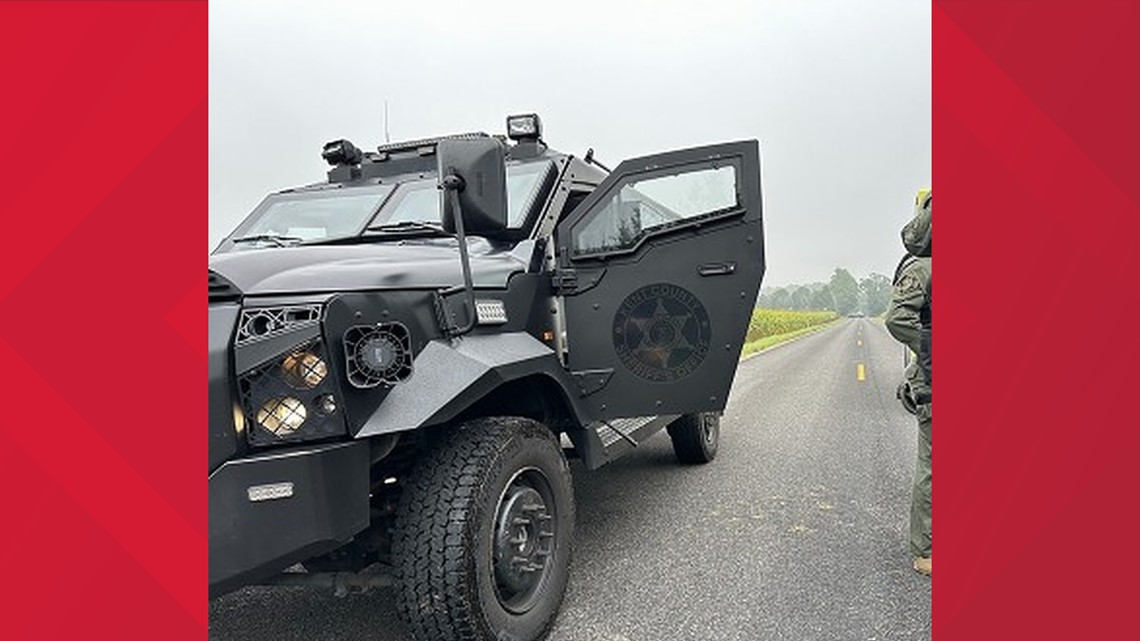 The Kent County Sheriff's Office used less-lethal rounds of pepper balls and bean bags to subdue him.
After retreating back into the garage, authorities said Kolenko came back out a few moments after getting hit to surrender peacefully.
Authorities also accuse Kolenko of pouring bleach on a large amount of his ex-wife's clothes. It caused more than $1,000 in damage.
According to online court records, Kolenko has a history of stalking.
He pleaded guilty to aggravated stalking in 2020 and was sentenced to community service in lieu of jail time. He was on probation at the time of the alleged home invasion.
Kolenko posted 10% of the $5,000 bond.
The court assigned Kolenko a public defender, and he's due back in court for a probable cause hearing on Sept. 27.
If you or someone you know is in an unsafe relationship and need help, know there are resources available. You can call the National Domestic Violence Hotline 24/7 at 800-799-7233. You can also text START to 88788.