It remains an open question as to why the 43-year-old gunman fired inside Berkey Hall before moving to the MSU Union, officials said Tuesday.
"This is still fluid," said Chris Rozman, the deputy chief of campus police. "There are still crime scenes that are being processed, and we still are in the process of putting together the pieces to try to understand what happened."
This story will be updated as we learn more.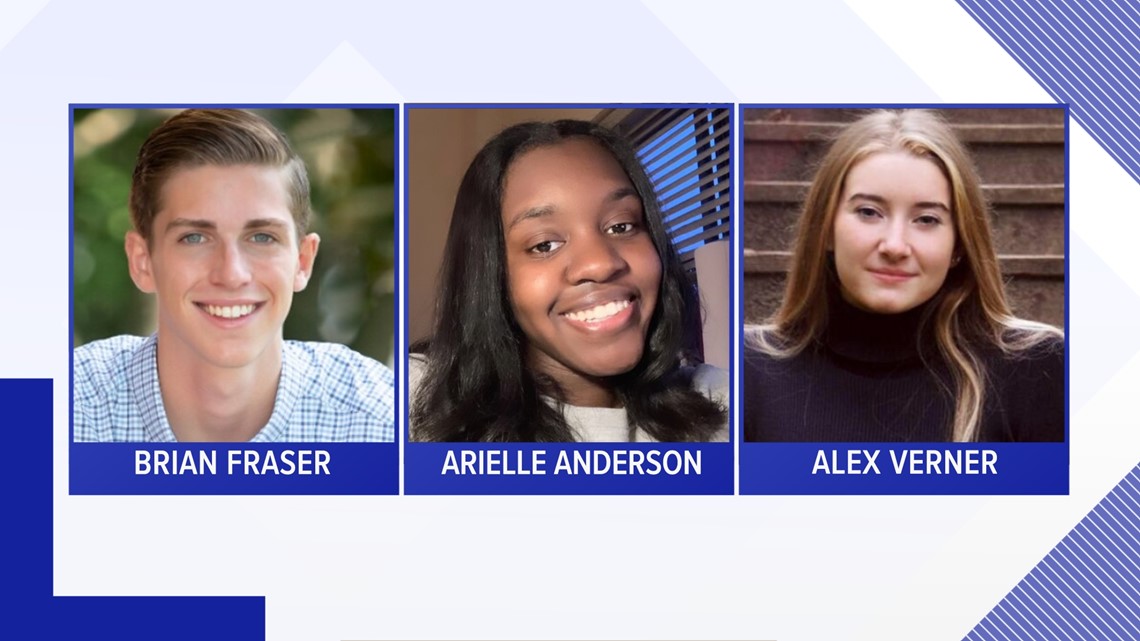 Brian Fraser
Fraser, a sophomore at Michigan State, is from Grosse Pointe, the university said.
He was the Michigan Beta Chapter president of Phi Delta Theta at Michigan State University.
"As the leader of his chapter, Brian was a great friend to his Phi Delt brothers, the Greek community at Michigan State, and those he interacted with on campus. Phi Delta Theta sends its deepest condolences to the Fraser family, the Michigan Beta Chapter, and all those who loved Brian as they mourn their loss," Phi Delta Theta International Fraternity said in a statement.
Alexandria Verner
Verner, a 2020 graduate of Clawson High School, "was and is incredibly loved by everyone," Clawson district Superintendent Billy Shellenbarger said in a statement.
She was a junior at Michigan State.
"If you knew her, you loved her and we will forever remember the lasting impact she has had on all of us," he continued.
Verner is being remembered as a "tremendous" student, athlete and leader, someone who "exemplified kindness every day of her life!" The district leader said she started at Baker Preschool, moved on to Schalm Elementary School and finished at Clawson Middle and High School.
Her parents, Ted and Nancy, and sister Charlotte and brother TJ are "equally grieving but are certainly already feeling the uplifting support of this tremendous community."
Arielle Diamond Anderson
Michigan State University Police confirmed Tuesday afternoon that Arielle Anderson, a junior from Grosse Pointe, died in the shooting.
The family of Arielle Anderson released the following statement:
"We lost our precious daughter, granddaughter, sister, niece, cousin, and friend, Arielle Anderson. She means the world to us. As much as we loved her, she loved us and others even more. She was passionate about helping her friends and family, assisting children and serving people.
"Driven by her aspiration to tend to the health and welfare of others as a surgeon, she was working diligently to graduate from Michigan State University early to achieve her goals as quickly as possible.
"As an Angel here on Earth, Arielle was sweet and loving with an infectious smile that was very contagious.
"We are absolutely devastated by this heinous act of violence upon her and many other innocent victims.
"While we appreciate the outpouring of the love, support, and prayers we have received thus far, we are grieving and hope that you respect our family's wishes to remain private at this time."
Family members told ABC Affiliate WXYZ that 19-year-old Arielle was killed in the mass shooting on MSU's campus.
She, along with Brian Fraser, was a graduate of the Grosse Pointe Public School system.
Her family said she loved children and had dreams of one day becoming a pediatrician.
Free and confidential crisis counseling is available 24 hours a day, seven days a week at the following contacts:
Students: Call 517-355-8270 and press "1" at the prompt
Community Mental Health: 517-346-8460
Michigan State University Deadly Shooting