GRAND RAPIDS, Mich. — Gov. Gretchen Whitmer announced a new education program at Grand Valley State University (GVSU) Wednesday that will help working adults earn their bachelor's degree.
The "online accelerated degree" is a 19-month program that will help students get degrees in areas the state has deemed as high-demand like computer science, cybersecurity, health and education. These areas of work all have direct impacts on Michigan's economy.
Whitmer was joined by GVSU President Philomena Mantella Wednesday at the GVSU Pew Campus to address the public about the new program.
"The series of programs will improve the lives of many and enhance the productivity of the state of Michigan," Mantella said.
Two former GVSU students who dropped out of college were at Wednesday's announcement to express their gratitude for the program that is giving them another chance to complete their degree.
Dustin Stec was forced to put GVSU on the back burner when he was 19 years old to focus his efforts on raising his family, he said. However, 12 years later, he said he thought it would be wise to finish his degree.
"I came across this program, and being an online format for a working adult, I figured I could spend a few nights a week advancing my career and making that accomplishment of maintaining my bachelor's degree," Stec said.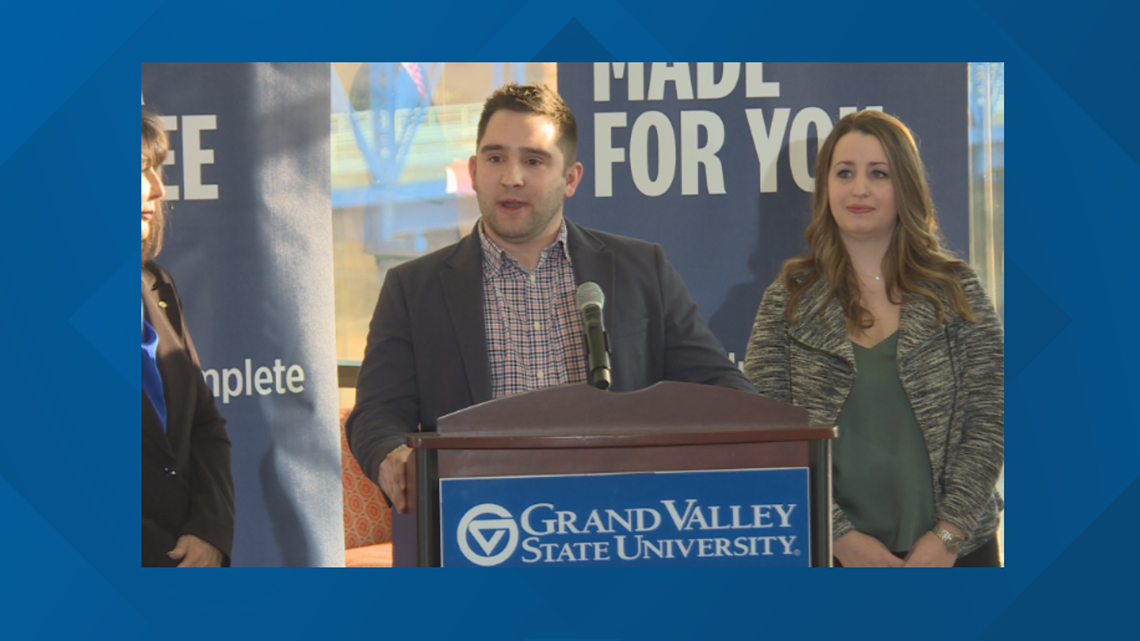 During last year's State of the State, Whitmer announced the state goal that at least 60% of Michigan adults have a post-secondary certificate or degree by 2030.
At that point, Whitmer said Wednesday Michigan was only one of nine states in the country that didn't set a formalized goal.
"Setting this goal is important so that we can harness all of the great assets we have in this state, and really be focused on meeting it. Because we have 100,000 [good paying] jobs that are unfilled that we know we just lack skills for," Whitmer said Wednesday.
She said this goal ensures that every person in the state has a real path to prosperity.
In the most recent budget, Whitmer dedicated $35 million to Michigan's Reconnect program which would provide a tuition-free pathway to an in-demand industry certificate or associate degree for Michigan adults who are 25 years or older.
Whitmer said the new program announced Wednesday at GVSU will be a critical component in helping to ensure that 60% of Michigan adults have a bachelor's degree.
"I think this program is a critical step in helping adult learners like Stec and so many other Michiganders get the skills that they need," Whitmer said.
The program will also reimburse students for the cost of the first course. Students will be able to take the money saved to reinvest in future courses.
The announcement comes just short of a week after Whitmer's 2021 fiscal year budget proposal of $61.9 billion, including a boost to public school funding.
As part of the budget proposal, Whitmer seeks funding for Reconnect. The Reconnect program would provide tuition-free community college or technical training for nontraditional students age 25 and older without an associate's or bachelor's degree.
At the start of February, Whitmer joined the Michigan Department of Labor and Economic Opportunity and the Department of Education to declare it Career and Technical Education (CTE) Month. With more than 545,000 job openings in the state of Michigan through 2026, state officials are encouraging students, parents and educators to explore programs that teach skills for high-demand, high-skill, and high-wage career opportunities.
Last month, a scholarship program in Grand Rapids was approved and will allow Grand Rapids Public Schools students the chance to earn certificates, or even associate's degrees, for free at Grand Rapids Community College.
More Education News on 13 ON YOUR SIDE: