GRAND RAPIDS, Mich. — A number of restaurants that recently reopened are now shutting their doors as employees are testing positive for the virus.
Kent County
Donkey Taqueria
All In Hospitality Group discovered on Thursday, June 25 that an employee at Donkey Taqueria, located at 665 Wealthy St. SE, tested positive for COVID-19. The restaurant is temporarily closed while they work on a reopening plan.
Bostwick Lake Inn
Bostwick Lake Inn, located at 8521 Belding Rd. NE, said on Facebook one of its employees tested positive for COVID-19. It has temporarily closed while the restaurant is deep cleaned and all other employees are tested for COVID-19.
Butcher's Union said their team member who tested positive for coronavirus hadn't been in the restaurant since Friday, June 19.
O'Toole's said their worker who tested positive for the virus hadn't worked since Tuesday, June 23.
The BOB said an employee may have contracted the virus as early as June 11 or 12 in Gilly's Smokehouse or the beer garden.
Joey's Tavern
Joey's Tavern in Grand Rapids will remain closed start Monday, June 29 through Thursday, July 2 after several employees tested positive for COVID-19 last week.
According to a Facebook post, employees will get retested before opening and they are cleaning in accordance with Kent County and CDC guidelines.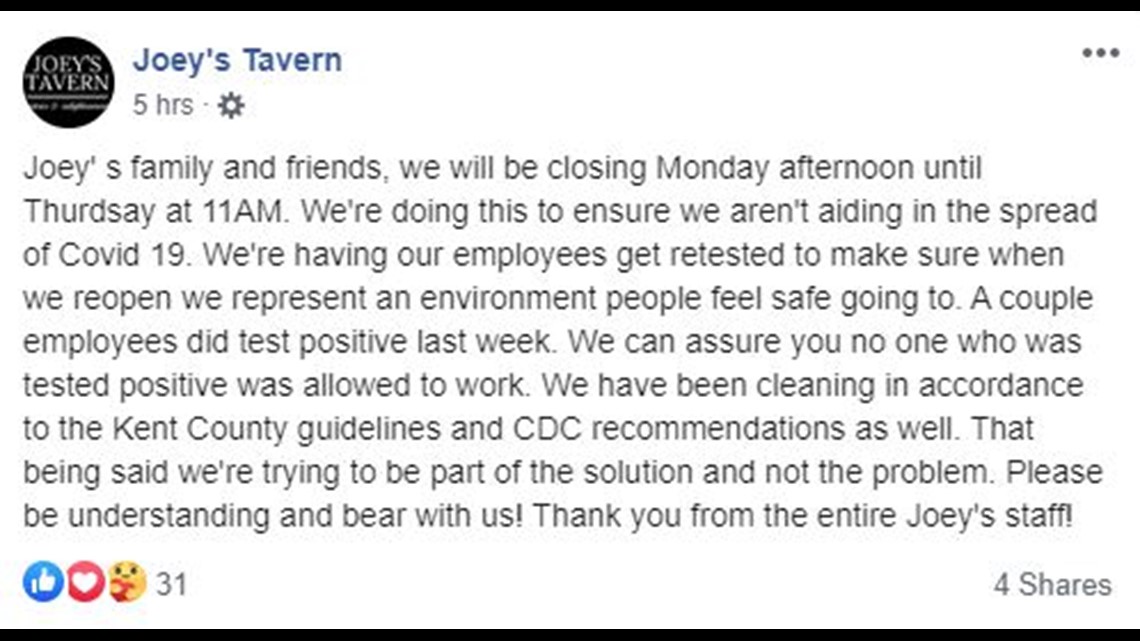 The Greenwell
The Greenwell, located at 924 Cherry St. SE, confirmed on Instagram that an employee tested positive for COVID-19 and that the gastropub would remain closed until they have completed necessary protocols through the state and Kent County Health Department.
Matchbox Diner and Drinks
Owners of the restaurant decided to temporarily close down after an employee fell ill. The employee has been tested for COVID-19, and the results were negative. The restaurant will re-open Thursday for lunch.
Editor's note: An earlier version of this story noted that a Matchbox Diner employee had tested positive for COVID-19. The story has been corrected to note that that employee's tests results were negative.
The Winchester
The Grand Rapids gastropub said on Instagram Tuesday, June 30, that one employee tested positive for COVID-19. They are working on a reopening plan.
The Grand Rapids area brewpub posted to Facebook on Wednesday saying several employees had tested positive this week. The posts says they hope to reopen in the coming days.
Ottawa County
Long Road Distillers
Long Road Distillers, located at 18 Washington Ave. in Grand Haven, said they were temporarily closing because one of its team members testing positive for COVID-19.
The distillery said the employee's last shift was June 18 and that prior to her shift, she show no signs or symptoms of COVID-19 during the required wellness check.
Long Road said it would be closed to allow time for a professional deep cleaning and sanitation, as well as test other employees.
Kalamazoo County
The restaurant said a couple of their employees visited the Harper's Restaurant and Brewpub in East Lansing, which is the site of a COVID-19 outbreak. HopCat said the employees went to the bar before it shut down.
Downtown Grand Rapids
The downtown Grand Rapids HopCat announced Friday evening after multiple employees tested positive for COVID-19. They last worked in the building on Monday, June 29. They hope to be open within the next couple of days.
State recommendations for COVID-19
Patients with confirmed infection have reportedly had mild to severe respiratory illness with symptoms of:
Fever
Cough
Shortness of breath
Chills
Repeated shaking with chills
Muscle pain
Headache
Sore throat
New loss of taste or smell
The best prevention for viruses, such as influenza, the common cold or COVID-19 is to:
If you think you have been exposed to COVID-19, call your health care provider. If you do not have a health care provider, call the nearest hospital.
Wash your hands often with soap and warm water for 20 seconds. If not available, use hand sanitizer.
Avoid touching your eyes, nose, or mouth with unwashed hands.
Cover your mouth and nose with a tissue or upper sleeve when coughing or sneezing.
Avoid contact with people who are sick.
If you are sick, stay home, and avoid contact with others.
Stay at least 6 feet away from others when in a public setting.