LANSING, Mich — Gov. Gretchen Whitmer announced Wednesday that the Michigan Department of Health and Human Services (MDHHS) has updated its epidemic order to allow the reopening of additional activities, including indoor group exercise and non-contact sports. However, bars and restaurants will continue to be closed for dine-in services.
The new order is effective from Saturday, Jan. 16 through Sunday, Jan. 31.
"The efforts we have made together to protect our families, frontline workers and small business owners are working. While there has been a slight uptick in our percent positivity rate, our cases per million have plateaued and more hospital beds are becoming available," said Gov. Gretchen Whitmer. "Today, we are confident that MDHHS can lift some of the protocols that were previously in place. Michigan is once again standing out as a nationwide leader in fighting this virus, and we must continue working to keep it that way."
Under the updated order, colleges and universities can have students back on campus for in-person classes starting Jan. 18.
"We continue to make progress in our fight against this virus, and expanding vaccination to healthcare workers, long-term care residents and staff, some essential frontline workers and those age 65 and older is bringing us closer to ending the pandemic," said Dr. Joneigh Khaldun, chief medical executive and chief deputy for health at MDHHS. "It is important that everyone continues to do their part by avoiding gatherings, wearing masks properly and social distancing. This remains just as important, even as the safe and effective vaccine is being administered, to protect those who are not yet able to be vaccinated."
While some restrictions have been lifted, restaurants and bars will remain closed for dine-in services. According to a release from the state, "the working plan is to open indoor dining with mitigation measures, capacity limits and a curfew on Feb. 1."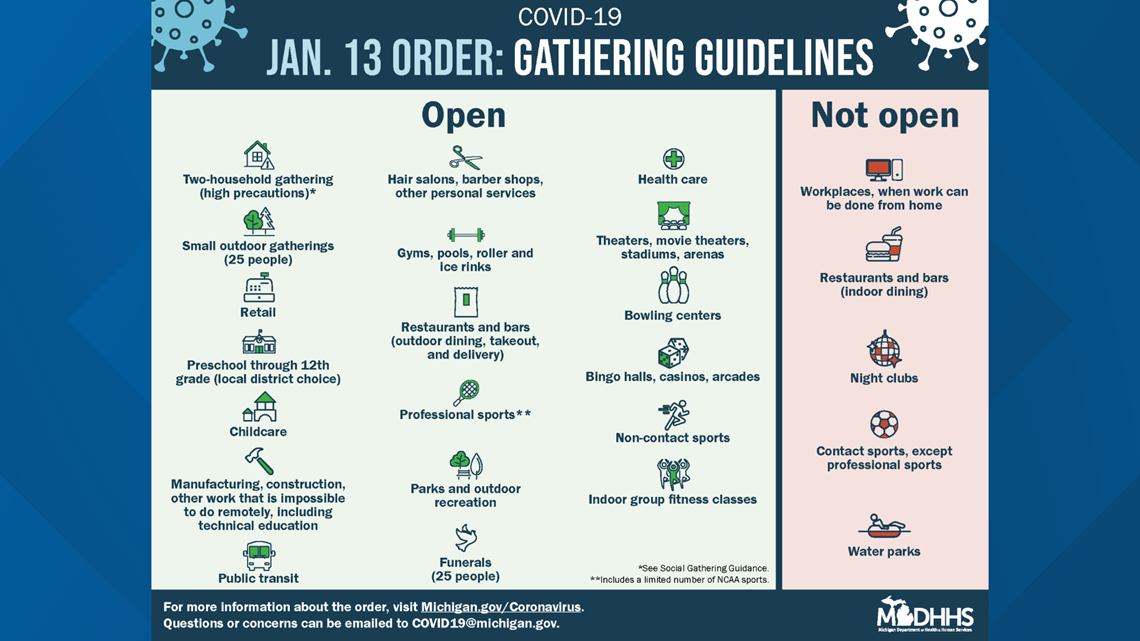 Two-household gatherings
Small outdoor gatherings (25 people)
Retail stores
K-12 (local district choice)
Childcare
Healthcare
Restaurants and bars (outdoor dining, takeout, and delivery)
Manufacturing and construction
Public transit
Hair salons and barber shops
Indoor group fitness classes
Gyms, pools, roller and ice rinks
Professional sports (without spectators)
Non-contact sports
Parks and outdoor recreation
Funerals (25 people)
Bingo halls, casinos, arcades
Bowling centers
Theaters, movie theaters, and arenas
Workplaces when work can be done remotely
Restaurants, bars (indoor dining)
Night clubs
Contact sports (except professional sports)
Water parks