GRAND RAPIDS, Mich. — As the evening sun started to fade behind the trees at Garfield Park on Monday night, the space was filled with activity. Chains rattled as disc golfers celebrated their successful shots, and the smell of hot dogs filled the air as a family enjoyed a cookout under one of the park pavilions.
Not far from that, Amber Mayfield and Samantha Tyler were greeting dozens of people showing up to their first free outdoor fitness class of 2023.
The City of Grand Rapids, Downtown Grand Rapids Inc., and Priority Health all partner to offer a number of different fitness options as part of the series, which takes place on weekdays. Garfield Park hosts a "Christ-centered" fitness class called Soulful Motion that combines praise, worship and fitness.
"We are doing all kinds of plyometrics. We're doing jacks. We're doing mountain climbers, squats. We're doing all kinds of fun stuff. We tried to throw like a teeny bit of dance in there too, just so that people can have fun," said Amber Mayfield who is the founder and director of Soulful Motion.
"One thing that we pride ourselves on is just making sure that any and everybody can participate, so we have advanced athletes. We have intermediate levels, but we also have a lot of beginners. And sometimes people will just come out here just to march to have fellowship with people."
Instructors at Soulful Motion say fitness is a big part of improving one's mental health, and they love being able to offer it to people for no cost as part of the free fitness series.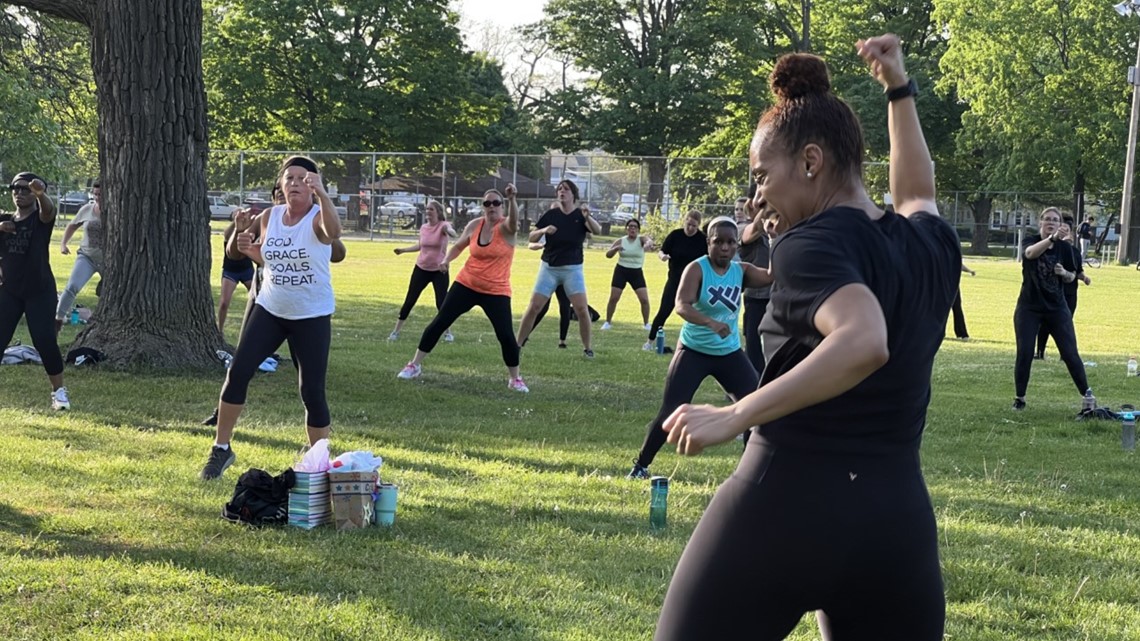 "The fact that it's free just eliminates a big barrier that many may have when it comes to their health and wellness. Being outside in the sun, it really just allows people who may not be able to go to the gym or do workouts at home the opportunity to go ahead and get that mental health release and fitness for their body," said instructor Samantha Tyler.
"We have a good time. The music is fun. Everybody is community, and we just love to have a good time and work out in the park."