GRAND RAPIDS, Mich. — Numerous uncontrolled wildfires burning in Canada continue to send plumes of hazardous wildfire smoke down into the U.S., degrading air quality over large portions of the nation.
While we are not seeing the dark hazy orange skies that they are in New York, we are not immune from poor air quality either. In fact, Thursday morning in Grand Rapids the Air Quality Index hit "unhealthy" levels for the first time since June of 2022, and for only the 7th time since 2012.
While air quality conditions did improve later in the day, and the forecast for Friday does not have us returning to unhealthy levels for everyone, it's also important to know that conditions can fluctuate, and unhealthy air quality is not ruled out for later this week either.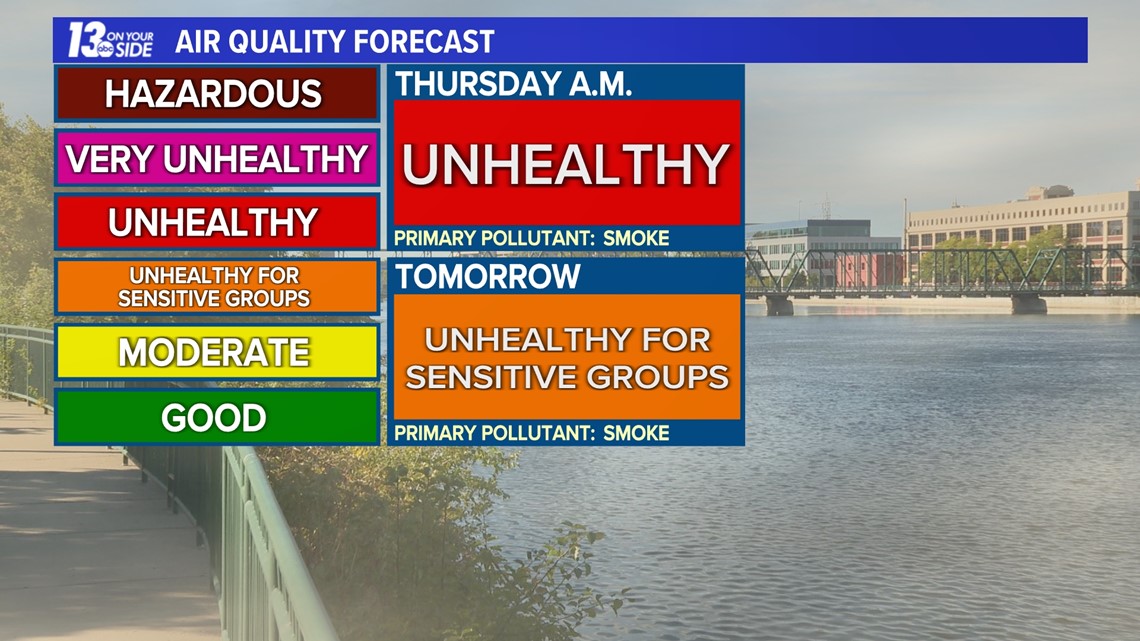 Alec Kownacki, a meteorologist with the Air Quality Division of the Michigan EGLE, told us, "We're not totally too sure of if it'll get any worse, but we're kind of just banking on, it's gonna stay in the USG (Unhealthy For Sensitive Groups) with some hourly concentrations in the unhealthy range. So we're not, we're not gonna see anything like New York and PA."
While that's good news, we are still going to be at unhealthy levels for anyone suffering from respiratory issues, such as chronic lung disease, COPD, asthma, and emphysema, among others.
For these people, staying inside with the doors and windows closed, and running the AC (if not directly pulling in unfiltered outside air) is the best option.
However, if you must go outside, Alec says, "What we recommend [is] a KN95 mask. We're not entirely too sure the surgical masks can really do anything, because PM25 (smoke particles) is just so tiny. Whereas a KN95 is better equipped for that."
Conditions will likely continue to change in the days and weeks ahead, so make sure you are staying with 13 On Your Side for the latest air quality updates!
-- Meteorologist Michael Behrens