KALAMAZOO, Mich. — Dr. Martin Luther King Jr. chose to speak on the campus of Western Michigan University during a tumultuous time in our nation's history.
Racial violence and tensions were running high, especially in the south.
In June 1963, Medgar Evers, an NAACP activist from Mississippi, was fatally shot. Two months later, Dr. King's celebrated "I Have a Dream" speech took place, during his march on Washington D.C.
Three months later, on November 22, President John F. Kennedy was assassinated.
The important civil rights legislation that Dr. King was fighting so hard for wasn't enacted until July 2, 1964.
"It was an interesting time on campus," said Thomas Coyne, 84, who was the assistant to then school president Jim Miller, and attended King's speech in 1963. "It was amazing that we were able to get Dr. King to visit at that time."
Coyne remembers everything that unfolded at WMU in the fall of '63, which led to Dr. King accepting the invite to Kalamazoo.
"I received a call in the alumni office for President Miller saying, 'why is governor Ross Barnett of Mississippi coming to Western," said Coyne. "I didn't have an immediate answer, so I checked and discovered that the senior class, aversed in student enthusiasm, had sent out some 30 letters to prominent people in the news, inviting them to come and speak at Western."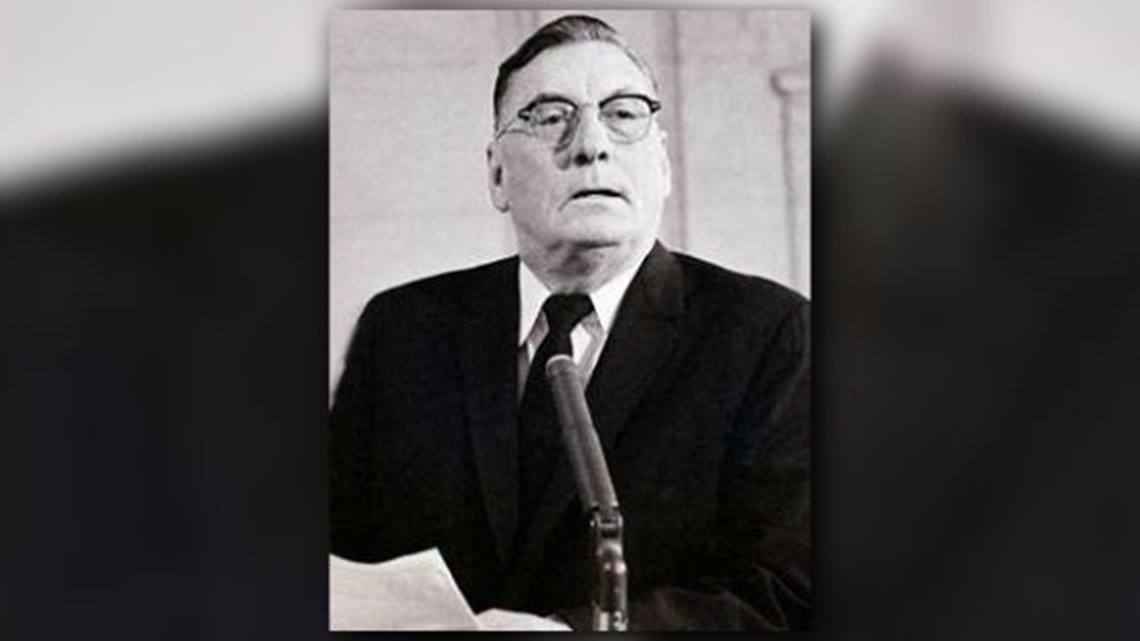 At the time, Ross Barnett was considered the leading voice of segregation in the United States, and he was the only person to accept the mass student invite.
"The decision to bring Barnett caused immense problems for President Miller," added Coyne. "There were protests everywhere, not to mention the uproar that came from the local NAACP office."
Barnett spoke to the WMU student body in September of 1963.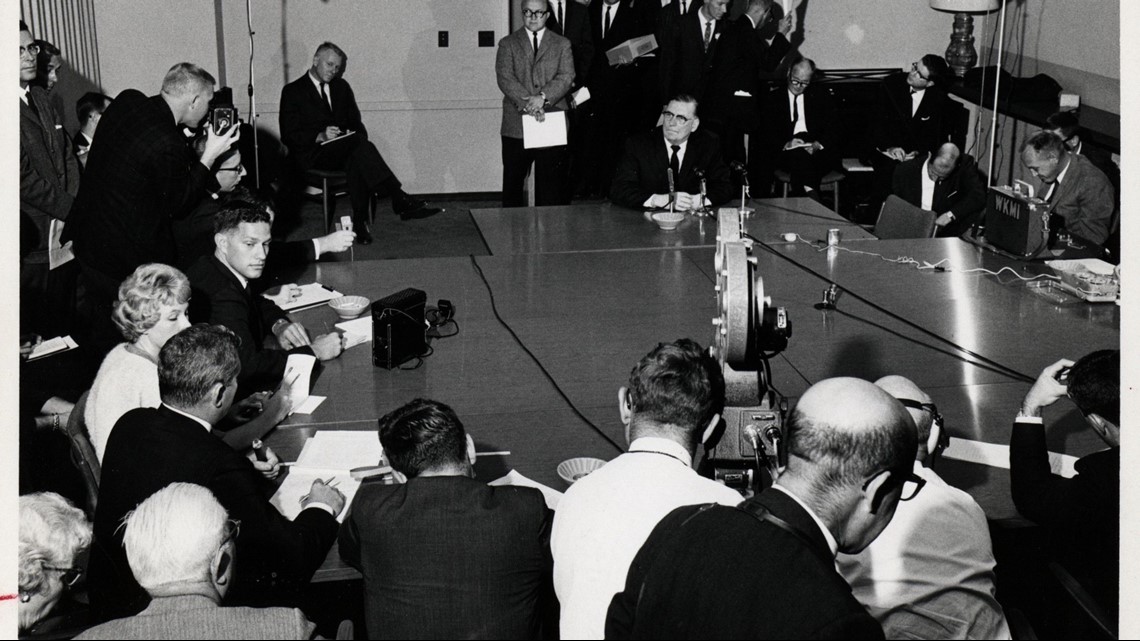 "Barnett's presentation truly upset the faculty," said Coyne. "They realized that having a ranked segregationist speak was not indicative of Western's values whatsoever."
School administrators met and came to the conclusion that they needed to create a counterpoint to Barnett's controversial appearance.
"[The faculty] created a series of lectures called, 'The Conscience of America,'" said Coyne. "The lead speaker they wanted for the series was Dr. Martin Luther King Jr., because he was highly identified as the leader of the civil rights movement.
"They put out an invite to him, and he accepted."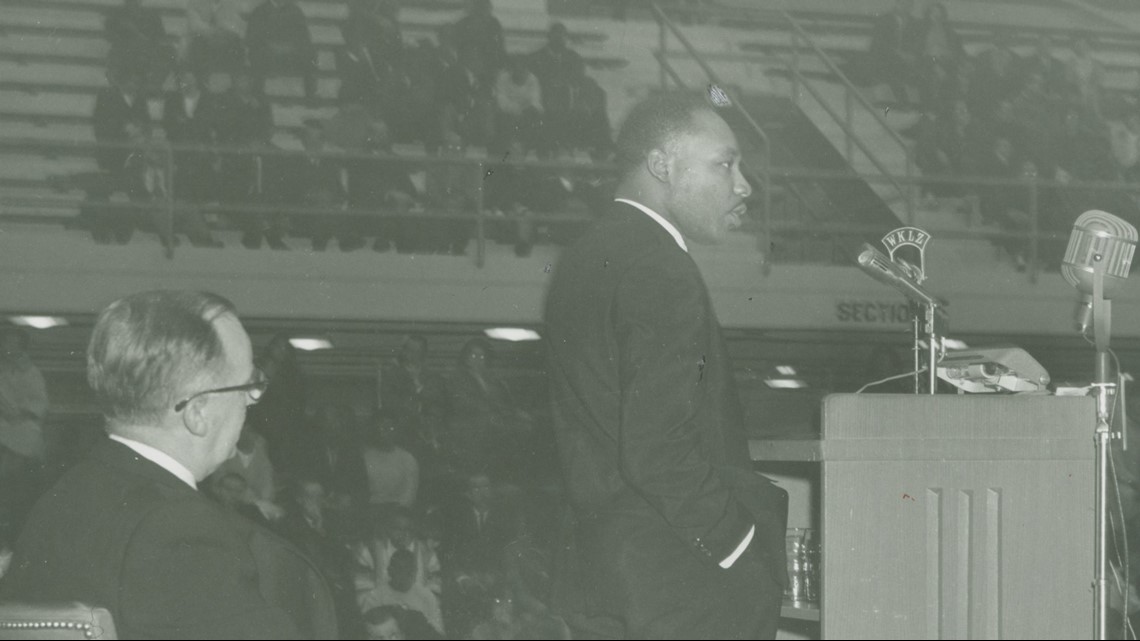 On December 18, 1963, during a blinding snowstorm, Dr. King arrived in Kalamazoo, Mich., and made his way to Read Fieldhouse on the campus of Western Michigan University. Despite the adverse weather conditions, some 2,000 students, faculty members, administrators and a few area residents turned out to listen to King speak about "Social Justice and the Emerging New Age."
"This was a huge deal for Western," said Coyne. "Dr. King was fresh off his 'I Have a Dream' speech, and here he was lecturing on our campus."
King's speech at WMU lasted 48 minutes, and he covered an array of topics.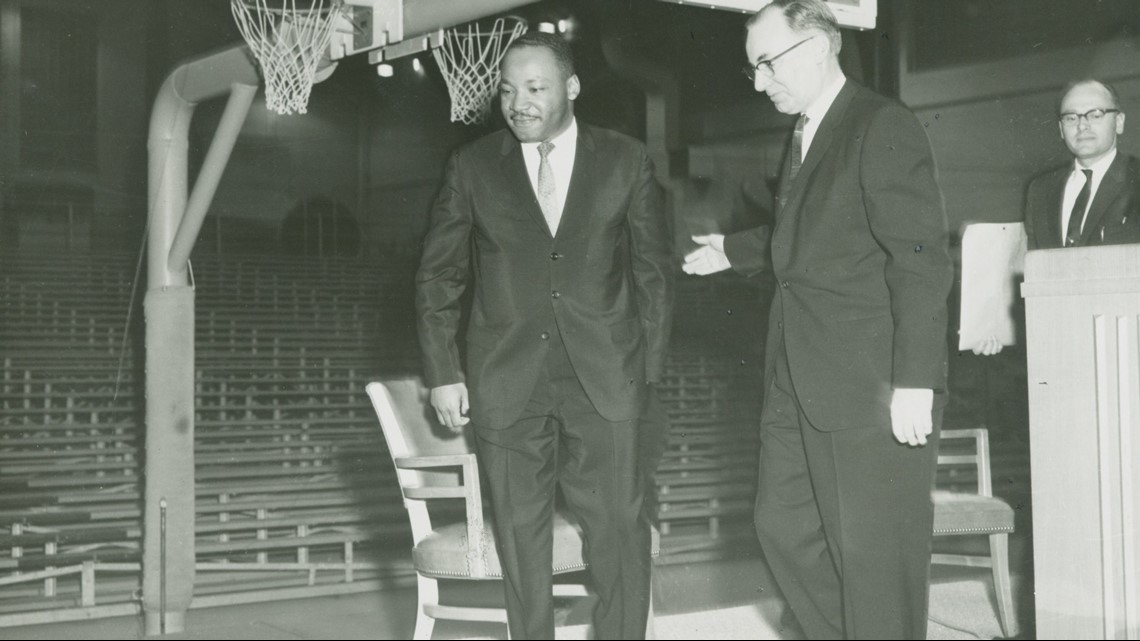 "His message was given in a scholarly manner," said Coyne, who witnessed King's speech in-person. "He spoke like a professor, talking about the history, meaning, responsibility and necessity for the civil rights movement.
"One of his main themes was, 'there were no inferior or superior races.'
"He spoke about the needs for people to be a brotherhood, and talked about the brotherhood of nations needing to be a brotherhood of people.
"His speech was a reaffirmation of what people at Western believed."
Garrard Macleod was a reporter for WMUK Radio (The WMU campus radio station) and was tasked to report live from inside Read Fieldhouse during King's appearance.
"There were moments when he started preaching in his eloquent way," said Macleod, 83, and a 1958 WMU graduate. "I remember one of his quotes - 'We must learn to live together as brothers or we will perish together as fools.'
"He was able to take this kind of detached, not emotionless, but detached view of the whole situation, and give you a reasoned talk about what was happening, why it was happening and what needed to happen."
Thomas Coyne recalls a comment Dr. King made during the question & answer period after the speech that he feels, to this day, was eerily prophetic.
"Somebody asked Dr. King, 'what effect will the assassination of President Kennedy have on the Civil Rights Bill', and King made the point that often times, a man could do more good after his death than when he was alive, and that Kennedy's death might be the impetus for the passage of the Civil Rights Bill, which turned out to be true," said Coyne." King might have been talking about himself, not just Kennedy, in that moment.
"His influence on the Civil Rights movement, then and now, was probably enhanced tremendously by his own assassination, and his own contribution of his life, so to speak, to the movement."
Even though 55 years have passed, nether Thomas Coyne nor Garrard Macleod will ever forget the night Dr. Martin Luther King Jr. spoke at Western Michigan University.
"Its interesting how it occurred," said Coyne. "But it occurred, and that's the important thing."
King's legacy lives on at WMU. It wasn't long after Dr. King's assassination on April 4, 1968 that Western Michigan University created the "Martin Luther King Jr. Student Scholars Academy," which continues to help students' academic advancement today.
If you'd like to read the entire transcript Dr. King's speech he gave at WMU, as well as the question & answer session, you can do that by clicking here.