Here's what a terrible Michigan highway (M-6) did to your vehicle
A company based in Ottawa County, considered one of the world leaders in vibration technology, has a new study that will certainly raise some eyebrows.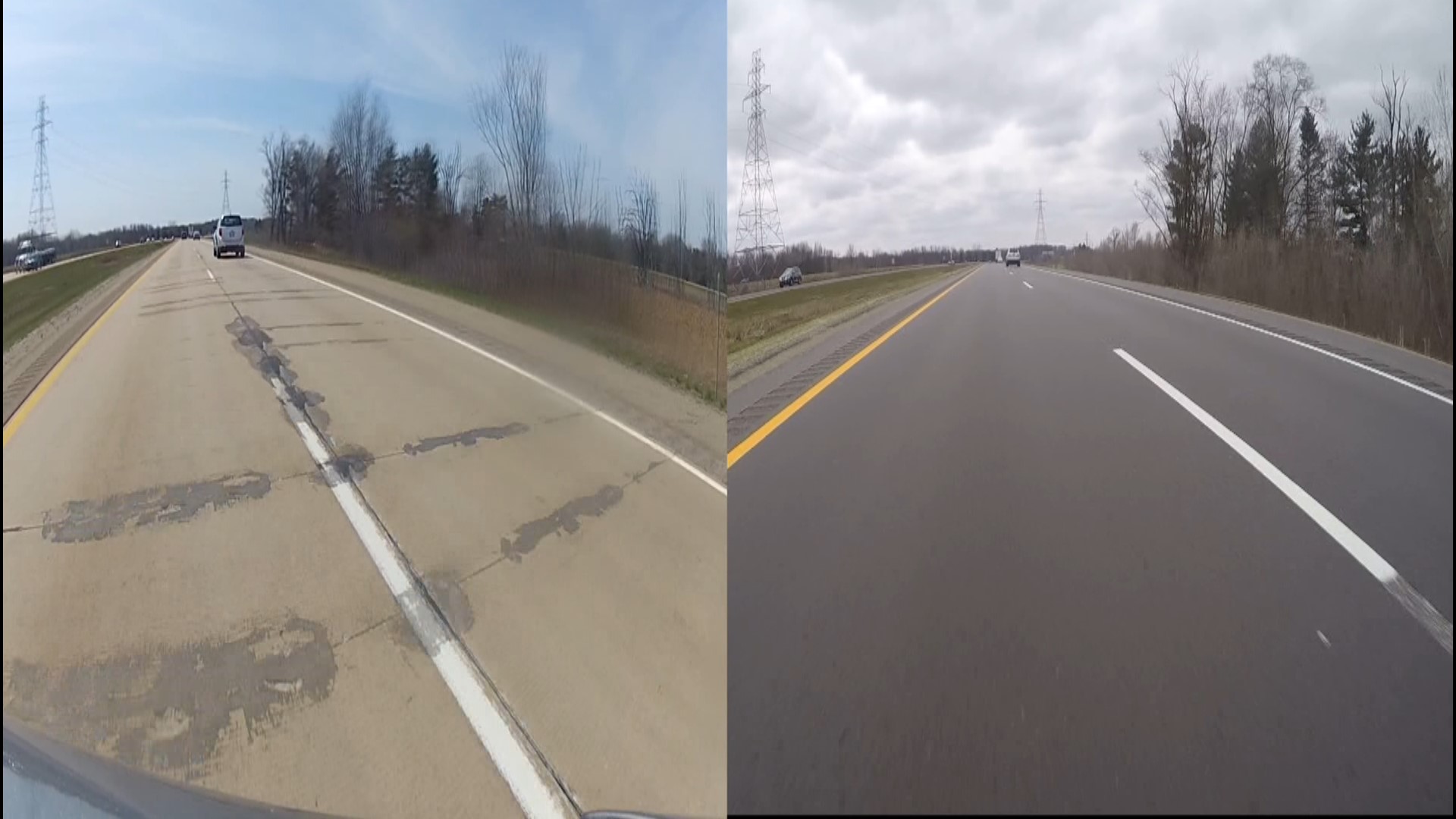 JENISON, Mich. - Many of you have asked over the years how much extra money you're spending on vehicle repairs and how much extra wear-and-tear is happening on your car or truck because of potholes and bad road surfaces.
We have an answer from a different point of view.
A company based in Ottawa County, considered one of the world leaders in vibration technology, has a new study that will certainly raise some eyebrows.
A project they never expected
Vibration Research, with headquarters in Jenison, typically works with the automotive and aviation industries, not to mention NASA. But, the company wanted to also use its new technology for practical purposes, and decided to look at the impacts of the poor road surface on M-6 between I-196 and the Wilson Avenue exit near the Ottawa/Kent County line.
Many of the company's workers traveled on M-6 every day and grew tired of the constant bumps every 12 feet.
"We wanted to know how much damage we were putting into our vehicles in a very short amount of time by driving over that section of road," Vibration Research President John Van Baren said.
The company used its capabilities to test the road surface before it was fixed and then after it was reconstructed with asphalt by the Michigan Department of Transportation (MDOT) during the summer of 2017.
"We used our newest equipment in multiple vehicles to record real road vibration both before and after the recent repairs", said Jade Vande Kamp, Sales Engineer at Vibration Research. "Then we fed the recorded data into a fatigue damage calculator."
The question the Vibration Research engineers wanted to answer was, "If the repaired section of M-6 is a 'normal environment', how much additional damage was applied to my vehicle for each mile driven on the old M-6?"
The engineers at Vibration Research indicated any vehicle is being damaged in some way every time it is driven, commonly thought of as "wear and tear". The experts say automakers design their vehicles to withstand the stress.over time, realizing eventually the vehicle will break at some point.
The 13 Watchdog team took a look at how the company's leaders did the testing. Their experts hooked up multiple accelerometers to a 2016 Chevy Silverado 1500 truck and drove it over the road surface multiple times. They were able to record real-time data as we drove the route. We could see instant peaks in their vibration data as we hit each bump in the road. All of that data was then brought in, calculated and compared in an apples-to-apples comparison between the old, decrepit pavement and the pristine new asphalt.
The conclusions from the data stunned executives in the company.
"Commuting across that four mile section for a year, pre-repairs, essentially took 10% off the life of your car," Vande Kamp said. "The data just proves what I thought was true, is in fact true."
That means the typical commuter who made a roundtrip to work once a day on that portion of M-6 drove approximately 2,000 miles annually on the road. Vibration Research's study shows you didn't just have 2,000 miles of wear and tear, you actually had 20,000 miles of wear and tear for the 2,000 miles driven.
"For general applicability, a factor of 10 is a conservative choice," Vande Kamp wrote in a report. "That means that on the old road conditions a vehicle experienced nearly 4000 miles of damage in 400 miles of actual driving."
"You buy a vehicle with 100,000 miles on it and you probably wonder how much more life you should expect to have with it," Van Baren said. "What we try to do is quantify how much life is left."
The data suggests vehicles that were on M-6 consistently, undoubtedly, have a better chance of having higher repair costs and a shorter life.
While commuters can limit the wear and tear damage a bit, business owners aren't necessarily able to do that.
Take Rob Aubuchon who owns ABC Glass in Byron Center. He says he makes on average throughout the years, three roundtrips a day across M-6 to repair auto glass. That equates out to about 6,000 miles a year on that stretch of bad road. We broke the news to him the study showed a 10-to-1 ratio for wear and tear which would equate to a damage estimate of more than 60,000 miles of wear and tear on his truck
"Maybe I need to get (my vehicle) checked out," Aubuchon said. "It does beat up your vehicle."
The experts say more wear and tear means tires wear down quicker. You burn more fuel. You need more routine maintenance. And your vehicle depreciates and does not last as long.
"The worse shape (the) pavements are in, impacts the consumer because there is more stress on the vehicle," says Rocky Moretti of the non-profit National Transportation Research Group, or TRIP. "The longer you delay making those (road) improvements, then they become that much more costly."
In the case of M-6, give credit to MDOT for re-building the road last year, years before they were supposed to do the work. It's clear the right decision was made considering the cost to drivers.
But the research should send a scary message to those who are constantly driving on poor highways across the state every day. According to TRIP, nearly one-third of the nation's major urban roadways – highways and major streets that are the main routes for commuters and commerce – are in poor condition.
TRIP reported every Michigan driver pays $686 extra in annual vehicle operation and maintenance costs due to bad road conditions. The organization also found Grand Rapids was ranked as the 9th worst urban area "with the highest share of major roads and highways with pavements that are in poor condition and provide a rough ride".
As for MDOT, it's leaders told 13 On Your Side they weren't aware of Vibration Research's study but didn't dismiss the potential 10-to-1 wear and tear ratio. MDOT's executives indicated they do a different kind of vibration-related testing focusing more on assessing overall pavement ride quality than what's happening to vehicles.