Documents obtained by the 13 Watchdog team from the Michigan Department of Transportation show a chunk of West Michigan drivers are going more than 80 mph on local highways.
Some of the fastest areas include I-96 in Coopersville, I-196 in Hudsonville and M-6 near Cutlerville. All three of those highways have at least 15 percent of all drivers going 81 mph or faster.
You probably didn't think the State of Michigan records your speed every day on just about every highway in the state, but they do.
The data comes from continuous automatic traffic recorders installed in the ground on freeways across the state.
We obtained this spreadsheet from MDOT through the Freedom of Information Act.
In Coopersville, I-96 flows around the southern border of town. Local truck drivers say they are not shocked to hear half of all drivers in that area are going 76 mph or faster and 15 percent or more are going more than 81 mph.
"It's pretty much a straight line and not many curves," trucker Dan McEntaffer said. "It's the main strip from the lakeshore to Grand Rapids, so a lot of people trying to get to work from the lakeshore."
We found in our investigation that stretch of I-96 near Coopersville is one of three highways in Michigan where both sides of the road have the benchmark 85th percentile at more than 81 mph, suggesting it's one of the fastest roads in the state.
"It's not a surprise to me," McEntaffer said.
M-6 eastbound near Cutlerville and I-196 eastbound near Hudsonville are also fast stretches of road according to MDOT's data. Both are in the top range of 81-85.9 mph at the benchmark 85th percentile meaning 85 percent of all drivers go in that range or slower.
We found just about every highway measured in Michigan has an 85th percentile number that could be rounded to 80 mph. The 85th percentile number is important because it typically shows 85 percent of drivers will be driving at or below the speed limit, and that a majority of vehicles will be driving within 5 MPH of the speed limit. If vehicles on a given highway drive approximately the same speed, experts say it increases safety and reduces the risk for accidents.
Despite MDOT's statistics, almost all of West Michigan's rural highways are still 70 mph.
MDOT and the Michigan State Police changed 600 miles of the states freeways, mostly in the northern Lower Peninsula, to 75 mph in 2017 as part of a new law passed by Michigan's legislature late in 2016.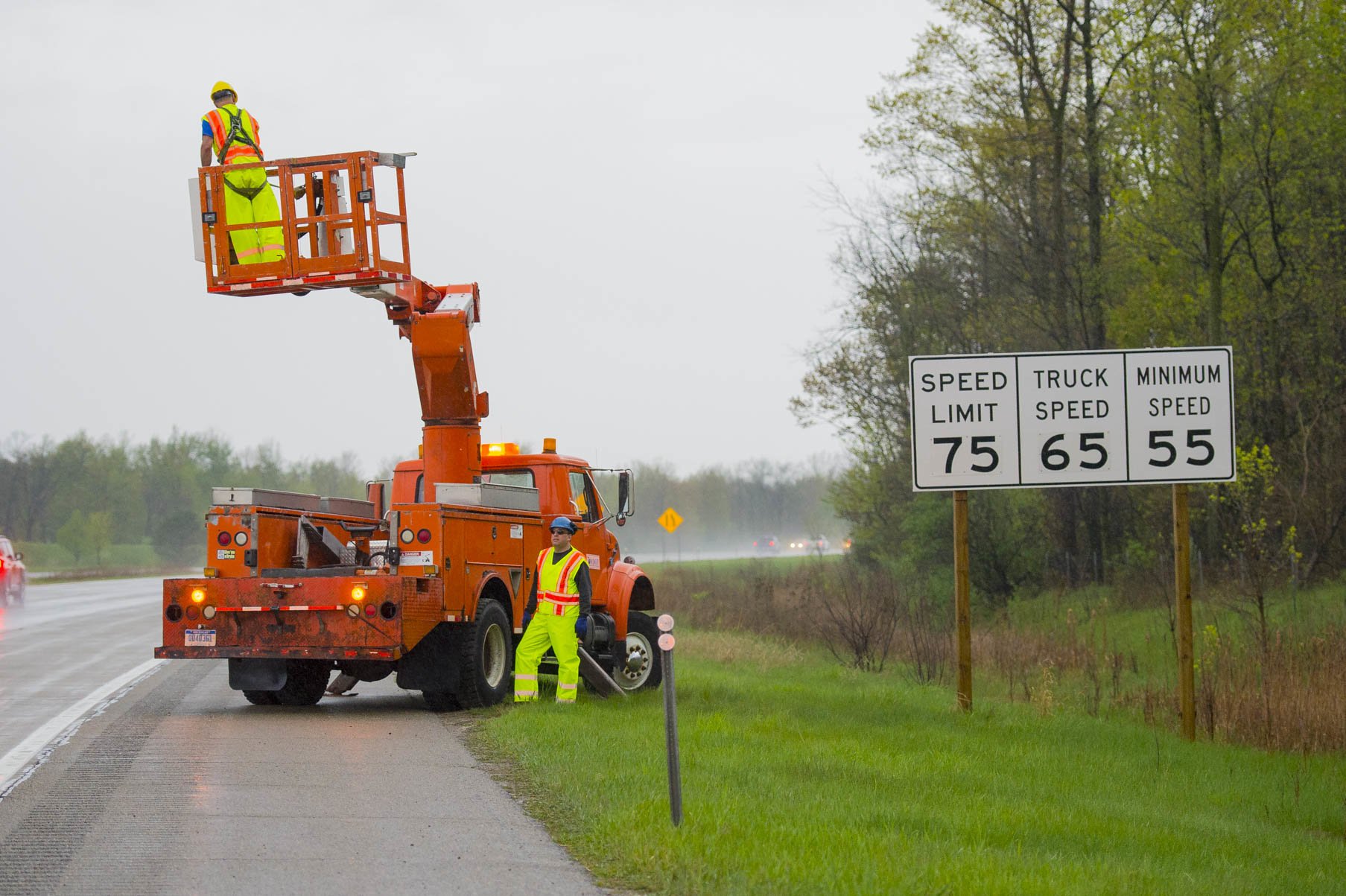 Michigan State Police spokeswoman Shanon Banner says her agency worked with MDOT to identity candidates for 75 mph based on both speed and engineering studies.
"As part of this project, we'll be working together to examine the effects of the new speed limits on the newly signed routes, as well as adjacent routes to better understand the correlation between speed and safety," Banner said. "This research is likely to take a few years to return conclusive evidence."
Banner said MSP would continue to evaluate corridors throughout the state, "to determine candidates for further consideration, but while this evaluation and research is ongoing we'll continue our measured and careful approach to any additional speed limit changes."
"The MSP takes speed enforcement very seriously," Banner wrote in an e-mail. "Our message to motorists is that you risk an encounter with a trooper any time you choose to exceed the speed limit."
Others disagree with the careful approach by the state agencies and point to the data as a reason to up many of our local highways to 75 mph immediately.
Jim Walker of the National Motorists Association says he will begin to lobby lawmakers to increase speed limits after looking at the data we received.
"Any MDOT person who's allowed to tell the truth will tell you the posted speed limit has almost no effect on 85th percentile speeds because people drive at the speeds they think are safe and comfortable, not to the numbers on the signs," Walker said.
Walker says I-96, I-196 and M-6 in rural areas should receive a higher speed limit.
"Those should be virtually automatic to go to 75 mph based on these numbers," Walker said. "You should not be able to define more than half your drivers as criminals. It doesn't make any sense and it's not for safety."
Walker adds, in the fairness component when officers issue citations to people who are driving at the 85th percentile who are some of the "safest drivers on the road" and are, in his opinion, the least likely to cause a crash or be in a crash.
"They would be ticketing the safest drivers on the road and the only result of that is to get revenue," Walker said. "Some officers don't like to be assigned to be road tax collectors. They'd prefer to be out there doing something to promote safety."
Leaders at MDOT issued statements to us for this investigation. They indicated the data we have is, "not being used to monitor speeds on the roads for establishing speed limits." MDOT executives, though, didn't question the accuracy of the numbers.
MDOT's spokesman Jeff Cranson wrote:
Although MDOT and MSP use the 85th percentile as a reference point in part to help determine what the appropriate speed limit should be other factors are taken into consideration. Many traffic and road conditions are examined to determine a reasonable speed limit. These include number and type of crashes, speed of vehicles (the 85th percentile) and number of cars, pedestrians, and bicycles. Also considered are physical conditions of the road such as sidewalks, hills, curves, lanes, driveways, intersections, roadway surface, and traffic controls.
Walker's critical of MDOT and says the agency has not been willing to increase speed limits in locations where the data seems to show 75 mph would be the speed limit.
"Slower speeds might be safer. Slower speed limits that are ignored are not safer," Walker said.
Drivers we spoke with are mixed on potential new 75 mph speed limits. Some have concerns if the speed limit is raised, drivers will go that much faster.
"My biggest worry is people on their cell phones, so I am always cautious about that more than anything," Bill White from Ludington said.
Others say rural highways in West Michigan probably deserve the 75 mph.
"I think 75 is a fair limit in non-congested areas," driver Mike Robinson said.