Ticketed truckers blame 100th Street bridge for collisions
In internal emails in response to all the bridge hits, one Michigan Department of Transportation worker wrote, "This is absurd."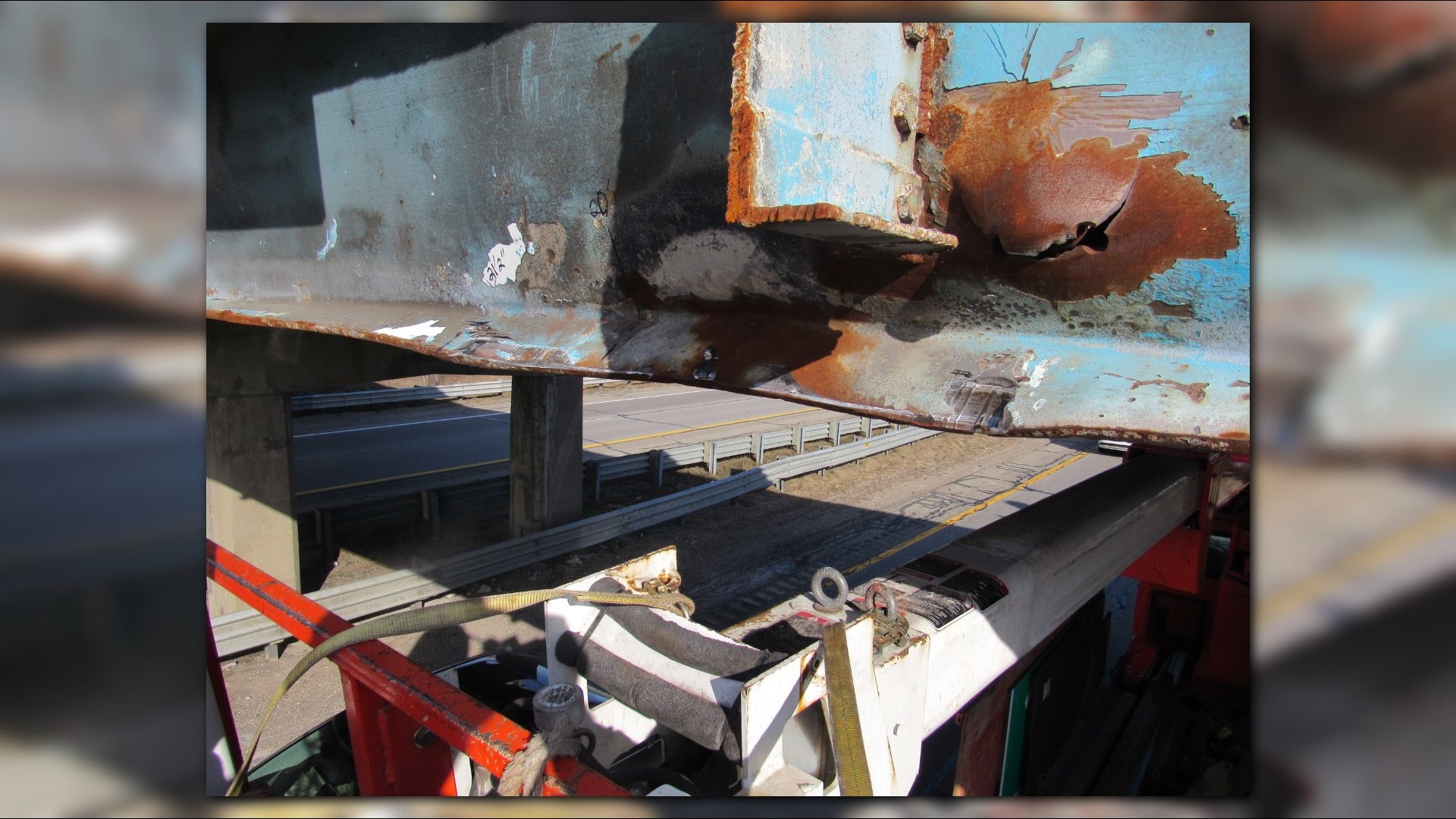 BYRON TOWNSHIP, Mich. - A 13 On Your Side Watchdog investigation located three of the responsible parties who hit the 100th Street bridge this year and all believe a lower-than-expected bridge is at fault for their high load hits.
That's despite evidence we obtained showing the structure's height largely hasn't changed since it was built in 1957.
The bridge is posted at 13 feet 11 inches and is actually 14 feet 1 inch on the problematic clearance on the northbound side of the bridge. Michigan law prevents truck drivers from carrying a load taller than 13 feet 6 inches without a permit.
Because of that, multiple truck drivers who have hit the bridge have been cited for having an oversized load and, in cases where the bridge was damaged, the insurance companies for the carriers are paying to fix the bridge.
But, surprisingly, we found the drivers still think the bridge is the reason their incidents happened.
The most recent bridge hit was last Friday, May 11. A truck carrying empty steel containers used to haul cherries hit the overpass. Fortunately nobody was injured by the falling containers, but it did cause damage to two vehicles.
'THIS IS ABSURD'
In internal emails in response to all the bridge hits, one Michigan Department of Transportation worker wrote, "This is absurd." Another wrote, "This keeps getting better and better." Another said the 100th Street bridge is now a "high-profile" bridge.
Joking aside, others showed disbelief and shock that it keeps getting hit, frustrated that it was now their "favorite bridge."
Add it all up, what has happened to this bridge in the last year is unbelievable.
MDOT leaders said they only have records on bridge hits at 100th Street from 1985 to 2003. During that 18-year span, there were six documented high loads at the bridge, approximately one every three years.
In 2018, it's being hit at a rate of approximately every two weeks.
Overall, our investigation found the 100th Street bridge has been hit a total of 10 times in the last 15 months. Four of the hits did significant damage, causing it to close down at times for inspections and construction.
Only one lane of 100th Street across the bridge has been open since January.
ALL THE HITS
Here's the list of high load hits at the 100th Street bridge. In some of the cases, drivers are not identified in each hit because the incidents were considered hit and runs.
February 22, 2017- Truck damages existing crack in beam
May 26, 2017 - Truck damages five beams
January 12, 2018 - Two trucks in a row from the same company hit the bridge causing damage to two beams
(See #3)
January 22, 2018 - Manufactured home traveling northbound was over height and struck the bridge. No observable damage
March 5, 2018 - Truck hauling machinery damaged two beams
March 22, 2018 - Truck hauling mulch was over height. No serious damage
April 3, 2018 - Truck with plastic drain pipe hit bridge. No new damage
April 6, 2018 - Truck with pallets hits bridge (minor damage)
May 11, 2018 - Truck carrying empty steel containers used to haul cherries hits the overpass (no damage)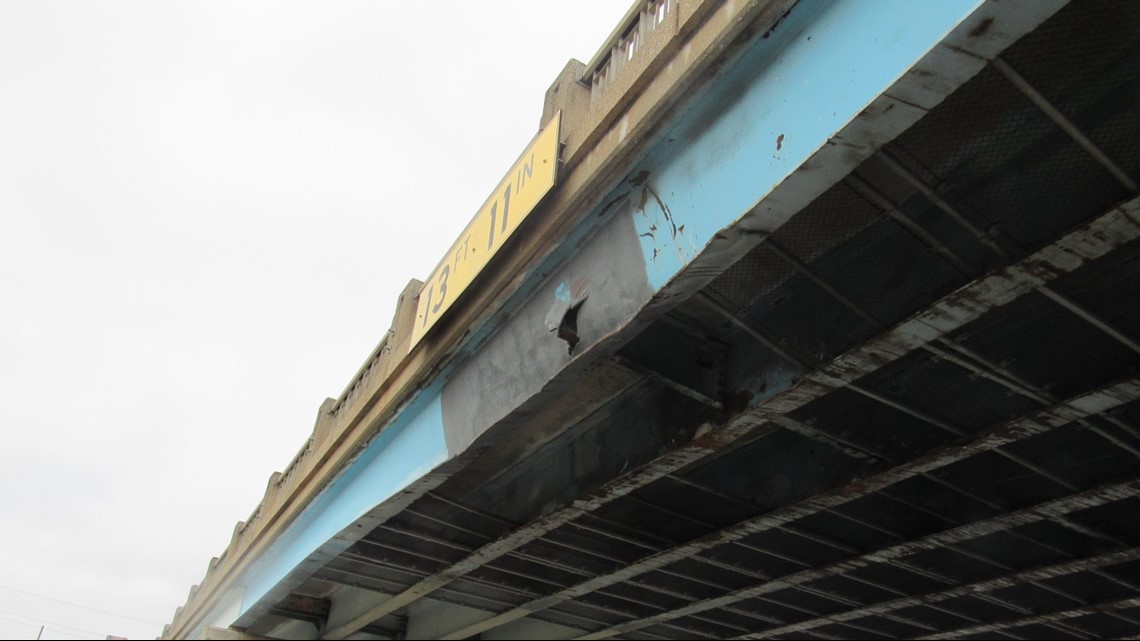 DOUBLE HIT
The Jan. 12 incident was the most destructive of all the hits. Three of the bridge's beams were torn, according to information obtained through the Freedom of Information Act from MDOT.
Crash reports say the company responsible for the two trucks that hit the bridge is Pearl Transportation, based in Wadmalow Island, South Carolina.
The two drivers were Dean Addison of Santee, South Carolina and Andre Felder of Columbia, South Carolina. Both Addison and Felder received citations for over height loads from the Michigan State Police. We were unable to reach either driver.
We did get in touch with a man who identified himself as a truck driver for Pearl Transportation, George Robinson, who said the folks at this company were shocked to hit the bridge after making the trip from South Carolina.
"It's a little bit lower than we expected it to be," Robinson said. "The trucks aren't over height, the bridges are too low. Something needs to be done before somebody is killed there."
Robinson added that he doesn't want his company to send him up north.
"I don't want to come to Michigan," Robinson said.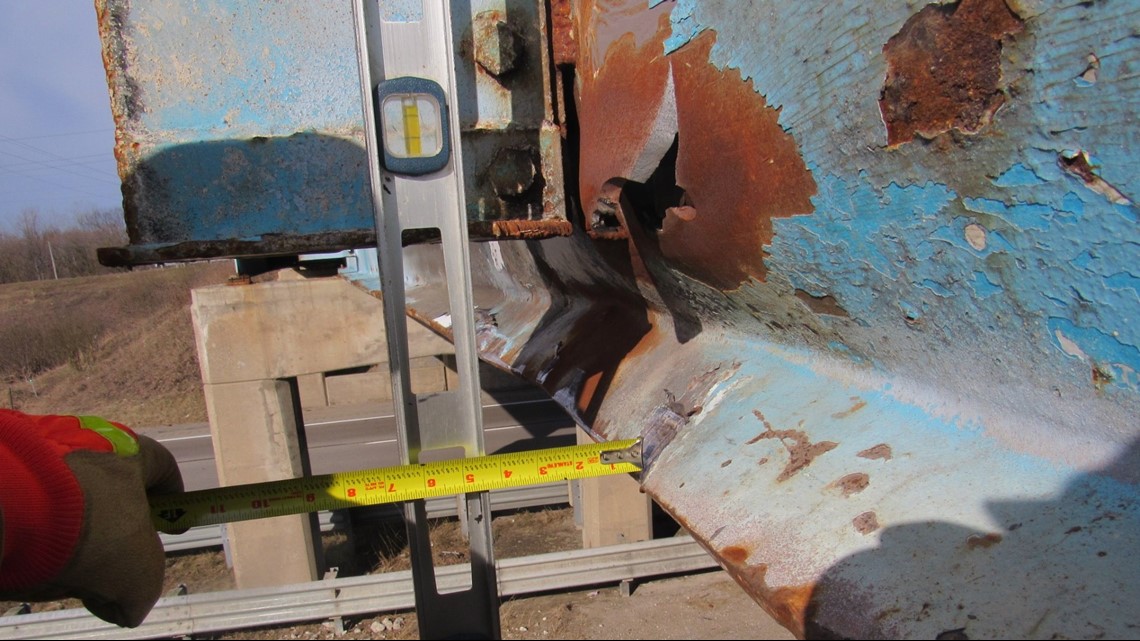 EMBARRASSED AND APOLOGETIC
The next major incident to happen was on March 5. Truck driver Charles Loyd Stephenson was driving a flatbed truck to deliver a forklift to a customer in the Grand Rapids area. Just short of his destination, the forklift hit the bridge, damaging two beams and breaking the forklift into pieces.
Stephenson told us in an interview he's driven millions of miles without an incident before this happened.
"I am embarrassed and I am sorry for the inconvenience I have caused for people who have to travel there every day," Stephenson said. "It's really embarrassing is what it is."
He said he traveled nearly 1,000 miles that day before hitting the bridge and contends it was the bridge's fault.
"I am 100 percent positive I had a legal load," Stephenson said. "There's no doubt in my mind."
Documents show MSP troopers cited Stephenson for having an over height load.
"Something is wrong and I am certainly not an engineer," Stephenson said. "I can't say what is wrong other than it's too close to the ground."
MULCH MESS
Hit #7 caused a big mess but didn't do much damage to the bridge. A truck with mulch stacked too high hit the bridge, damaging the tarp system on the truck. Through records, we identified the company who hired the truck driver was from West Michigan.
Records show Kalamazoo Landscape Supplies based in Kalamazoo owns the truck and it was driven by Richard Rocha of Allegan at the time of the incident.
We sought answers from the owner of the business and the driver. Rocha could be not reached. Kalamazoo Landscape Supplies Owner Dan Glas told us he was embarrassed the incident happened involving his driver and said he immediately fired Rocha after the bridge strike.
Glas was disappointed to hear we found in accident reports Rocha told the MSP he didn't know what Michigan's legal height limit was for trucks.
"It is unfortunate because you do your best to give training and you hope your drivers put forth the effort," Glas said. "It didn't happen in this case and ended up in a bad situation."
In light of the incident, Glas promised us he emphasized the importance of making sure loads aren't above the legal limit to his other drivers. He wondered, though, with all the hits, whether the bridge really wasn't as marked.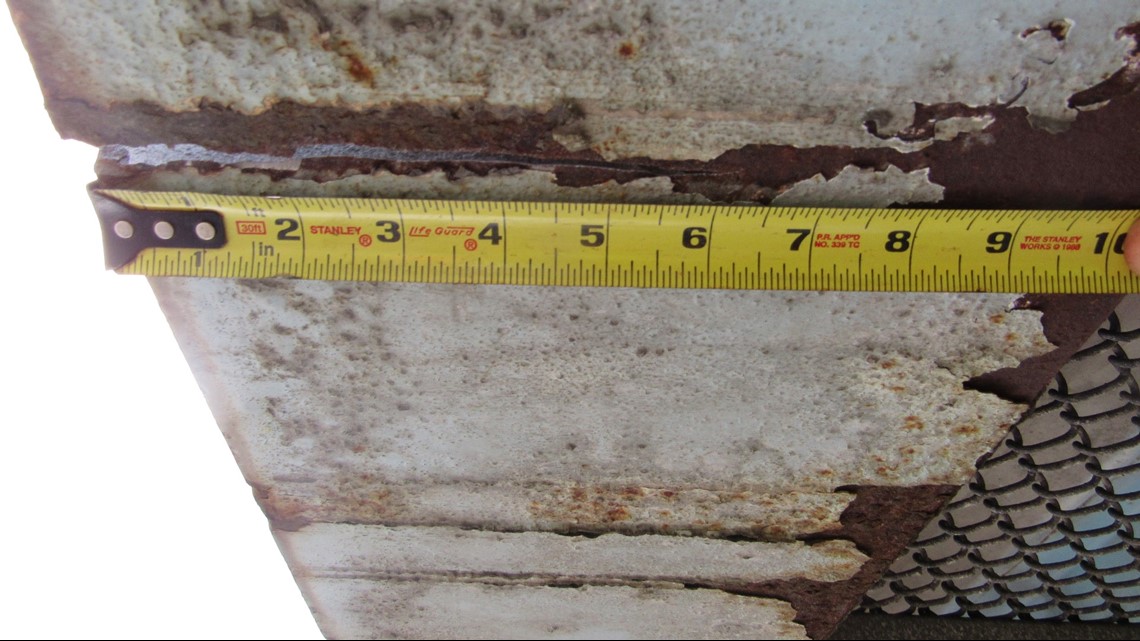 HOW TALL IS IT?
Ultimately through the hundreds of documents we obtained, there is no evidence the bridge has changed at all since it was built in the late 1950's. There is also no evidence of the bridge settling or other factors causing the clearance to be smaller than what's marked.
"After every bridge hit we have measured the height and it remained the same," MDOT bridge inspection engineer Richard Stack said. "If it weren't for the high load hits, this bridge could have lasted another 30-40 years or more."
"The legal standard is 13 feet 6 inches so that's the criteria which means trucking companies need to get under it," Sen. Tom Casperson (R-Escanaba) said.
Some truckers back up MDOT's belief nothing is different here.
"It's the one behind the wheel that ain't paying attention," truck driver Phil Meachum said. "The bridge has been there. The bridge didn't lower itself."
"I am always conscious of my load," truck driver John Jedd said. "Of course I make sure it's secured and the height of the load is correct. To not do that is very irresponsible, dangerous and life-threatening. It's just unacceptable."
Some of the truckers and other experts in trying to reconcile all of this said that past experience shows them when the economy gets better, often times more of these truck-bridge hits tend to happen, perhaps because of inexperienced new truck drivers.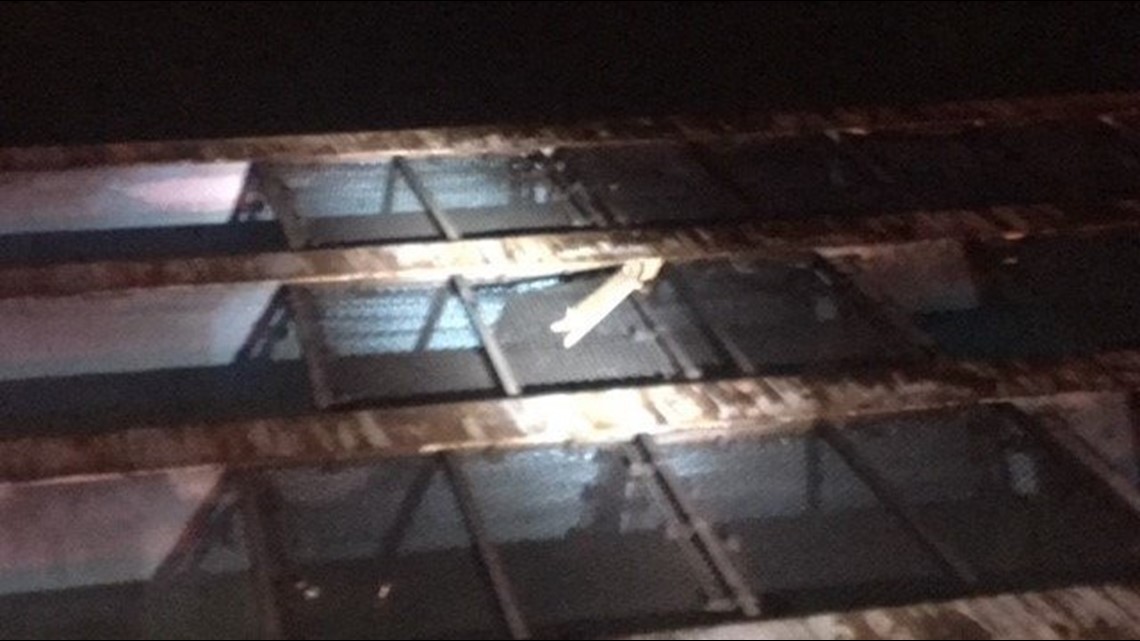 A FINAL SOLUTION?
MDOT is going to reconstruct the road underneath the bridge this fall, shaving off 2-3 inches of the roadway to try to stop the madness before the bridge can be totally replaced by 2020. The new bridge will have a height of more than 16 feet to comply with federal guidelines.
The bridge on top will open up in a few weeks to both lanes of traffic after crews get it back in a workable condition.
That's assuming, of course, there are no new truck hits.