GRAND RAPIDS, Mich. — The estranged husband of a Rockford area woman who was fatally stabbed more than 13 years ago has been charged with first-degree murder.
Renee Pagel, 41, was found dead in the bed of her home in Kent County's Courtland Township.
She and her estranged husband, Michael, were nearing the end of a contentious divorce when the Aug. 5, 2006 murder occurred.
Michael Pagel, 55, who had been living in the Saginaw County town of Freeland, appeared in a Kent County courtroom Thursday afternoon on a felony charge that could put him in prison for the rest of his life.
The charge of first-degree premeditated murder was read during a brief video arraignment in 63rd District Court. Judge Sara Smolenski set bond at $2 million.
Renee, a mother of three, was found dead in the bed of her home on 13 Mile Road NE. She was recovering from surgery after donating a kidney to the father of a student she taught at Kent Technical Career Center.
Pagel's case has been cold for years, although her husband had been considered a primary person of interest. The couple were going through a heated divorce before she was killed.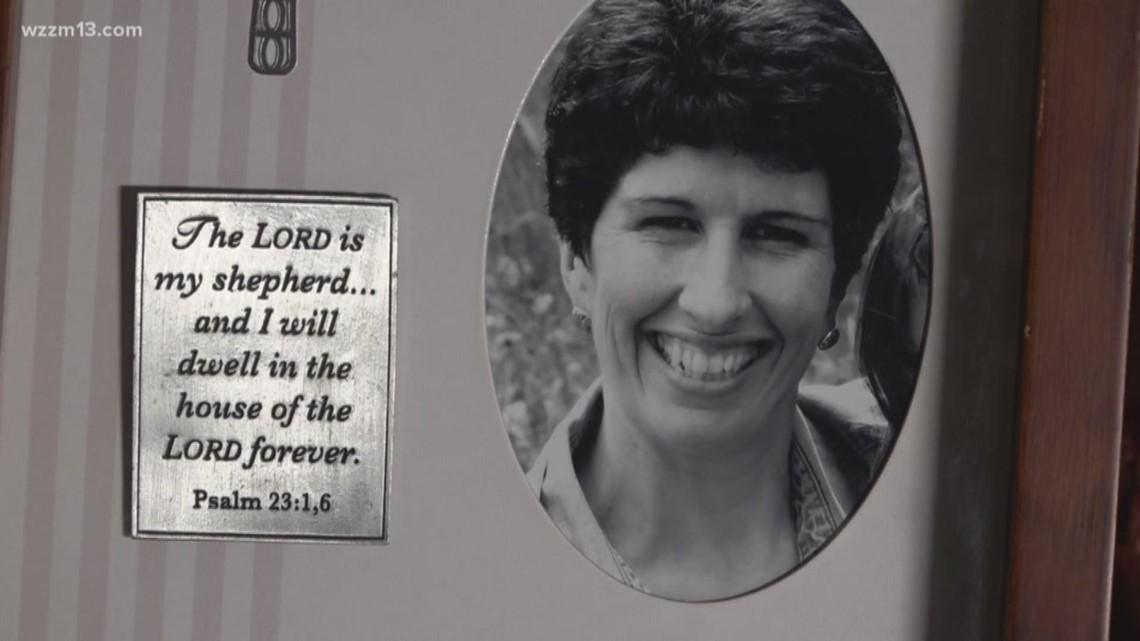 Kent County Sheriff's Lt. E.J. Johnson worked the crime scene 13½ years ago. On Thursday, he delivered Michael Pagel to the Kent County Jail.
Johnson said he hopes the arrest and prosecution of the accused killer brings a measure of comfort to friends and family of Renee Pagel.
"We're just happy we can give some relief to the family and friends,'' he said, noting that loved ones of Renee Pagel never tired in their pursuit of justice.
"We would never gave up but they helped us too,'' he said of Renee Pagel's legions of supporters. "They got the word out, they never let this go away.''
Friends like Chris Crandle who always suspected Renee's estranged husband was responsible.
"She said to another friend that was here today, the night before she was killed, 'I can't let him kill me, I can't let him have my kids'," says Crandle.
The Courtland Township crime scene was unique in that there were no obvious signs of forced entry into the home and valuables in plain sight were left behind.
"During the course of investigation, detectives learned Renee Pagel was nearing the end of a contentious divorce with her estranged husband, Michael Pagel,'' Kent County Sheriff's Sgt. William J. Marks II wrote in a probable cause affidavit.
"Through recent interviews, investigators learned Michael Pagel made incriminating statements which led to the discovery of the weapon suspected to have been used in the murder,'' Marks wrote.
The arrest of Michael Pagel was announced at a Thursday afternoon press conference at the Kent County Sheriff's Department.
Sheriff Michelle LaJoye-Young praised the tenacity of investigators, including Johnson, who remained in touch with Renee Pagel's loved ones.
"He's been wearing this case in his heart this whole time,'' LaJoye-Young said. "Thousands and thousands of hours of investigation for him and many other people.''
Kent County Prosecutor Chris Becker said recent interviews and investigative leads helped turn the tide in an investigation that focused on Michael Pagel, but did not exclude others.
"It's just a culmination of a lot of things and a lot of hard work and a lot of investigation based on a lot of factors,'' Becker said. "In terms of any case like this, when you're dealing with a domestic relationship and a divorce, that's top of the list. But we certainly looked at others as well.''
Michael Pagel has been living in the Saginaw County community of Freeland for 7½ years. He was arrested near Bay City Thursday morning and returned to Grand Rapids.
Pagel told Judge Smolenski he has a full-time job as a operations technician at Xalt Energy in Midland and lives in a townhouse with his youngest daughter, who is now 17.
Pagel will be in 63rd District Court on Feb. 19 for a probable cause hearing.
More Crime News on 13 ON YOUR SIDE: