KENT COUNTY, Michigan — Over the past few weeks, multiple people reached out to the 13 HELP Team claiming they were charged for an ambulance service they never received. In each case, the bill came from American Medical Response, or AMR. One of the men says he fought the charges, and they were eventually dropped. But we also met with a couple that's still fighting, and they asked the 13 HELP Team to join the fight.
Mike and Mable Haga of Grand Rapids said they had gone for a lunch date at Great Lakes Chinese in Wyoming when things took a turn for the worse.
"Mike sat down and all of a sudden, he said 'I don't feel so good.' And I said 'what do you mean you don't feel good? I mean, do you have a headache or what?'" Mable said. "He just kind of leaned over, put his head in his hands, and he had no strength whatsoever. Very pale, sweaty, clammy like, and he went to get up and couldn't even stand up. He was so weak. So I said 'I'm calling 911.'"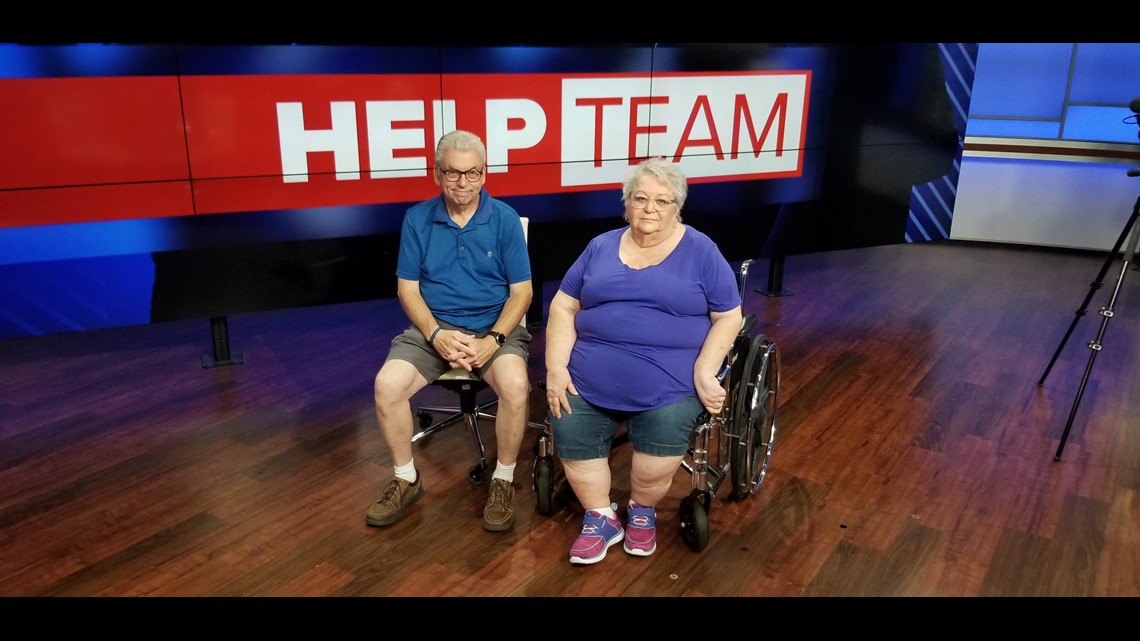 She said it took 37 minutes for paramedics to arrive on scene. Once they arrived, Mike said they tested his vitals, told him his blood sugar was low, and recommended he seek further medical attention. But Mike said he declined a trip to the hospital because he was feeling better.
"Then the ambulance attendant said to me 'you probably won't get charged, because we're not taking you. We're not transporting you,'" Mike said.
That was May 5. Then, in mid-June, the Hagas received a bill from AMR, stating they owed $547.77.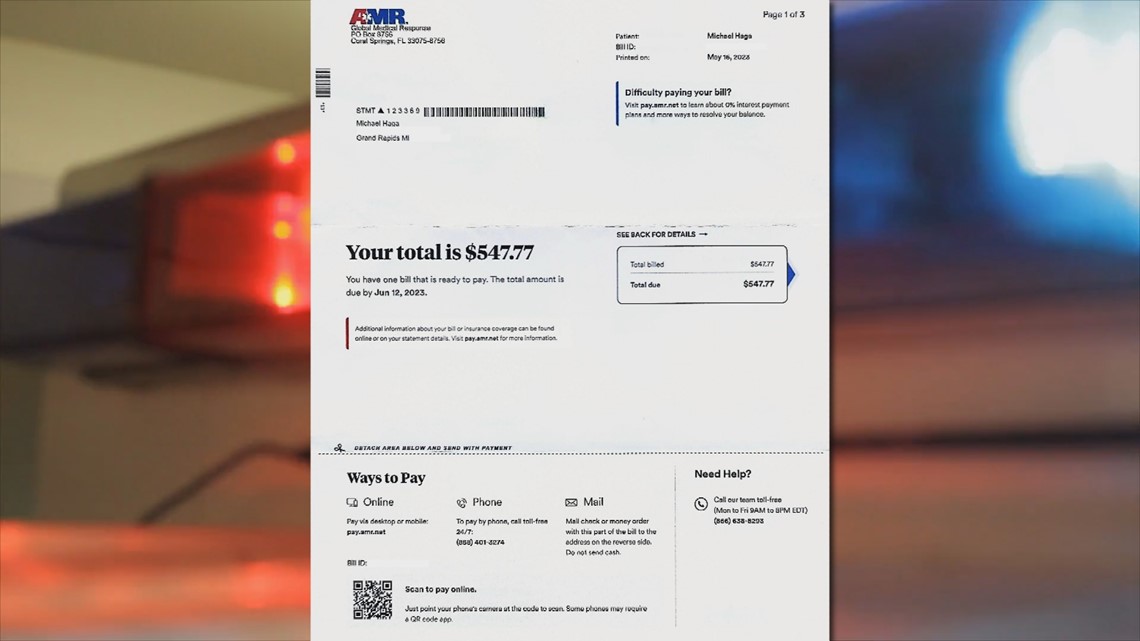 "I called customer service and she said 'well, let me check on this,'" Mike said. "Then she came back and said 'we're sending this to the review team' or whatever. She said 'just throw that bill away. Just discard it.' I kept it though. Then, I got another bill. So I called them again."
This time, Mike said, his call was transferred to someone in Arizona, then California, and eventually the Philippines, where the person on the other line had trouble understanding what Mike was saying.
"I called twice since then. No response," Mike said.
The Hagas said they don't understand what they're being asked to pay for. Mike was only in the ambulance for a few minutes, and he was never transported anywhere. The bill they received is vague, just stating that they owe money for something not covered by insurance. Now, after getting nowhere with customer service, the Hagas said they feel like this is a scam.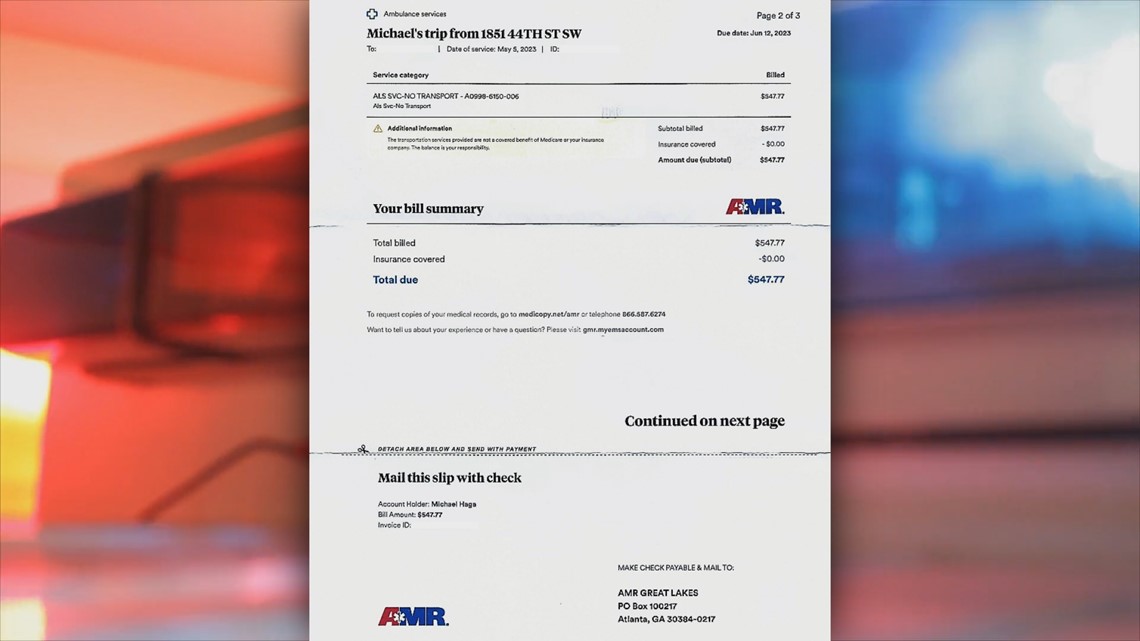 "I had been diagnosed with breast cancer in 2017. I did radiation, chemotherapy, surgery, everything. Out of all of that, I never paid a penny," Mable said. "He steps in an ambulance, and he has to pay $540. I mean, come on. I know my insurance is good, but this is just crazy."
John Parker of Wyoming said he also got a questionable bill from AMR Ambulance Service, shortly after his wife died by suicide in September of 2021.
"I never seen an ambulance, it wasn't offered. It parked out in front of my house apparently, and then a month later I get a bill for $1,750," Parker said. "So I called the main office in Georgia, of AMR, and I said 'what is this $1,750? It was a crime scene. They weren't allowed in here. I know they didn't offer any assistance.' And she says 'well, did she have an estate?'"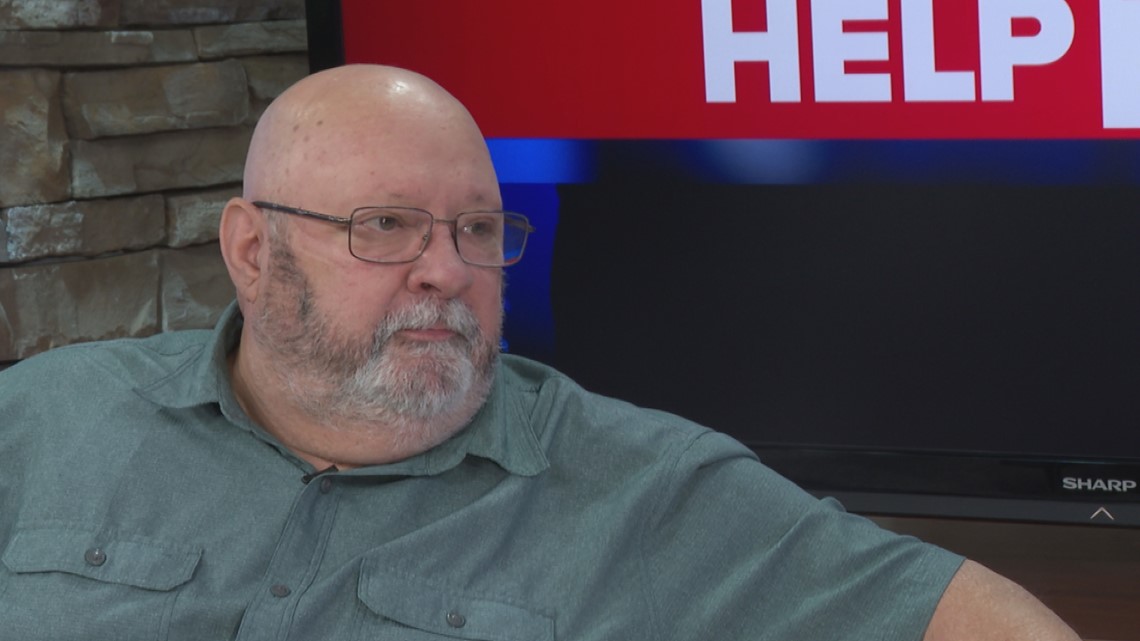 Parker, who served with the second 75th ranger battalion in Vietnam, said he does not think this was an isolated incident. He thinks ambulance companies are showing up at the scene of a suicide, billing the grieving family, then taking money from the estate, if the bill is never paid.
"When you're in the throes of grief, you're not thinking sensibly," Parker said. "In a time when your heart's broken, and you lost somebody you love, there's people out there that will pick the flesh from your drying bones. And it just happens to be the people you think are going to save you."
The 13 HELP Team reached out to AMR. They declined an on-camera interview, but they did send us a statement which reads:
"Due to patient privacy laws, we cannot discuss any details surrounding a specific transport.
American Medical Response (AMR) paramedics and EMTs save lives by delivering timely healthcare to critically injured and acutely ill patients in a way no other service can provide. When patients need emergency medical services because of a life-threatening injury or illness, our first responders are ready. There is a common misconception that the costs of ambulance services are driven by distance transported. In actuality, our cost is driven by the need to maintain a staff of highly trained and experienced paramedics and EMTs who are in a high state of readiness. Also reflected in our charges are the costs of providing critical pre-hospital healthcare, capital equipment costs such as vehicles and medical equipment, fleet maintenance and extensive training for our first responders. Our teams respond at a moment's notice, without regard for a patient's ability to pay. In many markets, the billed amount for emergent transports is mandated and/or established by the city, state, or municipality. Additionally, both Medicare and Medicaid have fixed reimbursement rates to all ambulance providers.
There are instances where we are permitted to bill for the care provided, even if a patient is not transported to a hospital for treatment. Those situations may include pronouncing patients on scene or providing non-emergent care such a as a lift-assist or welfare check.
AMR recognizes the complexity of what happens after an emergency illness or injury and has a dedicated team of Patient Advocates to assist our patients through the transport billing process. If a patient is experiencing a financial hardship, we work with them to find equitable solutions."
After doing some research, we found multiple articles online where people all over the country have dealt with similar circumstances – being billed by ambulance companies that showed up for a medical emergency but didn't actually do anything. So it would appear this is a problem nationwide.
Jay and Charlie may be the faces of the HELP Team, but there are more members behind the scenes working to get the job done. HELP Team stories can be seen on weekdays at 6 a.m. and 6 p.m. and at www.13HelpTeam.com. People are encouraged to contact the HELP Team by calling 616-559-1313 and leaving a message or emailing help@13onyourside.com.