MICHIGAN, USA — For the last few months, the 13 ON YOUR SIDE HELP Team has been investigating Coopersville-based Next Day Construction & Roofing. Customers from two different projects had reached out to us, claiming the company did questionable work and did not respond to follow-up requests.
After speaking with the disgruntled customers, we made multiple attempts to also speak with a representative from Next Day Construction. Finally, after weeks of back-and-forth phone calls and text messages, Edmond Moore, the company's owner, responded to claims that his company is messing up projects, then never fixing them.
"We apologize for any inconvenience or stress that we caused anybody, but it's been a growing pain year and we'll just move forward," Moore said. "It was a learning year, and we held on to the reins as best we could. Unfortunately, a few customers do slip by and are unhappy."
Our investigation started in early February, after Don Cihacz of Muskegon reached out to us. Cihacz said he was quoted $19,800 for a home renovation project that involved new siding and a new roof. He showed us the receipt where Next Day Construction was paid $10,000 in December 2021 to start the project.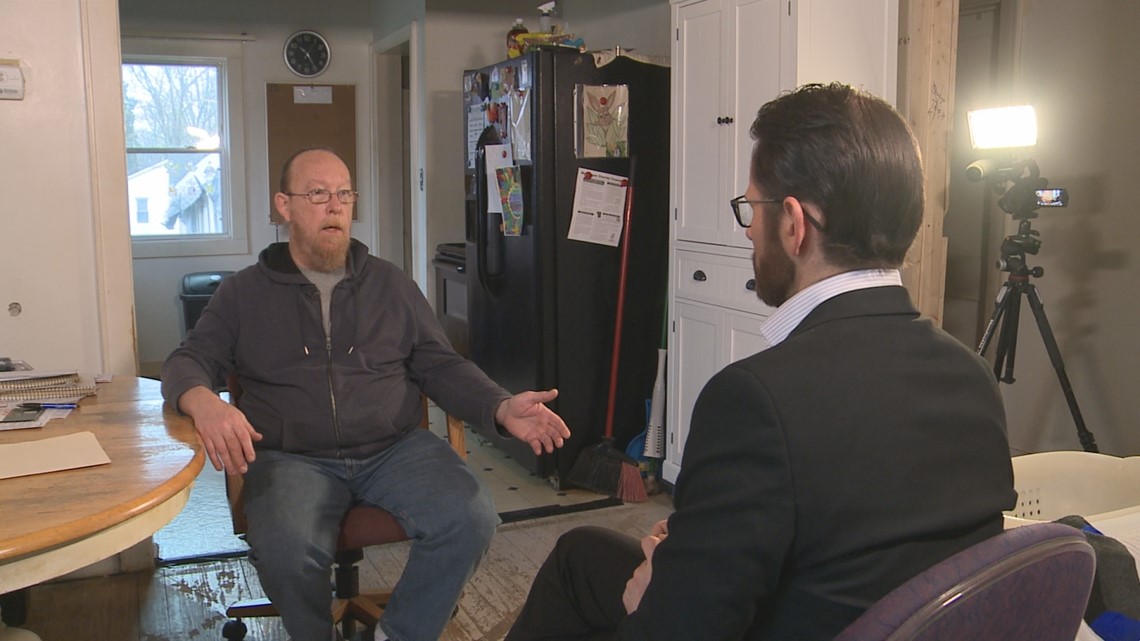 "They promised they'd have it done before winter," Cihacz said. "I waited and I waited. Nothing happened."
He says it was more than four months later in April of 2022 when the work finally began.
"My neighbors call them Next Year Construction," Cihacz said. "One of my buddies stopped by and he says 'this thing's all wrong.' He says 'your corners don't match. Nothing is right about this job.' I called Next Day Construction. They came out, hired another subcontractor. He came out with them, and he said 'yeah, this has all got to come down, every bit of it.' So they ripped all the siding off and started doing it again. Keep in mind, the roof was supposed to be done first, because there's so many things that had to be folded in correctly. They did the siding job, and it's botched again. They ripped out all the screens. I had to replace windows because they damaged them so bad."
The work eventually shifted to his roof. Cihacz said he paid the company $5,000 more, putting him closer to being paid in full. But again, he said, the work was far from impressive. Cihacz, who's disabled, said the renovations were supposed to make his home safer. But, he said, the house is in worse shape now than it was before the project began.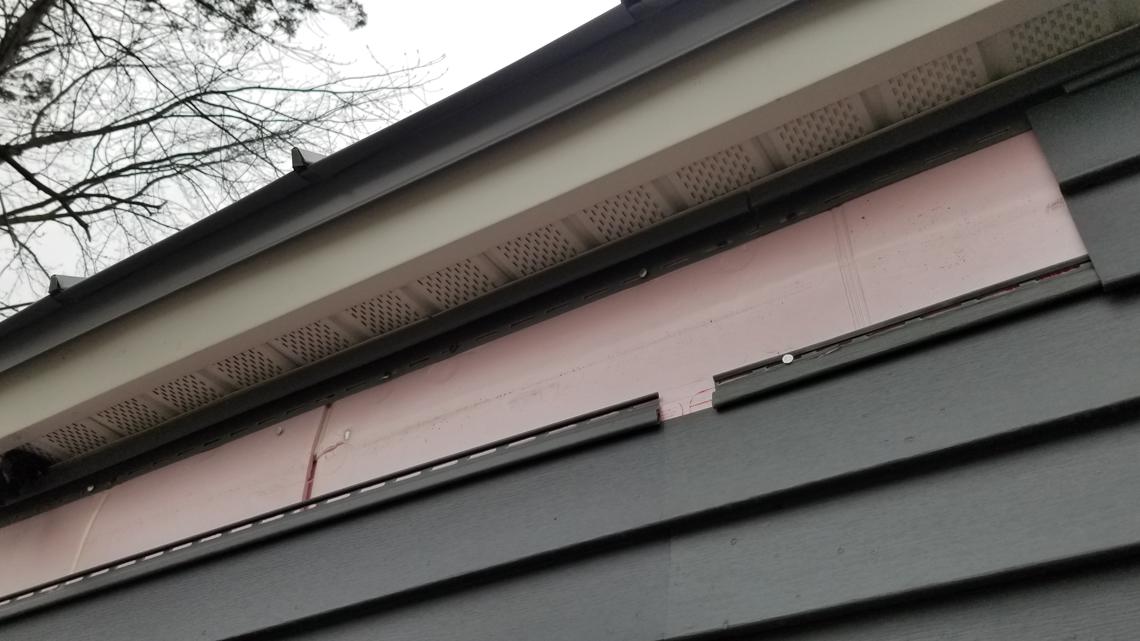 "I was told I was all dried in. I wouldn't have nothing else, no water problems," Cihacz said. "The first day I was dried in, it rained. There were puddles all through this house. In my kitchen on the floor. I had to put a piece of plastic up to stop some of it. There's puddles in in the plastic just hanging here."
"Unfortunately, in roofing man, we get one of them every once in a while," Moore said. "We did 1,400 projects last year, and I think we probably had 10 or 15 leaks all year."
In response to the project taking so long to get underway, Moore said it was the result of unforeseen factors.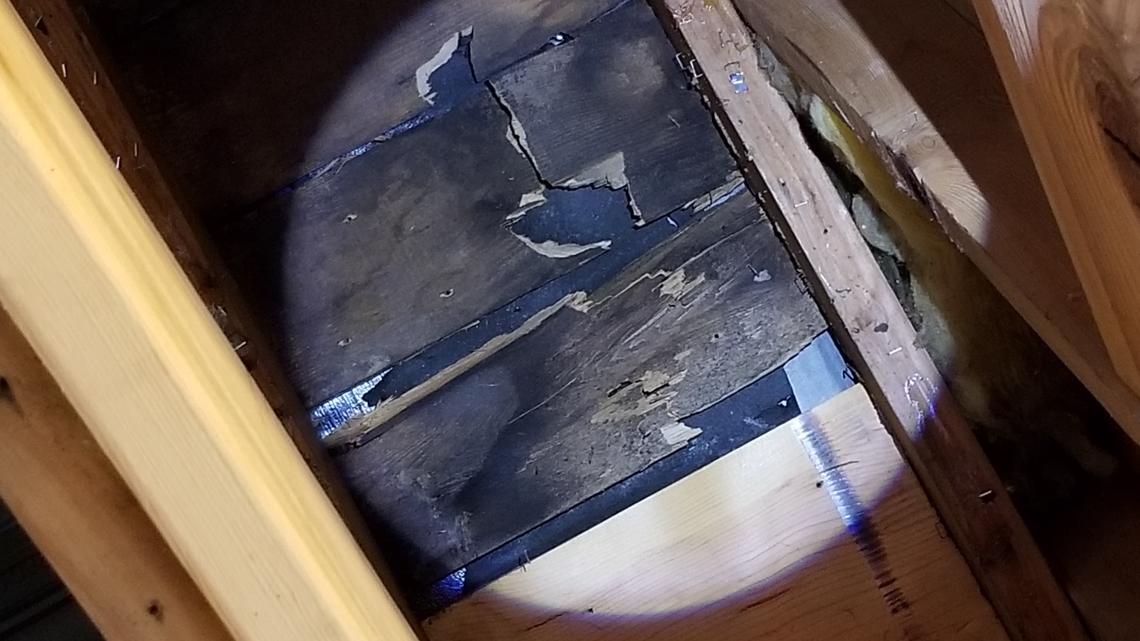 "It all started with the sales guy, but at the end of the day, it's my fault," Moore said. "The process broke and allowed it to just to sit there. Then the siding started and the next thing you know, one of our guys got sick. He goes out, and Colton, another guy that used to work here, he got involved. It was almost too much communication, to be honest with you. It wasn't lack of. It was too much."
More than an hour away in Morley, Elsa and Joe Borowka also hired Next Day Construction for a roofing project totaling $7,000.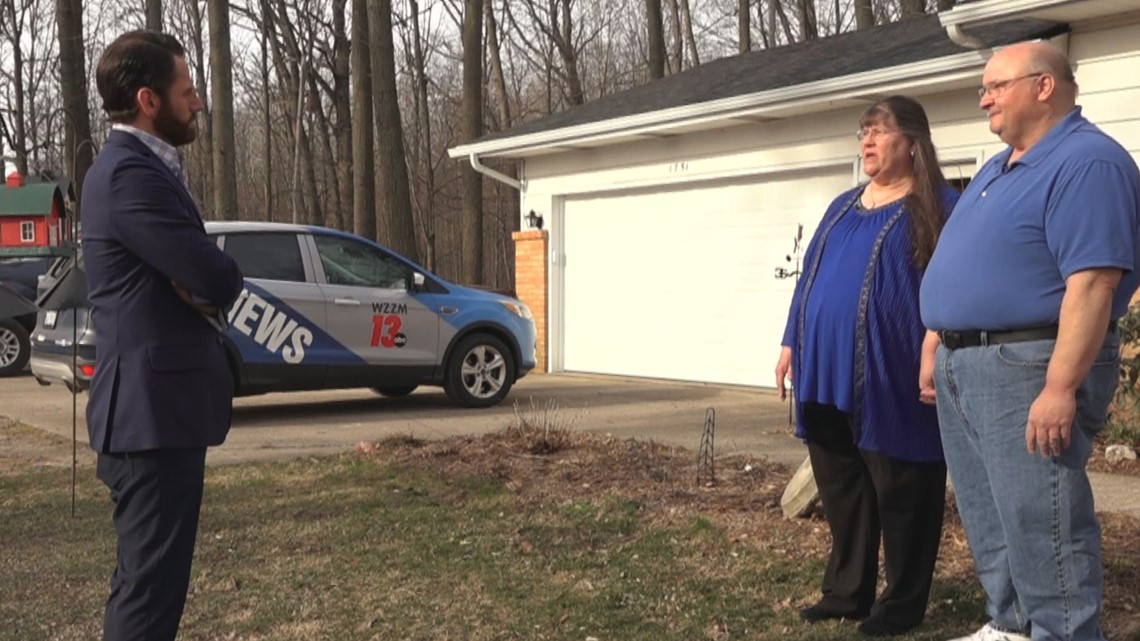 "We had gutters put up on the house back on May 28," Joe said. "Those guys also do roofing, and they looked at the roof and were saying 'something's not right with your roof there.' You know it was buckling and starting to peel off, pull the nails up. And it looked like little waves up there."
In addition to roofing issues, the Borowka's said the Next Day Construction workers also destroyed their yard.
"They smashed all my lawn ornaments and everything in there," Elsa said. "They didn't care, they were stomping on it. I had to ask them several times to stop walking on my flowers, but it was too late at that time."
She said Moore reimbursed them $2,000 for the damages, but the other issues were never addressed, despite multiple attempts.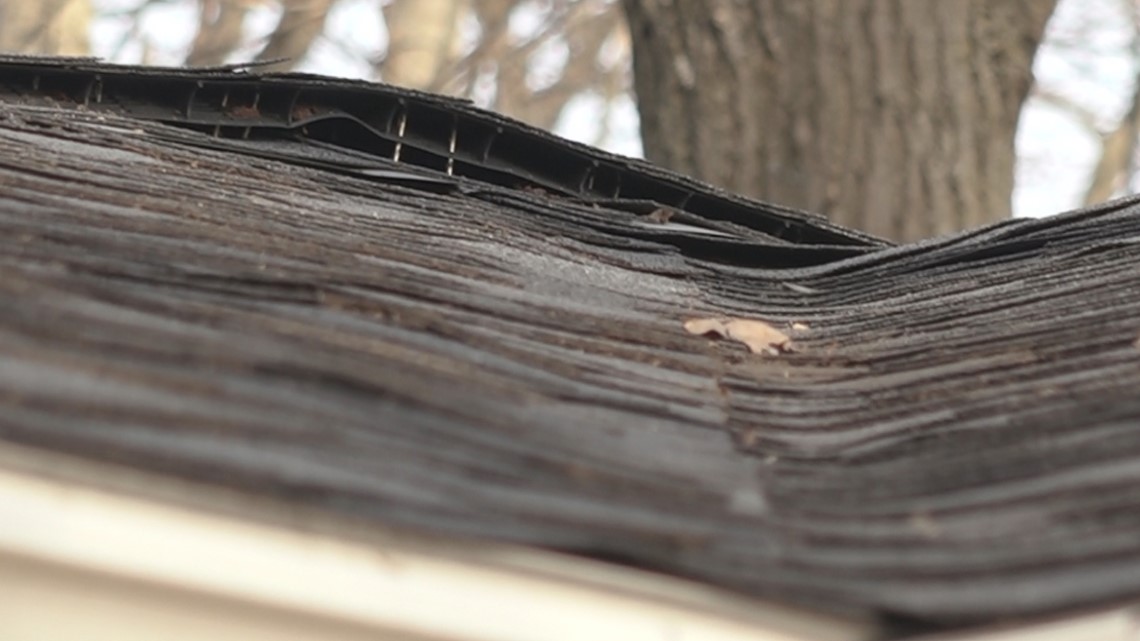 "I kept calling," Elsa said. "I've got a record of how many times I've called, and he's just 'I'll call you back.' And he never calls you back."
"They communicated originally with again Colton," Moore said. "The guy was really good at his job, really bad at trying to do everyone else's job on top of his, and it causes problems. Again, too much communication, too many people, too many hands in the pot."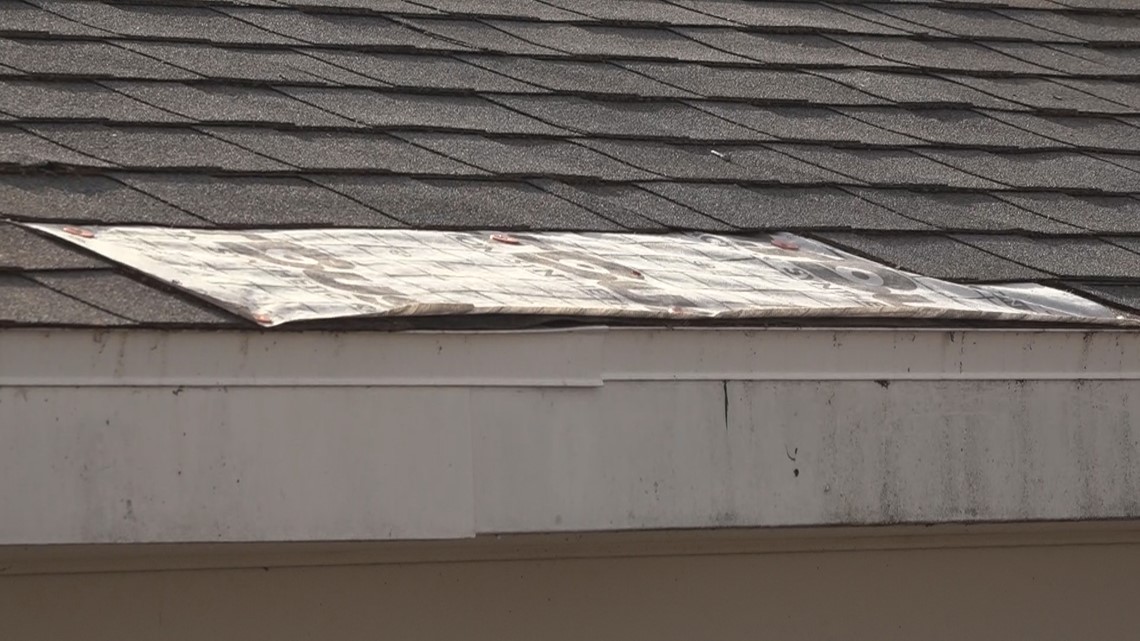 According to Moore, one of the issues stemmed from the fact that the Borowka's had purchased their own supplies, rather than allowing the Next Day team to use their warranty-backed materials.
"We're master shingler through CertainTeed, and we're master elite through GAF. They're our main manufacturer," Moore said. "That's why we use their products, because when they come out and something's wrong, they fix it."
But the Borowka's said the shingles were not the issue. In fact, they sent some off for testing to see if the product was at fault, and the manufacturer responded in a letter, stating the product is not defective, it was just installed incorrectly.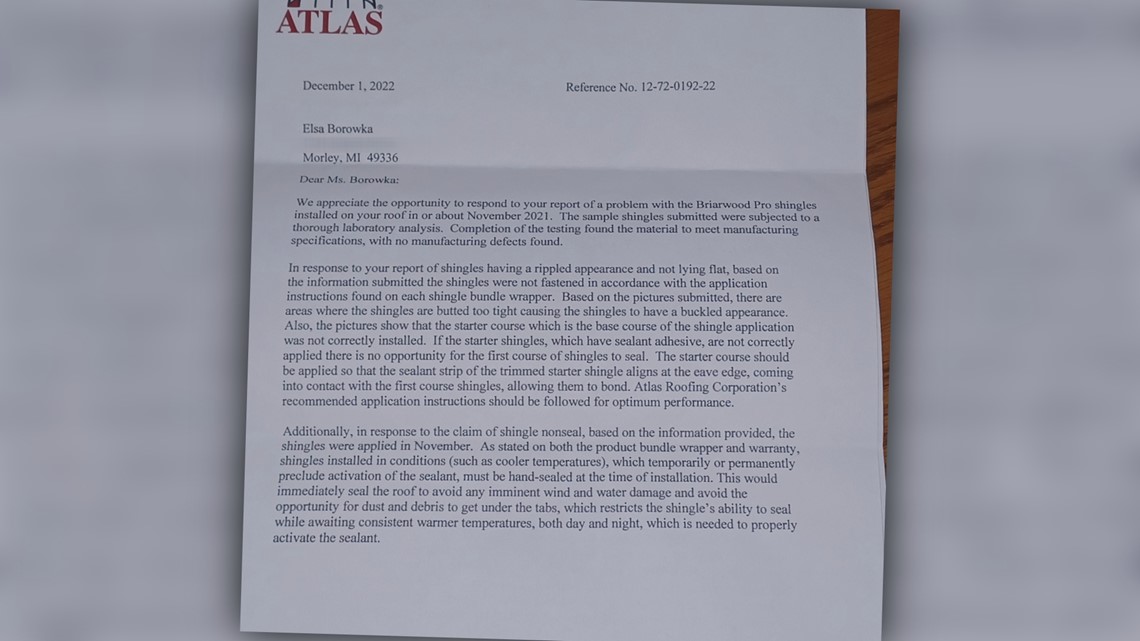 Moore, who started Next Day Construction 13 years ago, attributed some of the recent issues to his company's growth. He said his company went from $4 million a year to $12 million, and it happened fast.
"It's a big learning curve and trying to to install a system that will work for that volume has been a big task, especially trying to do it at full speed," Moore said. "Unfortunately, we don't really get the luxury of just stopping. We have to keep moving forward, but we're getting there."
He said he wants to make things right with all his customers, even if it means re-doing the projects. The Borowkas say they have no desire to continue working with Next Day Construction. They just want their money back, which they estimate to be almost $17,000 once you factor in all the materials they purchased. As for Cihacz, he said he's hoping Moore will come onto his property so he can see the issues firsthand, admit the work is done wrong, then foot the bill for repairs.
Jay and Charlie may be the faces of the HELP Team, but there are more members behind the scenes working to get the job done. HELP Team stories can be seen on weekdays at 6 a.m. and 6 p.m. and at www.13HelpTeam.com. People are encouraged to contact the HELP Team by calling 616-559-1313 and leaving a message or emailing help@13onyourside.com.