Getting a birth certificate? You may be forced to pay more and drive further for it
For people born before 1978, it may be difficult tracking down your birth certificate. The 13 Watchdog team investigated why that may be.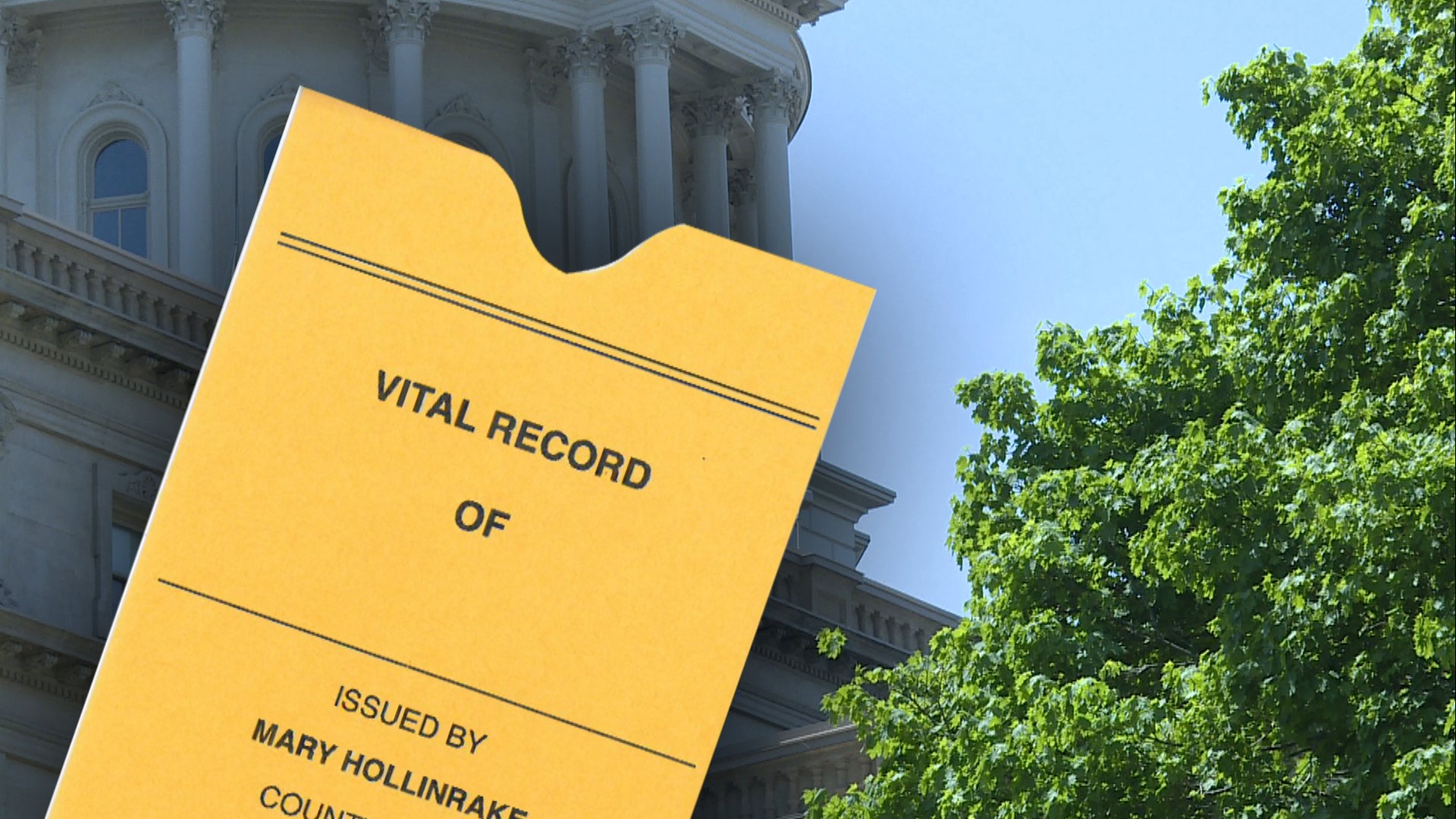 OTSEGO, Mich. - Through a 13 ON YOUR SIDE Watchdog investigation, it's been uncovered that people trying to obtain their birth certificates are running into a problem. Their birth records don't exist in the county they were born in.
The documents are only located at the state of Michigan's Vital Records office because the children tied to the birth certificates were not born to a married mother and father.
All of the birth certificates in question were sent to Lansing pre-1978, so anybody who was born after 1978 should have their birth certificate located at the local county clerk's office.
The reason people 39 years or older are seeing these issues is because previous state leaders felt a need to protect children who were born on the record to only one parent. Before 1978, birth records were open to the public at the local level but were restricted at the state level. The law was changed to restrict access locally in 1978. Currently, certified copies of a birth certificate can only be obtained by the registrant, a parent named on the record, a legal guardian, legal representative or court order.
But Angela Young, 41, doesn't think she's been protected at all. In fact, she says she feels like "a second-class citizen."
Young went to the Allegan County building earlier this year to try to get a copy of her birth certificate. She was born in the county and has lived there her entire life. She was able to obtain copies for her children who were born in the county but was unable to get her own because her father at the time of her birth was not listed on the birth certificate.
"I had not a clue they didn't have it at the county," Young said. "They told me I had to go to the state because I fell into a category, unfortunately, with people my age that we have to go to the state to get it."
The 13 ON YOUR SIDE Watchdog team discovered Young has to pay at least $34 for a copy of her birth certificate from the state. If she was able to buy the document at the county level, it would cost her $10. Young also adds in the time she has to go to Lansing, to pick up the document, instead of picking it up at the Allegan County courthouse.
"That's a discrimination," Young said. "I have to drive two hours now and spend extra money to obtain something when I can drive easily ten minutes and pay $10."
Allegan County Clerk Bob Genetski is trying to help other people in Young's position. Genetski acknowledges there's a bit of a dark past with some vital records.
"In my mind, I would like to think [people in the distant past] were trying to protect somebody as opposed to trying to punish somebody," Clerk Genetski said. "Let's all hope that's the case."
Genetski pointed out the separate issue of clerks in the past routinely marking some births "legitimate" or "illegitimate" based on whether the parents were married. State law barred clerks from doing that after May 30, 1979.
Ultimately, Genetski says state leaders could fix Young's situation, and many others, by providing the copies of the birth certificates in question to clerks around the state at no additional cost. That would mean the documents could be sold at a lower price to taxpayers.
"I am stuck with the unfortunate position charging one customer one price and telling another customer related to that customer they have to go to Lansing and pay $34," Clerk Genetski said. "People don't like to be discriminated against because of an archaic situation."
Genetski, a former Michigan lawmaker, has been working with Rep. Steven Johnson (R-Wayland) to try to make some changes to help these people feel equal to everybody else.
Rep. Johnson introduced a bi-partisan package of bills, including HB 5418, to try to make it equal for all trying to get a birth certificate.
"When you explain the situation to people, everyone knows what we're doing right now is wrong and we need to fix it," Rep. Johnson said.
Johnson and Genetski point out that birth certificates are being purchased at a greater rate these days because many people are having to use their birth record to purchase a REAL ID driver's license.
Beginning Oct. 1, 2020, people in Michigan will need to present a REAL ID-compliant document to fly within the United States and enter certain federal facilities under federal law. Michigan is currently issuing REAL ID-compliant licenses if somebody presents a birth certificate.
Genetski hopes that's a good enough reason for lawmakers to take up the stalled legislation and move it to a vote by the end of the legislative session.
"I can't imagine who in good conscience would fight the opportunity to make sure people are treated equally," Genetski said.
Some estimates show slashing fees for birth certificates for people in the group might cost the state as much $300,000. Leaders at the state department housing the records, the Department of Health and Human Services (DHHS), didn't comment on the pending legislation. Leaders from DHHS did explain how the sub-group got created.
"There was a concern for privacy in these cases (non-married couples)," Michigan DHHS Public Information Officer Lynn Sutfin wrote in a statement.
Rep. Johnson says the state should cover the cost to help the situation.
"(The state) is going to lose out on some money but that's all right because the state screwed up and we deserve to be punished for that," Rep. Johnson said.