As Charles Nielsen looks skyward, he's both enthralled by, and doesn't like, what he sees.
Nielsen is president of the University Lowbrow Astronomers Club in Ann Arbor, amateur stargazers who, since the 1970s, have run an observatory on Peach Mountain in rural Dexter Township, as well as their own, large telescope. Nielsen is just as dazzled by the heavens as he has ever been, but it takes travel to dwindling, remote locations to get the great views of yesteryear.
"There would have been a time that even in downtown Ann Arbor, you would have been able to see the Milky Way," a cloudy band in the night sky from the glow of millions of stars, part of the galaxy in which our solar system resides, he said. "You have to get to a fairly dark site now to see it."
For many in southeast Michigan, starry evening skies are just a childhood memory. As cities grew, so did the bright, artificial light they put into the night sky — to the point that now, in Detroit, seeing more than a couple of stars a night is a surprise. But a growing number of people want to stop treating the loss of dark nights as a zero-sum trade-off with progress.
The idea of light as pollution is a relatively new one compared with concerns about polluted rivers and lakes and diminished air quality. But there's a growing body of evidence that the loss of darkness at night is negatively affecting plants and nocturnal animals; is leading to large-scale bird and insect deaths, and may even be harming human health.
"Like in many other ways, as humanity, we have caused great, landscape-scale changes to the world, particularly in the last century or so," said John Barentine, program manager for the International Dark Sky Association, a Tucson, Ariz.-based nonprofit organization that works to increase education about the impact of light pollution and what can be done about it.
"One of the ways is, we've fundamentally altered the nighttime landscape through the use of artificial light. That has so many impacts, and it goes beyond just being able to see stars in the night sky."
But as awareness of the issue grows, communities are adopting ordinances addressing concepts such as light trespass and night glow, and, combined with improved light efficiency, the tide may be turning.
"It's a lot easier to prevent the problem than it is to solve it later," said Nielsen, who served as supervisor in 2004-08 in the Ann Arbor suburb of Scio Township..
"For many years, it was just plain a losing battle. But communities have started to become more aware of lighting issues, more conscious of it."
Detroit's Ford Field battle
The issue came to the forefront in Detroit last month, when some area residents complained about Ford Field's new, multimillion-dollar, LED roof lights, and the purplish glow they projected into the sky every night. After more than 1,200 people signed an online petition in protest, Detroit Lions officials scaled back the nighttime, rooftop light show.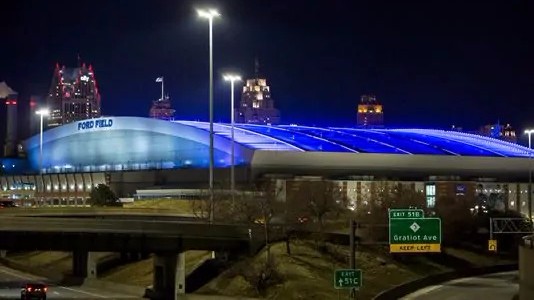 The effort against light pollution doesn't desire a return to the pioneer days, said Christopher Kyba, a scientist at the German Research Center for Geoscience in Potsdam, who studies the ecological impact of artificial light at night.
"The goal with all of these things is not to make things dark; it's to have the right light, in the right place, at the right time," he said.
As much as half of exterior lighting is purposeless, Barentine said.
"It doesn't light up anything — it doesn't light up a task; it doesn't provide for people's safety and security," he said.
After a three-year effort to replace old, broken streetlights, Detroit late last year became the largest U.S. city to have all LED street lighting, with installation of more than 65,000 brighter LED lights. It was heralded as a breakthrough improvement for public safety in the city.
"The condition of the streetlights is no longer a symbol of decay in the city of Detroit," Mayor Mike Duggan said in December, at the completion of the project. "The fact that this city is lit from one end to another is a sign of hope."
But LED lights are "a double-edged sword," Barentine said. While more efficient and usually better designed to direct light downward, LED lights continue a trend of moving away from "warmer lights" with subtle reddish tones to "white light that has more blues."
A report last year from the American Medical Association Council on Science and Public Health finds that bluish LED light in particular leads to disability glare, "an objective impairment in visual performance" that "has serious implications for nighttime driving visibility."
Blue LED light also can impact wildlife, particularly birds and insects that fly at night, the study found.
"Many birds navigate by the moon and star reflections at night; excessive nighttime lighting can lead to reflections on glass high-rise towers and other objects, leading to confusion, collisions and death," the study stated. "Many insects need a dark environment to procreate, the most obvious example being lightning bugs that cannot 'see' each other when light pollution is pronounced. Other environmentally beneficial insects are attracted to blue-rich lighting, circling under them until they are exhausted and die."
"Atmospheric blue light scatters in the air better than many colors; that's why the sky is blue," Barentine said. "It's certainly not going to make the sky-glow situation over the city better any time sooner."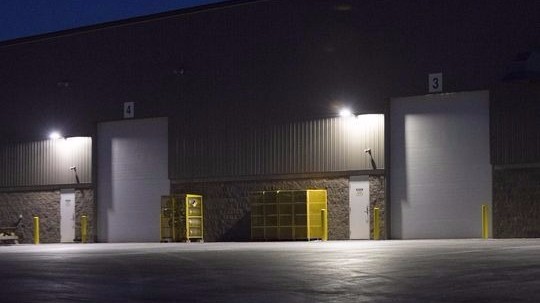 Disrupting human body clocks
Light glare at night may be more than a nuisance. It could have bad ramifications for human health.
Circadian rhythms, the so-called "body-clock," is the human hard-wiring, evolved over millions of years, to be active during the day and restful at night.
"If you take any of us, and put us in a completely dark cave to live, we will cycle for the rest of our natural lives in about 24 hours — sleep, wake, thirst, hunger," said Richard Stevens, a professor at the University of Connecticut Medical School, who has studied health impacts from artificial light for more than three decades.
"However, it's not exactly 24 hours. We need the sun in the morning, and we need darkness at night."
Artificial lighting at night — particularly the brighter, bluer hues from smart phones and e-readers — interferes with the body's levels of melatonin, a hormone created in the pineal gland of the brain that regulates sleep and wakefulness.
"There's growing evidence that the long-term implications of this have ties to breast cancer, obesity, diabetes, and depression, and possibly other cancers," Stevens said.
It could, for example, help explain higher instances of breast cancer in the industrialized world, though Stevens cautioned more research is needed to make that determination definitively.
Stevens noted a recent study in which participants' melatonin levels were recorded before and after they were taken camping near Boulder, Colo., for a week.
"Before camping, their melatonin levels rose at about 9 p.m., 10 p.m.," Stevens said. "Once they went camping for a week, they started going up at dusk.
"Our nighttime physiology — your body temperature begins to drop, hunger abates, the body starts to calm down — most have electric light well into the evening delaying that transition."
Others have taken notice besides scientists. Boeing's 787 Dreamliner passenger jet comes equipped with special LED roof lighting in its passenger cabin that changes intensity and color spectrum over long flights, mimicking blue sky, dusk, night and dawn.
"The idea is to help you with jet lag," Stevens said.
When Stevens began his research on the night light and health connection, there wasn't much interest, and progress was slow, he said.
"This area is moving so fast now — finally," he said.
It's a night sky that will probably never again be seen in Detroit. About five hours to the north, at the tip of the mitt in Mackinaw City, is a wilderness area set aside for preserving views of the stars in the night sky.
The Headlands International Dark Sky Park, a nearly 600-acre, wooded preserve along the Lake Michigan shoreline, was the sixth park in the U.S. designated for its night sky by the International Dark Sky Association, and the ninth such park in the world, in 2011.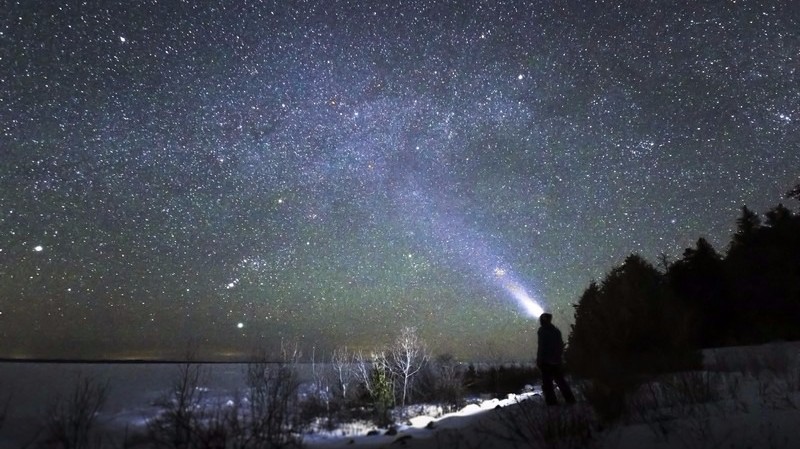 "It's about protecting the human imagination," said Mary Stewart Adams, Headlands' program director, who helped spearhead the effort to achieve the designation.
"Almost two-thirds of residents in the United States live in places where they cannot see the Milky Way at night, because of light pollution."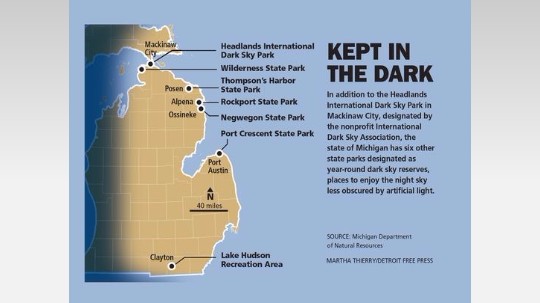 Virtually every ancient human civilization, from Africa to Asia to Europe and the Americas, has a deep connection to the stars.
"It's what guided their community development," Adams said. "It decided where they put their sacred sites, where the marriages, births and deaths occurred. It was how they figured out who gets to be king; where and when to plant crops."
But in schools today, little is taught about astronomy, Adams said. Many young people likely couldn't identify the Big Dipper in the night sky.
"When you don't learn the name of a thing, and you can't see it, it's very difficult to have a connection to it, or see why it's important," she said.
At the Headlands park, visitors can not only experience a much darker night, but see how lighting is effective, yet different.
"Yes, we need light on our pathways," Adams said. "But we don't have to have light washing up into the night sky.
"Our thousands and thousands of visitors every year not only get to be in that environment, but also take it back home, to make decisions in their own communities on what they can do about lighting in their own environments."
We lose something when we lose the night, Adams said. The root origins of the word 'disaster' literally translate to 'stars away.'
"There's something restorative about it, reawakening our direct relationship with the stars at night," she said. "As much as that might sound cheesy, there's something very real about having that experience. It doesn't cost you anything; it's not something you have to work at or learn about.
Contact Keith Matheny: 313-222-5021 or kmatheny@freepress.com. Follow on Twitter @keithmatheny.