KENT COUNTY, Mich. — One person was injured Sunday night in a shooting at a Kent County pizza place.
The incident happened at Lombardo's Pizzeria on Lee Street. Lt. Eric Wiler with Wyoming Police said a delivery driver for the pizza place was shot in the leg. He was sent to an area hospital and released that same evening. His injuries were not severe.
Wiler said the shooting began when three suspects wearing masks were attempting to steal the delivery driver's vehicle. According to Lombardo's owner, the driver had just returned from a delivery and the lights were still on. He believes the suspects thought the car was still running, and attempted to steal it.
"I looked out there, saw a few people jumping into his car," said Nicholas Lombardo, owner of Lombardo's Pizza. "Me and him [the delivery driver] ran out there, got up to the door, he [suspect] jumped out of that car. He pulled a gun on both of us. I turned and ducked out of the way, and they shot him in the leg."
Lombardo said he yelled to his employee to duck as soon as he saw the gun, but he either did not hear him, or it happened too fast.
Lombardo said the three suspects then drove away in another vehicle.
"I saw the blood come out his leg, so we put pressure on the gunshot would and called 911 instantly," said Lombardo. "Wyoming police did a great job. They were here instantly."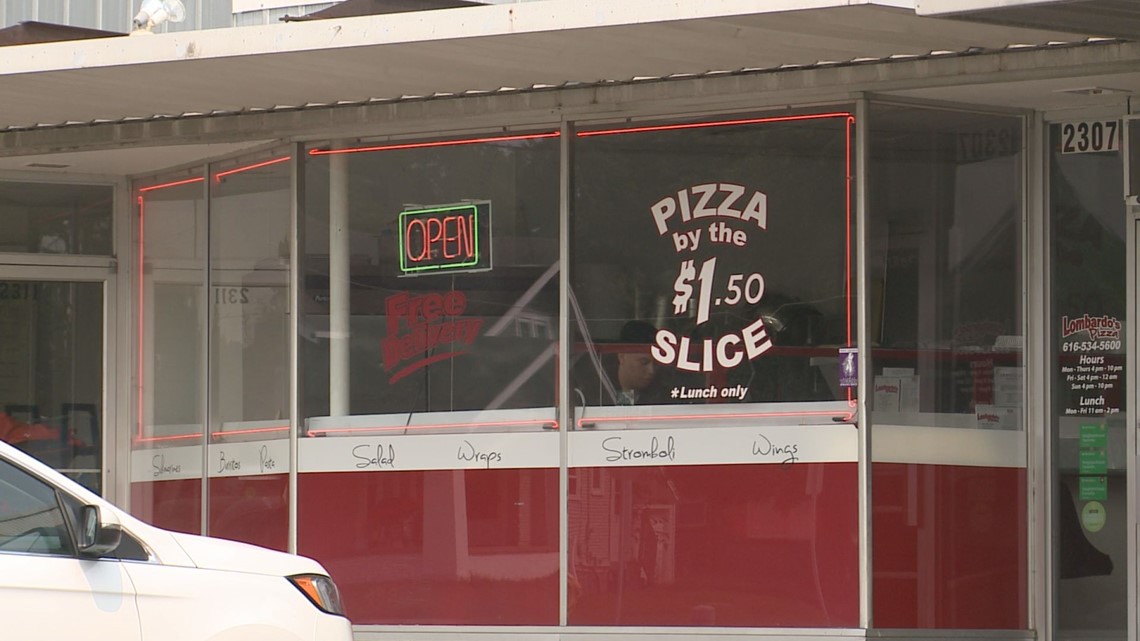 Wiler said there has been an increase in stolen vehicles in Wyoming lately. They are still working to identify these suspects, determine if the vehicle they fled in was also stolen, or if these three are involved in other vehicle thefts.
"Keep your car locked," said Wiler. "Don't keep your keys in it. Don't leave it running and unattended. That's one thing we've seen an uptick of: Vehicles being stolen at gas stations where people leave them running. People jump in and take off."
However, Wilder said a shooting like this outside a business is not common for that area, calling it "a generally safe neighborhood."
Lombardo hopes this shooting does not make people afraid of the area, saying he has never experienced or expected something like this to happen.
"It's a little nerve wracking, hoping it doesn't happen again," said Lombardo. "I think it was just a fluke thing."
Lombardo said he and his employee are "doing OK." The delivery driver has worked at the pizza place for about three or four years. Lombardo called him "a good kid," who "is always smiling, cracking jokes and is a good worker."
A GoFundMe has been set up to support the delivery driver's recovery. The page names the delivery drive as Jordan Esposito. It also claims he will be out of work for a while and does not have medical insurance.