GRAND RAPIDS, Mich. — Winners were drawn 5/26/23
Right now, you can enter to win a family four-pack of tickets to the Grand Rapids Lantern Festival at the John Ball Zoo. You have until May 24th to enter and five chances to win!
The Grand Rapids Lantern Festival features over 50 handcrafted lanterns. The mile-long path through the zoo will take visitors on a journey through lantern displays with animals, flowers, underwater creatures, traditional Chinese lanterns and more. Some lanterns have been curated for the festival, like pygmy hippo lanterns that complement the zoo's new pygmy hippo exhibit.
A few lanterns are even interactive—from hands-on games to blowing bubbles, the lanterns immerse festivalgoers in Asian culture.
The festival is being hosted by Tianyu Arts & Culture, which aims to spread Chinese cultural events across the globe. Tianyu's lantern festivals also educate visitors about conservation and sustainability efforts, and are often held at zoos and botanical gardens.
Tianyu has held nearly 100 events that have reached over 7 million visitors.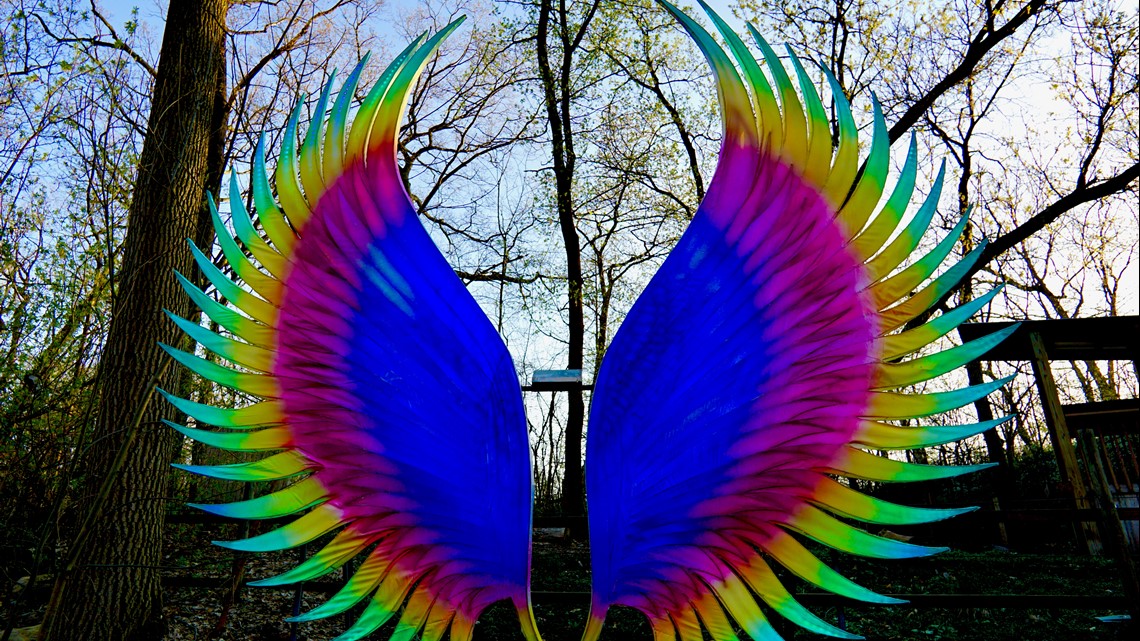 When is the festival? How much are tickets?
The festival will run from April 19 through June 11. Tickets are sold in half-hour timed entries from 7-9:30 p.m. Wednesdays through Sundays. The zoo will remain open until 11 p.m.
They cost $22 for non-zoo members and $19 for members. Children under 2 get in for free. If you're looking to take the whole family, you can purchase a four-pack of tickets for $66 for non-members and $57 for members.
What else is included in the festival?
As part of the experience, there will be themed foods and drinks, special merchandise and live entertainment from local cultural groups.
Lotus Boyz GR performs a traditional Chinese lion dance, which is said to bring good luck and fortune. Lotus Boyz GR regularly perform at events like Festival of the Arts and the Grand Rapids Asian-Pacific Festival. They will be performing at the lantern festival on May 20, May 26 and May 27.
The lanterns feature animals, underwater creatures, flowers, traditional Chinese lanterns and more.
This festival which runs from April 19 through June 11 will be the first and only place the lanterns can be seen in Michigan. Over 50 unique lanterns will be showcased to connect Asian culture with wildlife and conservation efforts.
The lanterns are part of Tianyu Arts & Culture, Inc., which organizes lantern festivals around the world. Over the past eight years, Tianyu Arts & Culture has hosted 86 events, reaching 7 million people.
John Ball Zoo- Lantern Festival Ticket Giveaway
NO PURCHASE NECESSARY TO ENTER OR TO WIN. A PURCHASE WILL NOT INCREASE YOUR ODDS OF WINNING. SUBJECT TO APPLICABLE FEDERAL, STATE, LOCAL AND MUNICIPAL LAWS AND REGULATIONS. VOID WHERE PROHIBITED.
Eligibility. Subject to the additional restrictions below, the John Ball Zoo- Lantern Festival Ticket Giveaway (the "Sweepstakes") is open to residents of Michigan who are 18 years or older at the time of entry. Employees and contractors of WZZM 13, TEGNA Inc., Prize Provider's Name and each of their respective affiliated companies, and advertising and promotional agencies, and the immediate family members of, and any persons domiciled with, any such employees or contractors, are not eligible to enter or to win.
How to Enter. The Sweepstakes will begin at 2:30 p.m. EST on May 19, 2023 and end at 11:59 p.m. EST on May 24, 2023 (the "Sweepstakes Period"). Enter by visiting the John Ball Zoo- Lantern Festival Ticket Giveaway official registration page on http://www.13OnYourSide.com/contests, completing all of the required information, and following all posted instructions. All entries must be received by 11:59 p.m. EST on May 24, 2023. Your computer must accept cookies, or any successor or similar technology, which may be used for the purpose of entry tracking. Ad blocking software on your computer needs to be disabled so that it doesn't interfere with processing your entry. Complete the entry form and any other required fields and then submit your entry by clicking on the "SEND" button. By entering, you agree to the terms of these Official Rules and to receive emails from Sponsor, Administrator, or those directed by Sponsor. You can opt-out of the receipt of such emails by following the directions in any email received from Sponsor.
Maximum one (1) entry per person. Multiple entries by means of software generated or other automated processes will be disregarded. Sponsor and Administrator will not be responsible for incomplete, lost, late, misdirected or illegible entries or for failure to receive entries due to transmission failures or technical failures of any kind, including, without limitation, malfunctioning of any network, hardware or software, whether originating with sender, Administrator or Sponsor. All entries become property of Sponsor and none will be returned.
Winner Selection. 5 Grand Prize Winner(s) will be selected in a random drawing from among all eligible entries received on or about April 17, 2023.
Prizes and Odds. Grand Prize Winner(s) will receive List prize of Four tickets to the Asian Lanterns Festival at the John Ball Zoo (ARV: $100). Odds of winning depend on the number of eligible entries received.
Winner Notification and Acceptance. Winners will be notified on or about April 17, 2023 at the telephone number and / or email address provided on winner's entry form. Sponsor will call during regular business hours at number provided on entry form and will leave no messages. For email, return of prize notification as undeliverable, or failure of recipient to respond to email notification, may result in disqualification and an alternate winner may be selected from among all remaining eligible entries. Failure to respond within 24 hours may result in disqualification of winner, forfeiture of his or her interest in all prizes, and selection of a substitute winner from among all remaining eligible entries
To claim prize, each winner must follow instructions listed here. Winners may waive their right to receive prizes. Prizes are non-assignable and nontransferable. No substitutions allowed by winner. Prizes and individual components of prize packages are subject to availability and Sponsor reserves the right to substitute prizes of equal or greater value. Winners are solely responsible for reporting and payment of any taxes on prizes. Winners may be required to complete an affidavit of eligibility/liability and publicity release (except where prohibited by law) which must be returned as directed by Administrator or
Sponsor. Failure to sign and return the affidavit or release, or to comply with any term or condition of these Official Rules, may result in a winner's disqualification, the forfeiture of his or her interest in the prize, and the award of the prize to a substitute winner. Except where prohibited, acceptance of any prize constitutes winner's consent to the publication of his or her name, biographical information and likeness in any media for any commercial or promotional purpose, without limitation or further compensation. Prizes not won and claimed by eligible winners in accordance with these Official Rules will not be awarded and will remain the property of Sponsor.
Participation. By participating, entrants agree to be bound by these Official Rules and the decisions of Sponsor. Sponsor reserves the right to disqualify persons found tampering with or otherwise abusing any aspect of this Sweepstakes as solely determined by Sponsor. In the event the Sweepstakes is compromised by a virus, non-authorized human intervention, tampering or other causes beyond the reasonable control of Sponsor which corrupts or impairs the administration, security, fairness or proper operation of the Sweepstakes, Sponsor reserves the right in its sole discretion to suspend, modify or terminate the Sweepstakes. Should the Sweepstakes be terminated prior to the stated expiration date, Sponsor reserves the right to award prizes based on the entries received before the termination date. Administrator shall have no liability (financial or otherwise) for any claims or other matters relating to this Sweepstakes or any prizes to be awarded. In the event of a dispute, all online entries will be deemed to have been submitted by the owner of the ISP account from which they were sent. For these purposes, an ISP account holder shall mean the natural person assigned to such ISP account by the Internet access provider, online service provider or other organization responsible for assigning ISP addresses for the domain associated with such ISP account. Any questions regarding the number of entries submitted or the owner of an ISP account shall be determined by Sponsor or Administrator in its sole discretion.
Release. The Sponsor and Administrator make no warranties, express or implied, relative to the use or enjoyment of any prize or portions thereof, including without limitations, its quality, merchantability or fitness for a particular purpose. By entering the Sweepstakes, each Winner agrees to hold harmless and fully release Sponsor and Administrator and each of their respective parent companies, trustees, subsidiaries, franchisees, licensees, employees, agents, independent contractors and advertising and promotional agencies from any and all liability for any injuries, losses, death, or damages of any kind caused by any prize or resulting from the acceptance, possession, quality, use or misuse of any prize, or any portion of any prize or travel related to the receipt or use of any prize.
Construction. The invalidity or unenforceability of any provision of these rules shall not affect the validity or enforceability of any other provision. In the event that any such provision is determined to be invalid or otherwise unenforceable, these rules shall be construed in accordance with their terms as if the invalid or unenforceable provision was not contained therein.
Sponsor. The John Ball Zoo- Lantern Festival Ticket Giveaway is sponsored by WZZM. The decisions of Sponsor regarding the selection of winners and all other aspects of the Sweepstakes shall be final and binding in all respects. Sponsor will not be responsible for typographical, printing or other inadvertent errors in these Official Rules or in other materials relating to the Sweepstakes. For a list of winners (available after April 17, 2023) or a copy of these Official Rules, visit 13OnYourSide.com/contests or send a self-addressed, stamped envelope to "Winners List/Official Rules" (as applicable), John Ball Zoo- Lantern Festival Ticket Giveaway, 645 3 Mile NW, Grand Rapids, MI 49544. If you have any questions regarding this Sweepstakes, please contact Will Lockerbie, Account Manager at 616-559-1393.