GRAND RAPIDS, Mich. — Residents of a Grand Rapids-area long-term care facility continue to come forward following a report by the 13 Help Team that first broke allegations of neglect against the facility last week.
Bobbie Furman and Christin, who asked only her first name be used, are wheelchair-bound and reside at SKLD on East Beltline.
Both indicated staff hurt more than they helped and echoed previous complaints relayed to 13 OYS by several additional residents and a woman who claimed to be a former employee. In Bobbie's case, the alleged neglect led to what she said was a preventable amputation.
Despite multiple attempts to contact SKLD Beltline and parent company SKLD over a period of several weeks, a response had not yet been received at the time of publication.
"The expectation for you was to be… back at it in a couple of weeks and instead, you're still here," 13 OYS asked.
"I'm still here with one limb less and in a wheelchair," Furman responded. "I'm never going to be the same as I was before."
Just like that, Furman had to file for disability.
"I was a junior Olympic swimmer," she said. "That's never going to happen again."
The life Furman built for herself suddenly caved in around her.
"A year ago, I probably would have told you, oh, this is never going to happen," she said.
"If it wasn't for them," Furman gestured to the group beside her. "I probably wouldn't be here right now."
The thing about Bobbie's support system was that they already knew one another.
It was a total coincidence, as was the chance reunion that would follow.
"August of 2022, I was sent to SKLD on East Beltline," Furman said.
To get help with muscle weakness and trouble walking caused by Guillain-Barre Syndrome, which Furman said was the result of injuries from earlier in life, which had damaged her nervous system.
"Slowly, my foot started turning inward," she explained. "I told them they need to put… a brace that keeps your foot straight or it would probably end in surgery. I told them this in October.
By December, Furman said she had yet to receive the brace she'd requested. The holidays brought with them a handful of hospital stays and the first of several surgeries on the 26-year-old's injured foot.
Furman documented the process with photos.
The later pictures, though, she may have preferred to forget. After staff at the facility on East Beltline did the bare minimum to keep the wound bandaged, Furman said, her photos showed what appeared to be a rapidly spreading infection.
"To the point where there was no real option," she said. "January 19, 2023, I went for my amputation."
Furman said her dad flew in from Florida and stayed for the week, sharing his concerns regarding her living arrangements. He later saw the 13 Help Team story and contacted us.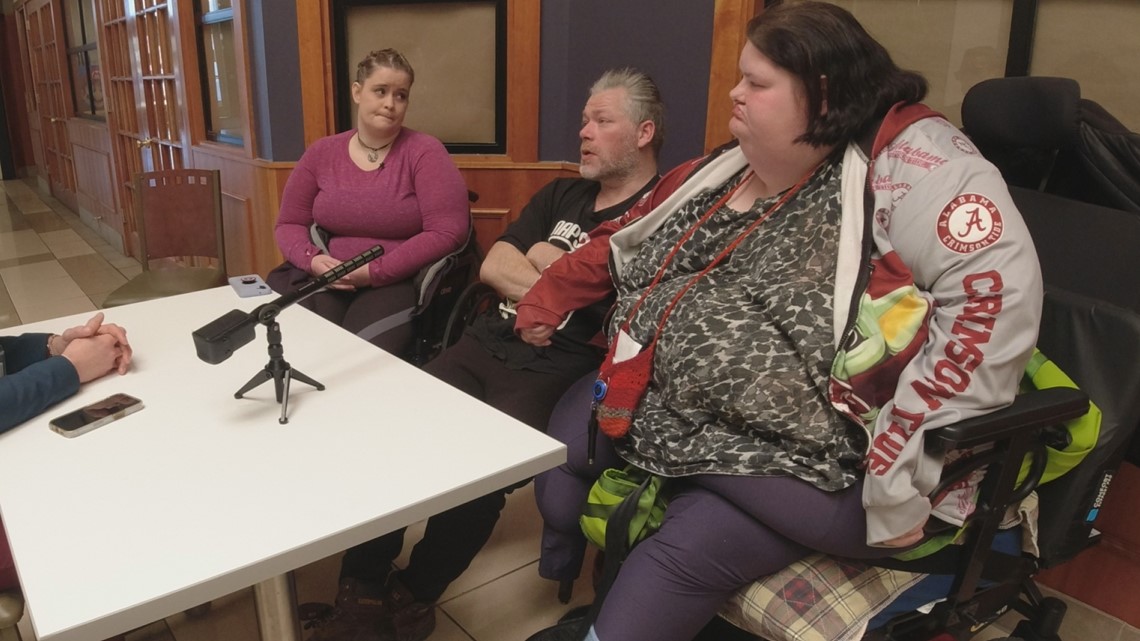 Looking deeper into the background, we found this SKLD location had only one star on the Medicare website and been assessed eight federal fines in the last several years, totaling in excess of $100,000.
"They just prefer to take anything from you," Christin said. "Your life, your sanity, your well-being, your purpose."
Christin, meanwhile, originally entered SKLD Beltline to get approved and fitted for a new prosthetic leg following her own amputation. She referred to the experience as "a major migraine headache and a nightmare," because around three whole years into Christin's treatment, she faced obstacles.
"Therapy says I was denied," she explained. "My insurance says I've been approved. But physical therapy keeps telling my doctors I'm refusing physical therapy. How can you refuse something if you're not even getting it?"
Asking the same question himself, fiancé Lewis made the trip from Colorado, worried Christin wasn't getting the attention she needed.
"It not only is destroyed my self-esteem because like now I can't walk, I can't do things I want to do," she said. "In a way, it's also destroyed my family and my marriage."
"There's times, she's been in bed, waiting to get up, even waiting to get cleaned up for almost six hours," Lewis said.
"There have even been times when she was on oxygen that they refused to get her an oxygen tank and where he would go and actually go grab one," Furman nodded.
She was concerned for her friend's safety, even though the 26-year-old wasn't yet out of the woods herself.
"For at least a week and a half, they refused to send me to the hospital no matter how many times I've asked to be sent because I knew I needed to go," Furman recalled.
The rampaging post-surgery infection was by then, already festering at the still-open amputation site, leading to complications tied to diabetes.
"This nearly killed me this time," she said. "I was scared."
Furman said it was because SKLD staff had allowed it to get that far, not changing her bandages often enough and ignoring her. The two-week stint in a hospital ICU nearly took more of her left leg.
"Nothing's been done. Their treatment hasn't changed," she noted.
"What's the reporting process like?" 13 OYS asked.
"What grievance reporting," Furman replied. "There's, we say something and it's automatic backlash and we get in trouble or yelled at for it."
Furman told us she had tried to get out, to be transferred into another facility with better prospects. She said she had never received confirmation SKLD had received her paperwork, let alone facilitated the move she sought.
In the meantime, they're leaning on each other.
"This is not a life," Christin said. "Truthfully, no joke, I don't call it SKLD. I call it hell. Because that's what it feels like we really live in, is hell."
SKLD Beltline had yet to respond to a call we placed Tuesday morning or to any prior communications as of the time of publication.
This article will be updated if a response is received.
13 OYS is also in contact with Medicare and forwarded the findings of previous reports.