ROCKFORD, Mich. — Residents in Algoma Township received flyers last month, urging them to vote to withdraw from Kent District Library (KDL).
On the front of the flyer, there is a picture of a drag queen reading to children, with the words: "Your taxes support drag queen reading hour," and "in the name of diversity."
KDL does not host and has not hosted a drag queen reading hour at its libraries.
"I was actually surprised because it's not an accurate representation of what's going on at the library," said Randy Goble, director of engagement for KDL.
Algoma Township is not in the Forest Hills school district.
The Vice President of FH4JE, Stefanie Boone, provided 13 ON YOUR SIDE this statement about the Algoma Township flyers:
"At FH4JE we are focused on the protection of ALL children and the preservation of childhood innocence and traditional academics over politically charged motives. To this end, we will work tirelessly for the safety ALL children, not just those in Forest Hills Public Schools. Our efforts to protect children from potentially harmful sexually explicit content extend from our taxpayer-funded public school media centers to our taxpayer-funded public community libraries and beyond."
In response to when KDL not host drag queen story times, Boone said, "The mailer does not accuse KDL of anything. However, KDL does host drag queen book for kids as well as a plethora of sexually explicit books and gender dysphoria-affirming material without parental knowledge or consent."
"I was appalled at the absurdity of it," said Peggy Barbour, an Algoma Township resident, "It's important to know that some groups think that it's okay to provide misinformation in order to sway people. They put out misinformation."
Barbour hopes people can see the flyers are misleading and voters see "the scare tactic."
"What saddens me, too," said Barbour, "is that people use this and are more afraid of drag queens speaking to children then they are having school shootings."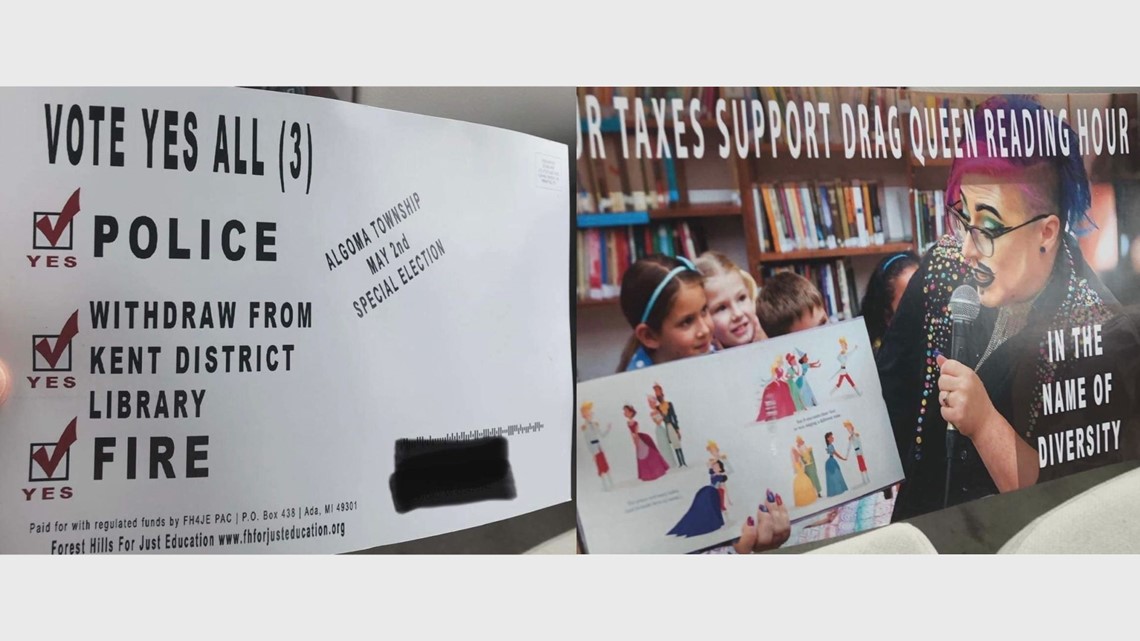 As for the flyer itself, Goble said "It hurts."
"It hurts because we pride ourselves on accurate information," said Goble, "It's an open, welcoming place for all people at the library. So, they're trying to depict groups of people that are not welcome or lifestyles that aren't welcome. And, you know, that hurts a little bit, because that flies in the face of what the library is really about."
Algoma Township Supervisor Kevin Green told reporters after a January meeting that the vote to withdraw from KDL was about both saving costs and giving voters a choice.
"My board members voted to say, 'Do we want to try and do it ourselves as a community or do we want to withdraw from the KDL,'" Green said. "So, we're going to leave that up to the residents as well."
Goble said if voters decide to withdraw from KDL in Algoma Township, the township will have to provide some other type of library services, which have not been defined on the ballot.
RELATED VIDEO: Algoma Township discusses leaving KDL system