GRAND RAPIDS, Mich. — The City of Grand Rapids Planning Commission recommended an amendment to the city's zoning ordinance to allow for taller buildings in specific areas of the city on Thursday.
The goal of the amendment is to encourage growth while also increasing population density and creating new housing in Grand Rapids.
Zoning in the city is divided up into several different areas and the amendment would address each area, increasing the maximum allowed heights of buildings.
The City Center is subdivided into three locations that would see increased building heights. The subdivisions, named DH1, DH2a and DH2b, would see specific changes to building height dependent on the subdivision.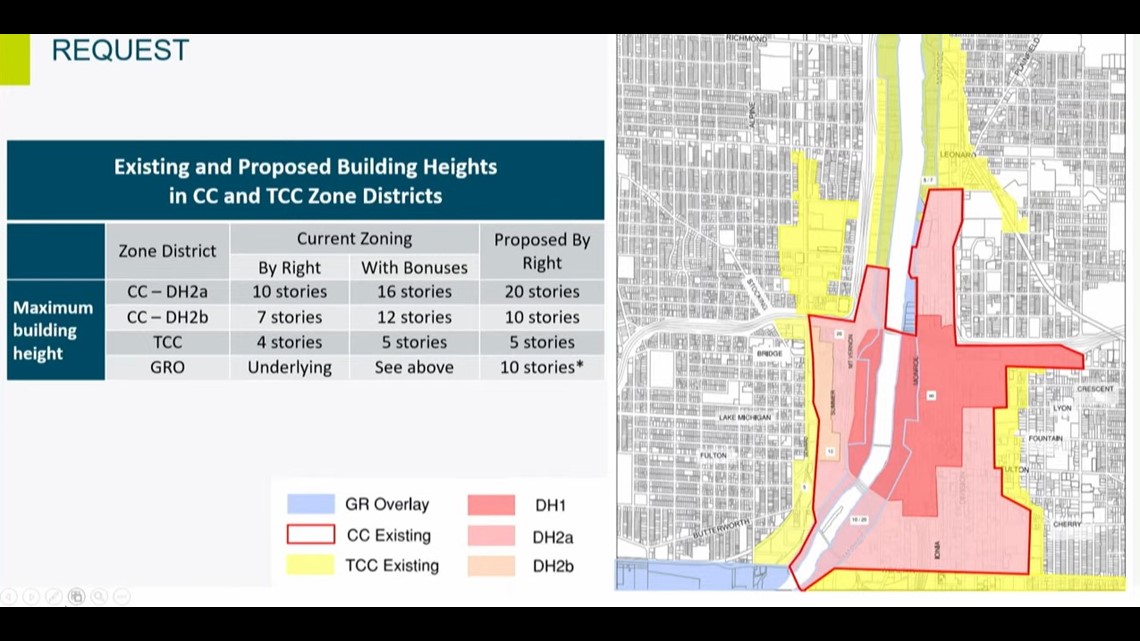 City Center DH2a would see an increase from 10 stories allowed to 20 stories allowed. City Center DH2b would see an increase from seven stories allowed to 10 stories allowed.
The outlying areas around the city center would also see increased building height limits on a lesser scale. The area dubbed TCC would see an increase from a four-story maximum to a five-story maximum.
Finally, a portion of the city's southwest side, named the Grand River Overlay, would get new zoning ordinances to allow for buildings to be a maximum of 10 stories high.
Currently, the city's zoning ordinances include the possibility of adding "bonus stories" based on certain use criteria like mixed-income housing, green elements or public art.
The new amendment includes bonus story possibilities for developers in the Grand River Overlay zone if the structure includes public access easement with a trail to the riverfront.
The amendment will be presented to the City Commission for a vote in the future.
The next Grand Rapids City Commission meeting will take place on June 6.
You can read more about the amendment here and you can watch the entire City Planning Commission meeting here: