HOLLAND, Mich. - The 2019 Tulip Time Festival is in full swing. Having started May 4, if you haven't been yet -- don't fret. The 13 ON YOUR SIDE Morning crew visits Holland Tuesday to show you all the fun still left for the rest of the festival.
Meredith Terhaar gives us a look at the Holland Civic Center, joined by Holland Mayor Nancy DeBoer. The Civic Center was renovated and reopened back in September 2018, with plenty of time to prepare for Tulip Time this year. Mayor DeBoer walked Meredith through some of her favorite spots in the center.
This is the 90th Anniversary of Tulip Time and to celebrate such a momentous feat, the organizers have painted the town orange! There are thousands of orange tulip varieties all over the city. Meredith TerHaar caught up with Gwen Auwerda, Tulip Time's Executive Director, on how big of a deal this year's festival is for the community.
RELATED: Hear ye, hear ye! Holland's town crier goes silent after 40 years
Meredith also got a chance to chat with Rick Klompmaker, a shoemaker who's been carving traditional wooden shoes for decades. Each year, he brings out his tools and shows off his skills for the Tulip Time crowds. If you want a pair, you can check him out at the Marktplaats -- you can also check out the Tulip Time Master Gardener, dancing, speakers, town crier lessons and live music throughout the festival.
RELATED: Tulip Time's Klompen Garden winning artist shares special look at shoes
Meredith got a special performance by the Dutch Dancers, in full costume no less! The costume creators worked to produce around 120 garments for the festival and it takes them around 10-20 hours to sew.
Tulip Time has a few different dancing groups: Kinder Dutch Dancers are made up of children ages 8 to 10, the Middel Dutch Dancers are groups of kids in middle school, and then there are the High School Dutch Dancers. There is also an Alumni Dutch Dancers group that is made up of adults out of high school and anyone who completes the Community Dutch Dance Training Program. Lakeshore reporter Noah Fromson got a lesson in Dutch dancing from the Kinder group last week.
If seeing kids in Dutch costumes isn't cute enough for you, have you seen the dogs? The Dutch Dogs, a part of the Volksparade, strut their stuff in costume. Often times the "canine klompers" are wearing toddler-sized outfits to look the part.
Tulip Time / Facebook
Kristin Mazur checked out quite a few Tulip Time attractions herself, including the Window on the Waterfront, Bier Klomp and the carnival.
The Window on the Waterfront is a 30-acre parcel along the south edge of the Macatawa Marsh. There are tons of walking and biking paths that overlook the marsh, along with viewing decks and boardwalks. It's the perfect place to see more than 100,000 tulips. This park is just one of many places in Holland where you can see thousands of tulips in one place, click here for a list of other places around town.
Bier Klomp is new to the Tulip Time Festival. It's the only place a Bier enthusiast can get a taste of special Tulip Time brews, ciders, spirits and wines. It's open on Friday, May 10 from 4 p.m. until midnight. It's a unique party experience with live music, local beverage experts, food from Electric Hero and Righteous Cuisine and a live art demo.
The Tulip Time Carnival has something for everyone! The carnival is running the entire week of the festival, so you've got plenty of time to get on rides and enjoy fried, carnival foods.
RELATED: Amtrak Midwest trains will run special routes in honor of Tulip Time
If you need helping navigating the festival -- since clearly there is so much to do and see, Angela Cunningham broke it down for you!
THE EATS
There is no shortage of food at Tulip Time. James has already checked out two very delicious options happening during the festival. Big Lake Brewing and Boatwerks are both hosting multi-course dinners the week of Tulip Time. Both restaurants are serving up traditional Dutch cuisine, and some dishes have a unique twist.
RELATED: HopCat Holland announces opening date
Some other places to check out are Alpenrose Restaurant, City Delicatessen, deBoer Bakkerij & Dutch Brothers Restaurant and The Wooden Shoe Restaurant -- just to name a few. Check out Tulip Time's full list of recommendations here.
THE EVENTS
Parades, parades, parades! There are three parades that happen during the festival: Volksparade, Kinderparade and Muziekparade. Thousands of spectators line the streets of downtown Holland for each of the celebrations.
RELATED: 'Yoga in the Tulips' returns to Tulip Time this year
There are so many events and activities to do during Tulip Time. Here are just a few suggestions. For a full list, click here.
RELATED: Tulip Time 2019 offers expanded events
Find all kinds of Tulip Time stories and photos at 13onyourside.com/tuliptime. For a full schedule of events, be sure to check out the official Tulip Time website.
Tiptoeing through Tulip Time 2019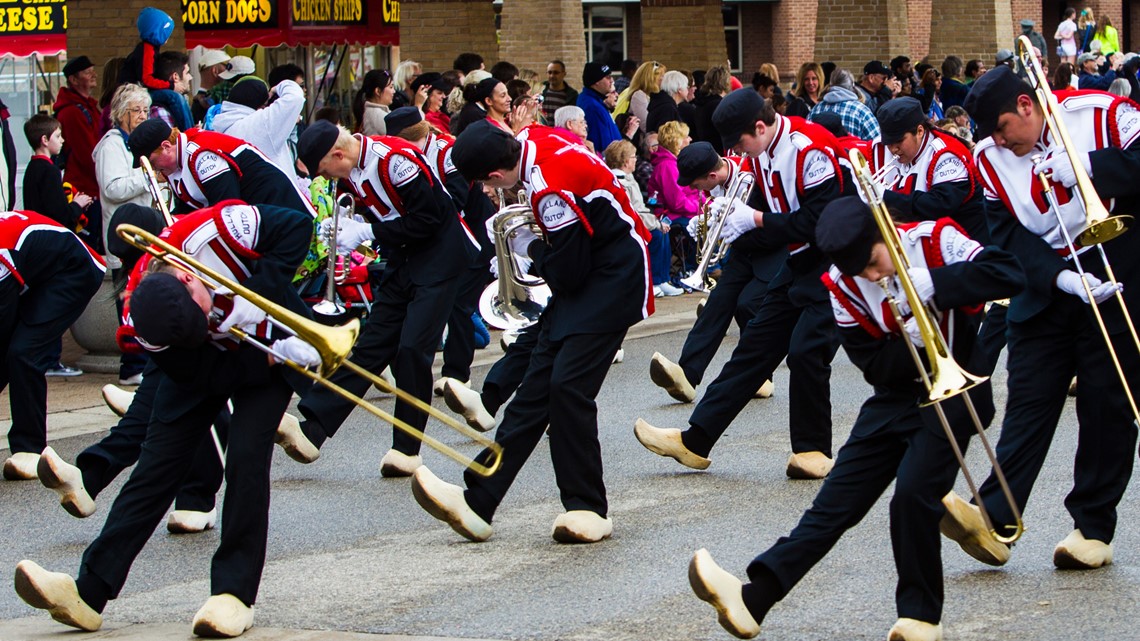 ►Make it easy to keep up to date with more stories like this. Download the 13 ON YOUR SIDE app now.
Have a news tip? Email news@13onyourside.com, visit our Facebook page or Twitter.