ST. JOSEPH, Mich. (WZZM) -- The early 1920's were a very interesting time in the United States. World War I had drawn to a close, and the country's economy was transitioning from wartime to peacetime.
Prosperity was sweeping the land, and modern traditions were falling quickly by the wayside. Prim and proper was being replaced by the flapper, while jazz and big bands blossomed.
The era became known as the Roaring 20's. It was defined by a boom in construction and a rapid growth in consumer goods. Luxury items such as automobiles and electricity, previously attainable only by the elite, were becoming commonplace among American families.
While the culture and general attitude of the country was swiftly changing and people were enjoying many freedoms they'd never had before, the savage irony was that, at the same time, there was one major freedom that was being taken away.
The National Prohibition Act, known informally as the Volstead Act, was enacted in 1920, with the sole purpose of carrying out the intent of the Eighteenth Amendment of the U.S. Constitution, which effectively established the banning of alcoholic beverages in the United States by declaring the production, transport, and sale of alcohol.
President Woodrow Wilson vetoed the bill, but his veto was overridden by both the Senate and House of Representatives.
Effective immediately, booze was banned from coast to coast. People could no longer produce, sell or transport intoxicating liquors.
"When Prohibition came along, you took something that was legal and made it illegal," said Michael Kline, who currently serves as a Lieutenant for the Berrien County Sheriff's Department. "Americans wanted their spirits; that's how we socialized, so it became very profitable for those who could provide it."
"The gangster era rose up from the passage of Prohibition," said said Chriss Lyon, historian and author of the book entitled A Killing in Capone's Playground. "They monopolized alcohol and sold it for a premium because they knew people wanted their booze and didn't want the government telling them they couldn't have it."
The booze wars began in major cities like Chicago, when organized crime syndicates led by the likes of Al Capone and George "Bugs" Moran started killing each other over territory.
"The gangsters knew which end of a gun went bang, and which didn't," said Kline, jokingly. "Control the turf, you control the business, and if you controlled the business, you controlled the money."
As the gangster wars raged on, and the criminal underworld caused many to experience great fear, cities like Chicago became corrupt and lawless.
"Between Capone and Moran, Capone was far more organized," said Kline. "Capone had far more politicians, judges and law enforcement on his payroll."
Even though Capone seemingly was becoming the king of the Windy City, he and his associates needed someplace other than the big city to rest, relax and take their minds off the business.
"They chose to vacation in Berrien County," said Lyon. "We're only 90 miles from Chicago, so these mobsters and killers considered cities like Benton Harbor and St. Joseph as an oasis."
Southwest Michigan became the gangsters' playground, of sorts.
"When the gangsters would visit Berrien County, they were nothing but gentlemen when interacting with the locals," said Lyon. "They were all about relaxing and enjoying the amenities of the area."
Lyon says when gangsters like Al Capone and Fred "Killer" Burke visited Benton Harbor, they were considered by many to be philanthropists because they would always generously tip, freely hand money to the homeless and buy ice cream for kids.
"The tips the gangsters handed out to waiters and waitresses at local restaurants, and to elevator bellhops, were often times more money than a family would make in several months," added Lyon. "It was very easy for the locals to forget these guys were bad guys."
"They'd roll up in their big, black sedans, wearing their fedoras and smoking cigars," said Lyon.
Capone and his associates would always stay at either The Hotel Vincent in Benton Harbor or the Whitcomb Hotel in St. Joseph, and would entertain at the area's finest restaurants and relax on the sandy beaches.
"As much as they enjoyed spending time here, and it allowed them to take their minds off crime and killing, they knew they eventually had to get back to their business in Chicago," said Lyon.
Every time Capone returned to Chicago from his stay in Michigan, the warfare over booze and senseless killings continued, and the battle line drawn between Capone's and Moran's gangs continued to cut deeper and deeper.
The St. Valentine's Day Massacre
The fierce war reached a gruesome peak on February 14th, 1929.
"Both Capone's and Moran's organizations were getting their booze from the Purple Gang in Detroit," added Kline. "In order for Capone to gain complete control of the lucrative Chicago bootlegging business, he knew he needed to take Moran out."
One of the theories is Capone set up lookouts (or spies) near a garage located at 2122 North Clark St., in the Lincoln Park neighborhood of Chicago's North Side. Moran was known to frequent that location because he liked to inspect his liquor shipments in person. The lookouts found out when a shipment of high-end whisky was going to be delivered and knew that Moran would likely come to inspect it, confining him to a specific area. They reported this information back to Capone.
"Since Capone had good business relations with members of Detroit's Purple Gang, a theory is that Capone was able to get some 'hitters' on loan from them for the ambush on Moran," said Kline.
On St. Valentine's Day, by 10:30 a.m., most of Moran's gang had arrived at the garage, but Moran was not there, but Capone's lookouts thought they saw him enter the garage.
"The plan was not to eliminate the entire North Side gang – just Moran," said Lyon. "Witnesses say they saw Moran himself, and one of his associates, approaching the garage from a side street, but when they saw a police car pull up, Moran and his counterpart turned, and ducked into a nearby coffee shop.
"Moran saw that something was about to go down and this is how he avoided becoming a victim of the massacre."
Witnesses near the garage say they saw a Cadillac sedan stop out front, then two men dressed as police officers got out of the car and entered the garage. More witnesses came forward saying they noticed another car come to a stop at the other end of the street, and two more police officers jumped out.
Two of the fake cops were carrying shotguns and entered the rear portion of the garage. They immediately found members of Moran's gang. Five of Moran's mob associates were located inside the garage, plus gang collaborators.
"All seven men were lined up against the back inside wall of the garage and patted down," added Kline. "The two fake cops then signaled to the pair in civilian clothes who had accompanied them. Two of the hitmen, who had Thompson submachine guns, one containing a 20-round box magazine and the other a 50-round drum, opened fire, continuing to spray their victims with bullets after they had all hit the floor."
The seven men were literally ripped apart by the barrage of bullets, and two of the victims had their faces shot off, according to the coroner's report.
"The scene was complete carnage," said Kline. "These men were lined up like sheep and mowed down."
"Witnesses afterwards said they saw the two police officers exit the garage, with what appeared to be two men with their hands up. They all got into the sedan that was parked out front, and took off."
The first witnesses who entered the garage said there was one victim that was still alive – Frank Gusenberg, who had somehow survived 14 bullet wounds. Gusenberg would die three hours later, refusing to utter a single word about the identities of the killers.
The victims of the St. Valentine's Day Massacre included five members of Moran's North Side gang, an optician and an auto mechanic:
Reinhardt Schwimmer – an optician who had abandoned his practice to associate with the Moran gang.
John May – was a car mechanic for the Moran gang, but was not a gang member.
Albert Kachellek – (Alias "James Clark") Moran's second in command.
Peter Gusenberg – frontline enforcer for the Moran organization.
Frank Gusenberg – brother of Peter Gusenberg and also an enforcer for Moran. Frank was alive when police first arrived on the scene, despite being riddled with 14 bullets. He died 3 hours later without telling anyone who committed the murders.
Adam Heyer – the bookkeeper and business manager for Moran's gang.
Albert Weinshank – resembled Bugs Moran, and was likely the individual Capone's "lookouts" saw entering the garage that day, and decided was Moran. He managed several cleaning and dyeing operations for Moran.
"Police corruption in Chicago at the time of the St. Valentine's Day Massacre was off the charts," Kline said. "The victims probably thought they were getting lined up by corrupt cops."
"They were likely willing to take a bribe, or let the cops take a couple cases of the whiskey, so they could be set free, but that didn't happen."
It didn't take long for authorities to open an investigation.
Mug shots of four Purple members were picked out by landlords of rooming houses which were located directly across the street from the Clark Street garage were the massacre happened. It didn't take long for the landlords to waver on their identification, resulting in three of the five men being cleared by Chicago Police. The other two men remained "persons of interest" in the massacre case, but were never convicted.
Police would eventually get a hot lead on who they thought was one of the killers. A truck driver named Elmer Lewis came forward and told Chicago Police that just minutes before the massacre unfolded, he had turned a corner a block away from 2122 North Clark and sideswiped what he thought was a police car. Mr. Lewis then told police that he stopped immediately, but was waved away by a uniformed driver, who he said was missing a front tooth. Police immediately knew that the description given by Mr. Lewis could be none other than a former member of Egan's Rats, Fred "Killer" Burke, who had become the Chicago Police's primary suspect in the massacre early on, but he was nowhere to be found.
Burke was known to wear police uniforms whenever he went on robbery sprees.
Police would later charge two of Capone's gunmen for committing the killings. One of the gunmen, John Scalise, was killed by Capone three months after the massacre, before he went to trial. The charges against the other gunman, Jack McGurn, where eventually dropped due to lack of evidence.
The investigation would stall until twelve months to the day after the massacre unfolded.
Michigan's Infamous Connection
December 14th, 1929 – the day the aftermath of Chicago's St. Valentine's Day Massacre found its way to St. Joseph, Michigan.
"Nobody knew that Fred 'Killer' Burke had taken up residence in Stevensville, Michigan, which is just a few miles south of St. Joseph," said Lyon.
"Burke had purchased a residence and was living in the area under the alias of 'Fred Dane', and nobody knew him to be a gangster."
Around 7:30 p.m. on the evening of December 14th, an incident that changed the course of American criminal history unfolded in the middle of an intersection in downtown St. Joseph.
"Burke was driving to the St. Joseph train station to pick up his wife, Viola, who had spent a few days shopping in Chicago," said Kline. "He had been drinking heavily, so his driving skills were impaired."
As Burke came to the spot where Cleveland Avenue and Lakeshore Drive converge, he was involved in a minor car accident with a man named Forrest Kool, his wife and three-month old daughter.
"The two vehicles pull off to the side of the road, and that's when Kool exited his vehicle and approached Burke," said Kline. "Kool allegedly says, 'you need to give me some money for the damage you just caused to my vehicle.'"
Burke pulled a wad of cash out, but all he had were larger bills.
"Burke then allegedly told Kool, 'Tell you what, follow me into town and I'll break down some of these bills and pay you something,'" said Kline. "Kool felt that was fine, and the two men got back into their vehicles and headed for downtown St. Joseph."
At some point, Burke must have sped up, or made a sharp turn because Forrest Kool fell off the trail of following him, Kline said.
"St. Joseph Police officer Charles Skalay was working foot-patrol downtown on this night," said Lyon. "Skalay was at the corner of Main and Broad Streets when a vehicle stopped close to him.
"It happened to be Forrest Kool."
Kool proceeded to tell officer Skalay about the fender-bender he was involved in, when all of a sudden, Fred Burke ironically drove up to the intersection at Main and Broad Streets, Lyon said.
"Kool recognizes Burke and tells officer Skalay that's the man who hit me," said Lyon. "Burke sees Kool talking to a police officer, then speeds off."
Officer Skalay hops on the running-board of Forrest Kool's vehicle, and says, 'follow him'", said Kline. "The car chase goes two blocks north on State St., then Burke goes down the hill and gets trapped for a moment near the train station.
"Burke eventually eludes Kool again, and drives back up the hill and comes to a stop at the intersection of Broad and Main Streets," said Kline. "That's when officer Skalay hopped off Forrest Kool's running-board and decided to approach Burke's car.
"Witnesses said they watched officer Skalay walk up and tap on Burke's car window," said Kline. "Skalay allegedly said to Burke, 'Hey, you need to pull over; I need to talk to you.'"
Burke rolled down his window, pulled a Colt-45 pistol out, and proceeded to shoot officer Skalay twice in the chest, then a third time in the back, Kline said.
"The third shot would prove to be the fatal shot because the bullet clipped an artery near Skalay's heart, and he eventually died," Lyon said. "Officer Skalay died never knowing what his true role in history was."
Burke immediately sped away from the scene, but it wasn't long before he was involved in what ended up being the most costly event of this whole ordeal. Driving at a high rate of speed, Burke failed to negotiate a turn on Lakeshore Blvd., near Lakeshore Dr., and crashed his car, knocking off two of the wheels.
"A witness in a nearby house said he heard a big bang, looked out his front window, and saw a man with a hand gun staggering in the road," said Kline. "Members of the Berrien County Sheriff's Department heard the report of the car crash and raced to the scene."
Fred Burke was nowhere to be found, but deputies found two items inside Burke's vehicle that would prove to be just as valuable.
"While the officers were going through the abandoned vehicle, they found the Colt-45 pistol that was used to kill officer Skalay, and a receipt to a lumber yard," said Kline. "On that receipt was an address to a residence in Stevensville."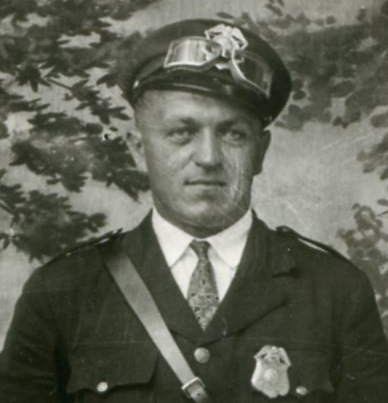 Sheriff's deputies then headed to Stevensville, as their search for this cop-killer continued.
"Cops rolled up at the Stevensville residence and found a taxi cab in the driveway, and a ladder leaning against the house leading up to the second floor," said Lyon. "The taxi had picked up Viola Dane at the train station because Burke never showed.
"Viola didn't have any keys to get into her home, so she asked the cab driver to climb up to the second floor, enter through the window, come downstairs and open the front door for her," Lyon said. "Sheriff's deputies entered the house and began searching."
The deputies made their way upstairs, and inside a closet, they noticed a steamer trunk.
"They opened up the trunk, and inside it they found a Thompson submachine gun," said Kline. "The deputies proceeded to continue to search the house and they found a second Thompson submachine gun with a drum magazine attached to it.
"They also found rifles, sawed-off shotguns, a total of seven different handguns, thousands of rounds of ammunition, tear gas grenades, hand grenades, nitroglycerin, some bullet-proof vests and $319,000 in bank notes that had come from a bank in Wisconsin," added Kline. "It was quite literally the mother lode of all arsenals."
"Everybody at the time knew that two Thompson submachine guns were used in the St. Valentine's Day massacre," said Lyon.
The Berrien County Sheriff's office immediately contacted members of the Chicago Police Department and asked them to come to St. Joseph and take a closer look at the confiscated arsenal. Once the Chicago Police arrived and closely examined the arsenal, they determined that the majority of it was likely going to be linked to the massacre.
Burke found a way to escape capture, but now that this massive arsenal had been discovered, authorities started to believe it would only be a matter of time before he'd be found. Chicago Police considered Burke as the primary suspect in the St. Valentine's Day Massacre, while at the same time, he was wanted by Berrien County Sheriffs for officer Charles Skalay's murder.
Fred Burke had become the most wanted man in America.
"Chicago Police immediately requested that both Thompson submachine guns be brought to Chicago so they could be tested by a scientist by the name of Calvin Goddard who, at the time, was introducing a relatively new procedure to criminal investigations called Ballistic-Forensics," said Kline. "Goddard was being insulated by police at Northwestern University so his work couldn't be corrupted by the lawlessness and continued gang threats that had overtaken Chicago at the time.
"Goddard test-fired the Thompson guns, then used his emerging method to closely examine the ejector marks and etchings on the bullet casings to the same markings on the casings found at the massacre site.
"It didn't take long for Goddard to prove that both Thompson submachine guns were the exact same guns used in the St. Valentine's Day Massacre."
Goddard's ability to use his new science to prove that these were the guns that killed seven men spring-boarded him onto the front page of every newspaper in the country.
"Ballistic-Forensics gained notoriety and became a trusted method for detective work and law enforcement, and it's still trusted and used to this day," said Kline. "Goddard's crime lab at Northwestern University expanded, thanks to some huge funding.
"The quick adoption of Ballistic-Forensics opened the door for the advent of other law enforcement tools such as the lie detector and the ability to teach the proper procedure of doing plaster castings."
The lie detector and plaster castings are methods law enforcers also are still utilizing today.
Soon after Goddard was finished with the guns, they were brought back to Michigan and placed in evidence lockup at the Berrien County Sheriff's Department.
Meantime, the nationwide search continued for Fred Burke, who had fled to rural northern Missouri, hoping to "lay low." A Michigan police bulletin was put out, offering a $1,000 reward for his capture.
Thanks to all his aliases, he'd managed to commit a myriad of crimes, including killing, and avoid the long arm of the law. During his time in Missouri, he had taken on the new name of Richard F. White. In 1930, a year after both the massacre and the murder of Charles Skalay, "White" married a woman from Sullivan County, Missouri named Bonnie Porter.
The couple took up residence near Green City, Missouri.
On March 26th, 1931, the law finally caught up to Burke. An amateur detective in Green City had read about Burke and had seen his picture on a recent issue of "True Detective" magazine. The amateur detective immediately recognized that the man in the photo had a striking resemblance to local resident Richard F. White, and notified authorities.
Fred Burke was then captured in Green City, Missouri, ironically, without a single gunshot being fired.
"Burke was returned to Michigan, even though he was a wanted man in Illinois, Ohio and Wisconsin at the time," Lyon said. "Authorities in the other states considered him a prime suspect in various crimes, but in Michigan, Berrien County Sheriff's knew they could convict him for the murder of officer Charles Skalay."
Burke was tried and convicted for officer Charles Skalay's murder, and was sentenced to life in Marquette Prison, located in Michigan's Upper Peninsula.
"Burke was convicted of second-degree murder," said Lyon. "He didn't get first degree murder because he was intoxicated at the time he killed officer Skalay.
"One of the statements Burke made to the judge before he was sentenced was, 'I'm sorry for killing that young boy,'" said Lyon. "Burke was, of course, referring to Charles Skalay.
"That was the only confession Burke ever made; he never talked of the St. Valentine's Day Massacre or any of the other crimes he committed."
Fred Burke spent nine years in the Marquette State Prison before he died of a heart attack July 10th, 1940.
"For many years after he passed away, people have been searching for his gravesite," said Lyon. "Records show Burke was buried in Park Cemetery in Marquette, but there is no Fred Burke listed as buried there.
"When I went to visit his gravesite a few years ago, I realized that Fred Burke was another alias he used. His real name was Thomas Camp, and that's the name he's buried under."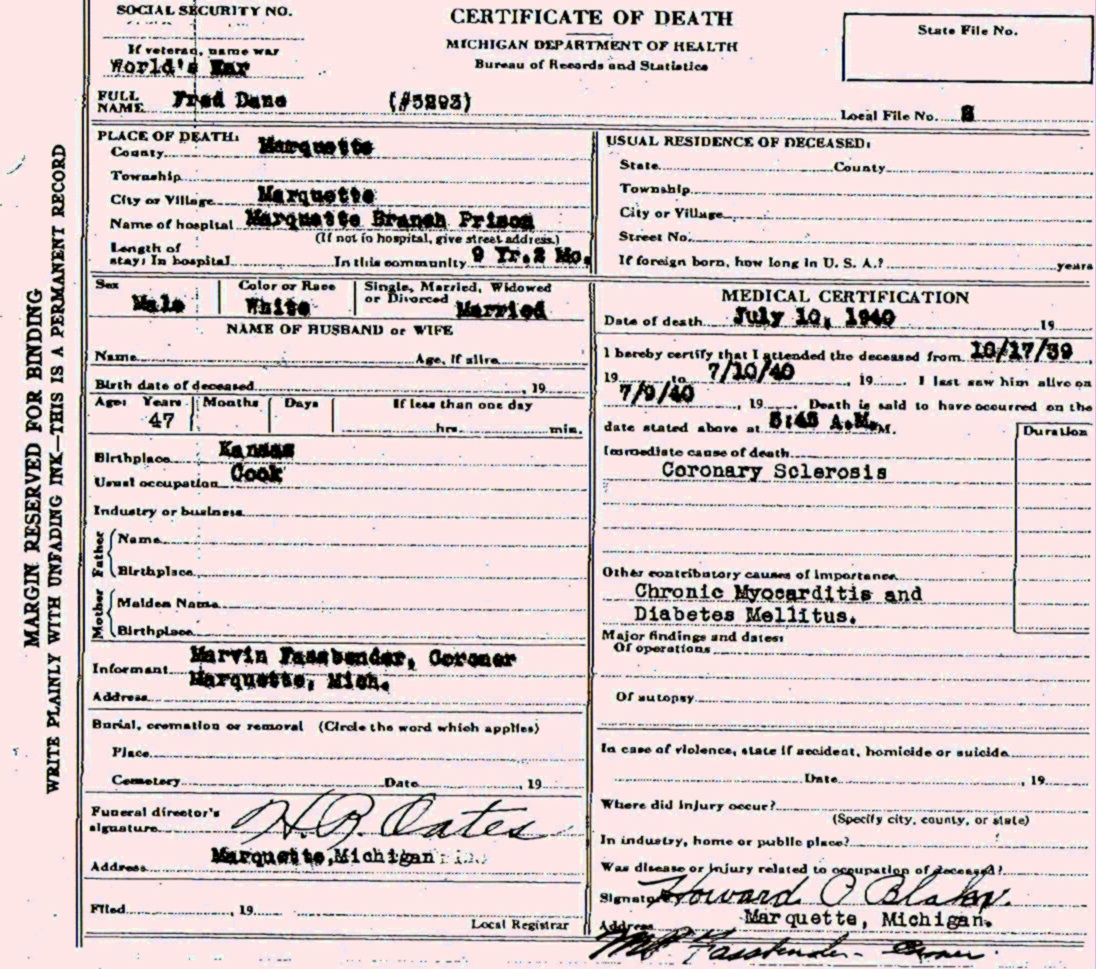 Nearly a century later, the excesses of the gangster era have all washed away, but some key remnants still remain.
The two Thompson submachine guns that were confiscated in Fred Burke's Stevensville bungalow still exist today, and sit in lockup at the Berrien County Sheriff's Department.
"They're the most famous murder weapons in the world, and we still have them," said Kline. "It's truly amazing when you think about it.
"These guns are still in perfect working order, and have not been refurbished in any way."
Berrien County still has the guns because they're still considered as evidence in an unsolved crime. If they're ever taken off the books as evidence, they will have to be destroyed.
"Many people were brought in and questioned about the crime but no one was ever charged or convicted for it," said Kline. "Burke went to prison, but he wasn't incarcerated for his alleged role in the St. Valentine's Day Massacre."
When asked if he believed Fred Burke (aka Thomas Camp) was one of the hitmen involved in the St. Valentine's day Massacre, Kline said, "I'm going to go to my grave pretty much knowing 100 percent that Fred Burke was one of the hitters in that garage that day.
"The fact that the guns were in his possession, and confiscated from his residence, and that he liked to dress up as a cop to fool people, and he was witnessed as possibly one of the police officers coming out of the garage that day, tell me that he was one of the hitters."
Since the St. Valentine's Day Massacre will likely never be solved, the two Thompson submachine guns will remain in Berrien County, Michigan, forever linking St. Joseph and Benton Harbor to the gangster era and the longest unsolved crime in American History.
"It all comes back here to St. Joseph," said Kline. "If Fred Burke isn't drunk, and doesn't get into the fender-bender with Forrest Kool, and if he doesn't shoot and kill officer Skalay, he would have probably just gone about his business that night, and these guns would have gone into obscurity and maybe never would have been found."
The two Thompson submachine guns aren't the only remnants that still exist from Michigan's connection to the gangster era.
Fred Burke's house, where the guns and all the arsenal was discovered, still stands today.
The address is 4333 Red Arrow Highway in Stevensville, Michigan.
The house is currently a place of business - a Coldwell Banker Advantage Real Estate agency. The employees who work inside the house are well aware that the structure is a piece of gangster history.
If you ever find yourself driving along Red Arrow Highway, you can't miss it, and if you stop in, maybe one of the employees will show you the upstairs closet where the two Thompson submachine guns were found.
If you have an interesting story to tell, or know of someone else who has an interesting story, we would like to share it on Our Michigan Life.
Segments of Our Michigan Life air weekday evenings on WZZM 13 News.