TORCH LAKE, Mich. - Three men from northern Michigan are about to attempt something that's never been done.
They plan to paddleboard across Lake Superior - the largest, coldest and most dangerous of the five Great Lakes.
They call themselves the "Three Standup Guys," because they stand on their paddleboards, and because they are co-founders of a non-profit charity called, "Stand Up for the Great Lakes," which was set up to protect the Great Lakes and educate others about freshwater resources.
"The waves can pick up like crazy in a matter of seconds on Lake Superior," said Kwin Morris, who will be one of the paddleboarders involved in this adventure. "Superior's weather and waves have taken thousands of sailors and their ships to the grave."
WZZM
Morris, along with Joe Lorenz and Jeff Guy, make up the trio known as "Three Standup Guys." This isn't the first time they will cross one of the Great Lakes on paddleboards.
"We decided to cross Lake Michigan in 2015," said Morris. "We started in Algoma, Wisconsin and finished in Frankfort, Michigan.
"Then in 2017, we decided to cross Lake Huron. We started in Alpena, Michigan and our destination was Tobermory, Ontario [Canada.]"
They plan to paddleboard across all five of the Great Lakes, but chose Superior as their conquest for 2018.
"People don't realize, it's 70 degrees on the shore, but when you get out there, the water is 37 degrees," said Morris. "Mentally and physically, this will be the most challenging thing I've ever done."
The men have targeted July 9 through July 20 as the best weather window to make their treacherous trek across Superior.
"We're making it about the journey and not the destination," said Joe Lorenz, co-founder of Stand Up for the Great Lakes. "I have some fear, but I also respect that lake."
The paddleboard journey will begin from Sinclair Cove, Ontario, Canada and will finish at Whitefish Point in Michigan's Upper Peninsula, the site of the Great Lakes Shipwreck Museum.
Kwin Morris
If they don't run into any weather or extremely rough seas, Morris says the 57-mile trip should take the three men just over 30 hours to complete.
"It's sobering when you're out there," said Morris. "You're paddling all day, then all night, and when the sun comes up you still can't see land."
The men will each strap on all the necessary supplies they'll need for the trip. Some of the food items will include Espresso beans (to help them stay away during the night), amino acid drinks, dried mangos and ginger. They will also be taking filtered cups with them so they can drink the lake water to stay hydrated.
WZZM
The men have also taken precautions on the chance there could be a medical emergency during the trip. There will be two boats that will flank them, and one of the boats will have a doctor on board.
Prior to their paddleboard treks across Lake Michigan and Lake Huron, the guys secured charities to generate money for. The goal of this trip is to raise more than $10,000 for the Great Lakes Shipwreck Historical Society.
"We plan to make a special stop out on the lake during the paddleboard journey," said Morris. "We will travel over the spot where the Edmund Fitzgerald sank. When we arrive at that spot, we will lay a wreath, pause for a moment, then continue on to Whitefish Point."
The reason why the three guys all care so much about the Great Lakes is because they all grew up on water.
"We want to make sure the Great Lakes and all inland lakes are protected," said Jeff Guy, co-founder of the organization. "The three of us go out paddleboarding all the time cleaning up trash on the lakes. We will continue to do that."
WZZM
Until the weather and lake conditions are conducive for the men to embark on their trip, they'll be practicing on nearby Grand Traverse Bay and Torch Lake, which is close to where all three of them grew up.
"I'm super excited, but now that the window is becoming closer, I'm super nervous as well," said Morris.
If you'd like to make a donation to the "Stand Up for the Great Lakes" to help them reach their goal of $10,000, you can do so by clicking on the link.
If you'd like to follow their progress once they start the trip, there will be updates posted to their organization's Facebook page.
Three men set off to paddleboard across Lake Superior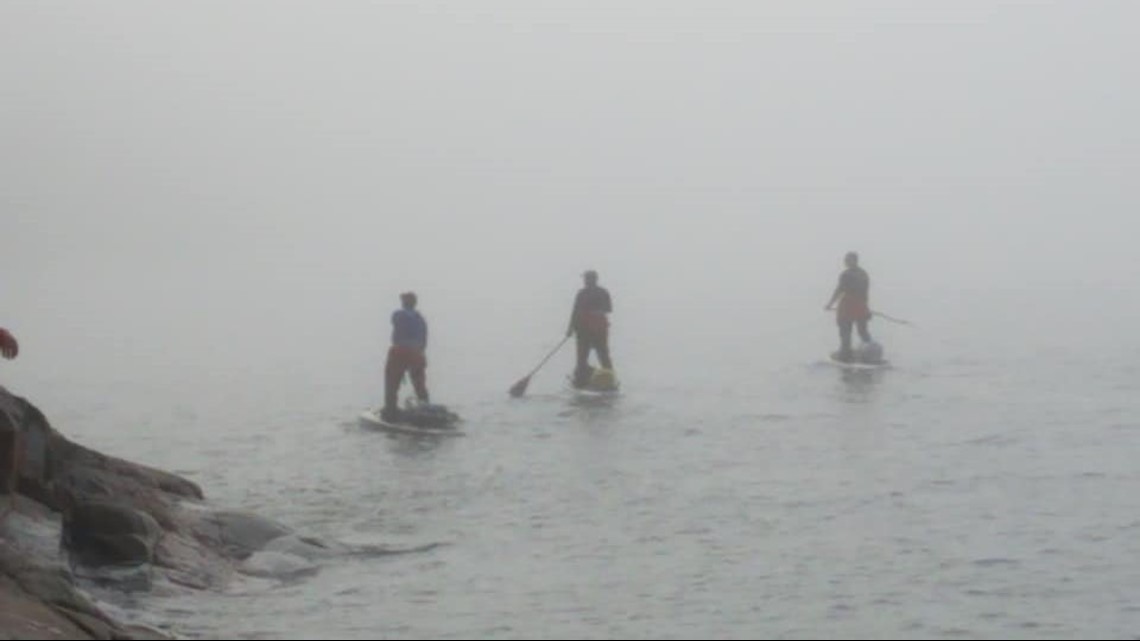 If you know of a story that would make a great feature for Our Michigan Life, please contact 13 On Your Side's Brent Ashcroft at life@wzzm13.com.