MUSKEGON, Mich. — As the 75th anniversary of the D-Day landings in Normandy, France approaches this summer, U.S. World War II veterans continue to die at a rapid rate.
According to data gathered by the Department of Veterans Affairs in 2018, 348 of the remaining 496,777 American World War II veterans die every day. By the year 2027, it's estimated the number will be down to 35 deaths per day, and by 2034, it'll be down to two per day.
The report went on to say that by 2036, it's estimated there will be no living veterans of World War II left to recount their experiences.
"We're losing this generation of veterans at an alarming rate," said Richard Mullally, who is a Muskegon County World War II historian. "The days of meeting [World War II] veterans on the street or in restaurants are just about gone."
Mullally, a 1963 graduate of Muskegon High School and retired high school biology teacher, decided in October of 2009 he wanted to take on what would become a massive project.
"My interest in history, in particular Muskegon war history, has grown greater as I've aged," said Mullally. "I decided I wanted to try and catalog every single man and woman who's lived in Muskegon County and served in World War II."
"I knew at the time I was likely biting off more than I could chew because I figured there were probably 20,000 World War II veterans."
To qualify for Mullally's project (which he named The Muskegon County World War II Veteran Project), the Muskegon residents had to serve in the military between December 7, 1941 and December 31, 1946.
"What I do is collect photographs and document detailed information about each veteran," said Mullally.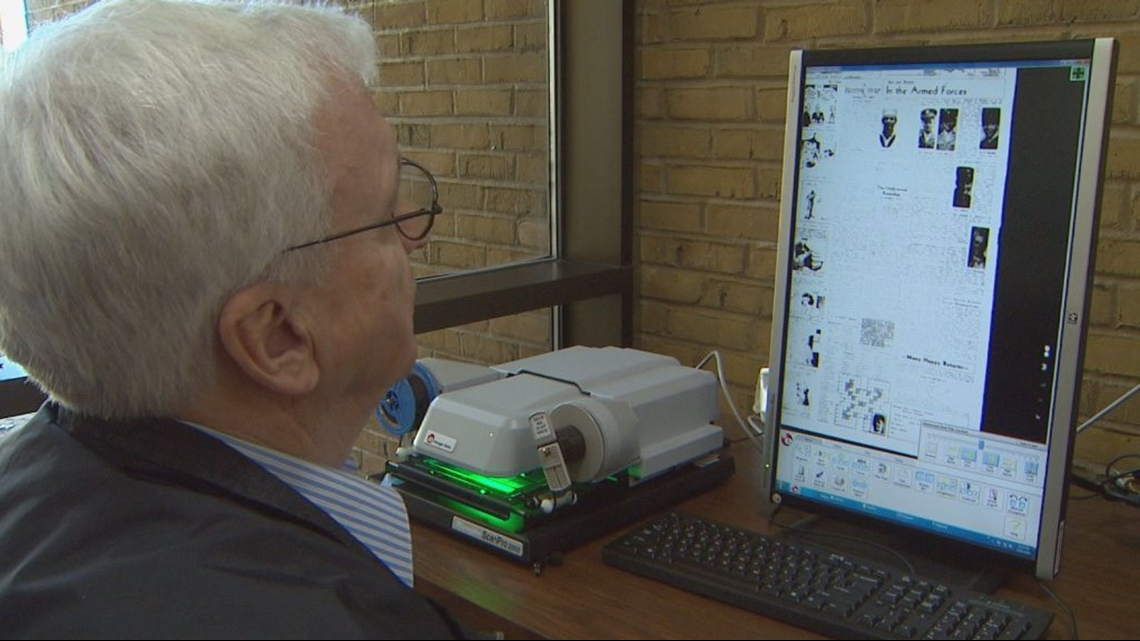 Early on, Mullally says his primary source was the Muskegon Chronicle, which did several profiles on World War II veterans from the area. He says he's spent days combing through microfiche at local libraries, pulling up the newspaper articles, photocopying the images of the veterans and writing down all their information.
"The parents of the soldiers would send their pictures to the Chronicle during and after the war," said Mullally. "The pictures aren't the best quality but they were the only ones I could find because I wasn't able to locate any surviving relatives."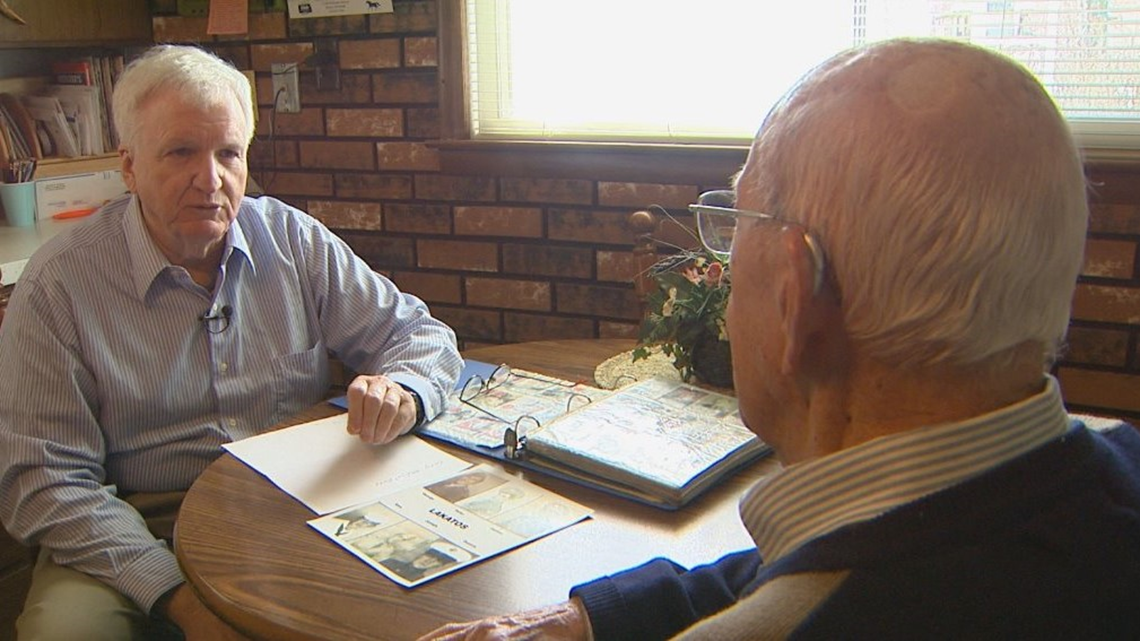 Ten years ago, more World War II veterans were still living. Mullally says he would spend each day visiting with veterans in their homes, or drive around to various restaurants and establishments, see individuals who appeared to be in their late 70s, early 80s, and approach them.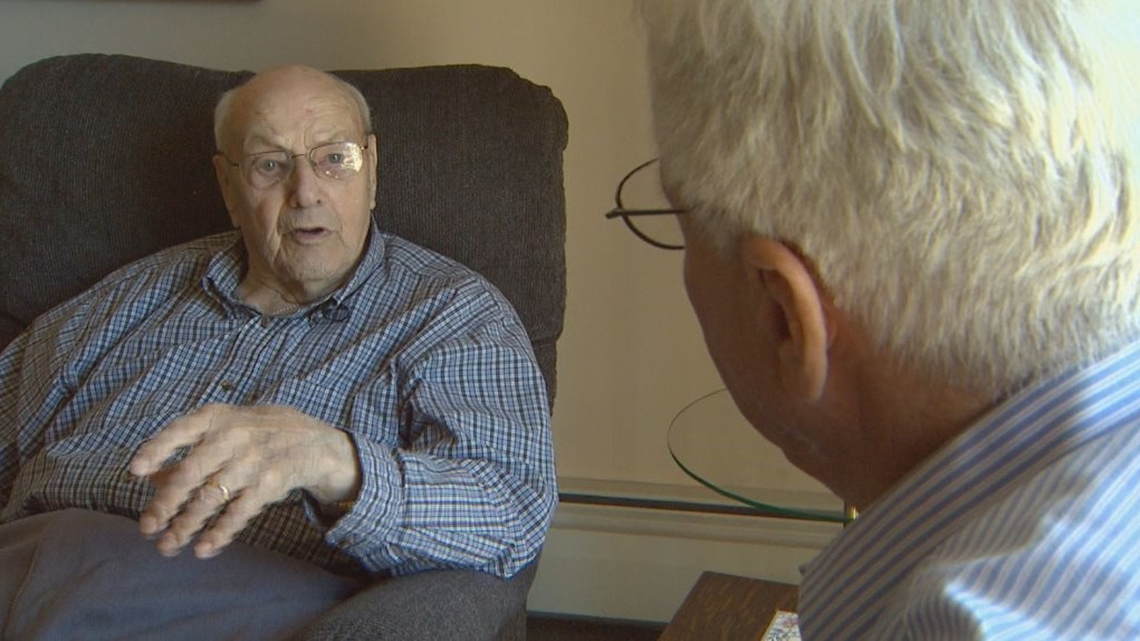 "I'd ask if they were a veteran and if they were in World War II," added Mullally. "Many of them said, 'Yes, I was,' and I was able to get important information from them and get a phone number so I could call them back and ask for a photo of themselves in their military uniform.
"Having the photographs is critical for the type of war memorial I'm building."
Mullally says in 2010, he would meet with as many as four World War II veterans each day, continuing to build the portfolio rather rapidly. He says it was very common when talking to a veteran and the veteran would say, "My three brothers also served, and my cousin did, too.'"
Today, most living World War II veterans are in their 90s and, for the most part, are out of the public eye for various reasons, making it almost impossible for Mullally to complete his project.
That's why, over the course of the last five years, he has recruited some scouts to help him find more veterans so the project can remain in full force.
"Wherever I go, in a hospital, doctor's office, barber shop, I start asking people," said Harry Cleveland, who serves as one of Mullally's scouts. "If I get photos and information, I give it all to Richard."
Cleveland, 89, was only 11 years old when World War II broke out in 1941.
"I had five cousins from the same family all overseas at the same time during World War II," said Cleveland, who spent 20 years serving in the Army National Guard. "I wanted to join them, but I was too young at the time and couldn't go."
Cleveland's life path crossed with Richard Mullally in 2015. Soon after that, it didn't take long for Cleveland to fully invest into Mullally's project.
"I told Richard, 'That's for me,'" said Cleveland. "I wanted to help."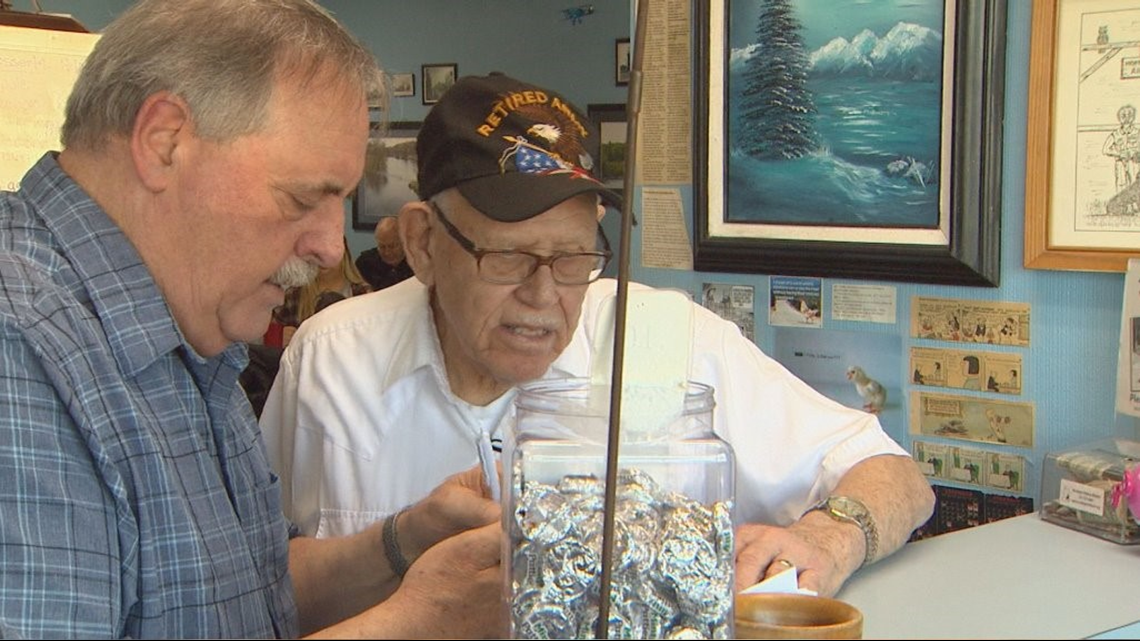 For the past four years, Cleveland has been spending three days each week meeting and greeting Muskegon veterans at area restaurants, hoping to locate new World War II veterans and move the project forward.
"I go to Herbie's Cafe on Mondays, then on Tuesdays, I go to Cherokee Restaurant on Sherman Boulevard and Wednesday mornings I go to Mr. Quick on Laketon Avenue," said Cleveland. "If I see a person who looks old enough to have been in the military, I approach them.
"I will talk with children or grandchildren of World War II veterans often. Sometimes they can get me names, photos and information, while other times they tell me they know their loved one served in the war but they were never told anything about what they did."
Many veterans don't want to talk about their time in the service, which adds up to lost opportunities for Mullally.
"I can't tell you how many times I've encountered children of World War II veterans, asked them for information and a photo of their father, only to have them tell me they know absolutely nothing about what he did," said Mullally. "What I'm finding out is many of the children of the veterans, who are now 70 years old themselves, are deceased now, too, and if I find a grandchild, they know nothing because no information was ever passed down."
Mullally says he occasionally meets with some World War II veterans, but mostly meets with his computer now, continuing to dig online for more Muskegon WWII veterans.
Mullally has created a website, ww2vets.net, where people can see all of the Muskegon WWII veterans he's accumulated thus far.
"After ten years, I've found information and photos of 9,500 World War II veterans from Muskegon," said Mullally. "I'm only half way to my goal after a decade of doing this, so we truly need help from the community."
Mullally's undertaking is placing the information and photos of the veterans in two Muskegon-area museums: the USS LST 393 Veterans Museum and the USS Silversides Submarine Museum.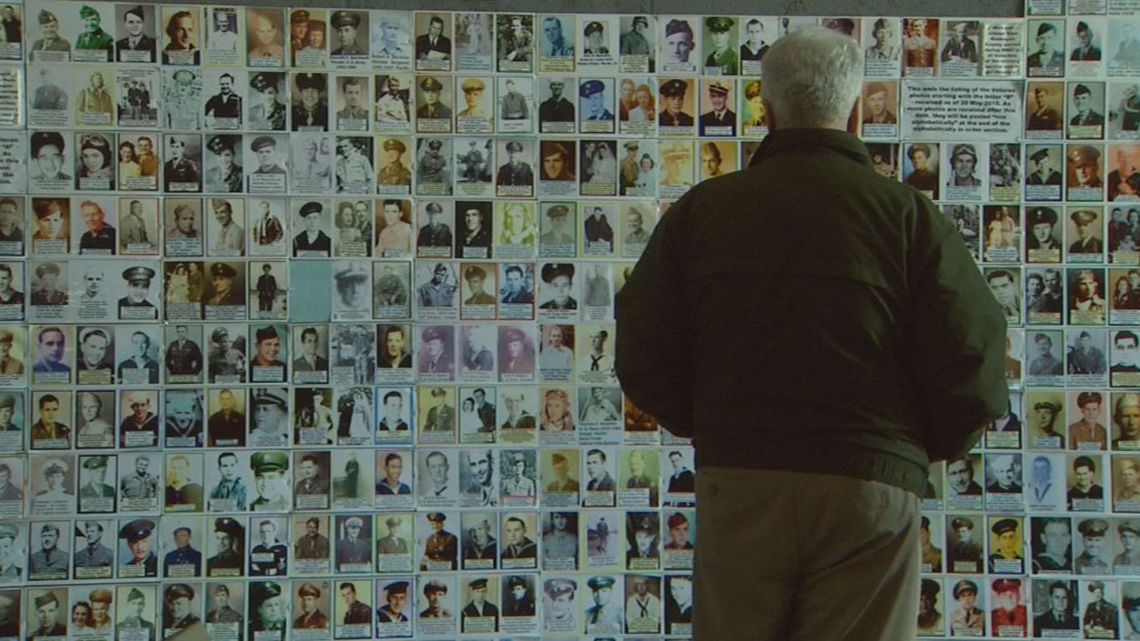 Many of them are on display at both locations today.
"I doubt this project will ever be completed in my lifetime," added Mullally. "However, there's a section that I would very much like to see completed—the killed in action."
Four-hundred-and-thirty men from Muskegon died battling in World War II. Mullally says he's received photos and information for 426 of them, leaving empty spaces at the museums for these four soldiers:
Hans J. Battice Sergeant Army Air Corps 1943-1944; 15th Air Force 460th Bomb Group; 760th Bomb Squadron; B-24 Liberator crew member; Killed July 26, 1944, Ardennes American Cemetery.
William Earl Hescott 1st Sergeant U. S. Army 1939-1944; Medical Corps Reception Station 4 207th Station Hospital; Killed February 2,1944 at Fort Bragg; Dead on arrival at Station Hospital; Cause of death: undetermined; Age 29; Buried at Woodlawn Memorial Cemetery Orlando Florida
Walter Avery LaFaunce Sergeant U. S. Army 1940-1942; 32nd Infantry Division; 126th Infantry Regiment Company; K Killed November 26, 1942 in New Guinea; Age 20; Buried Rock Island National Cemetery Illinois
Frank E. Lawton 2nd Lieutenant U. S. Marines; Died October 31, 1943 in plane crash near Miami, Florida en route home for furlough; Age 21
"Before 2009, there was no display for any of these brave men and women," said Mullally. "But now their pictures and stories are preserved forever."
Since he started the project, Mullally believes he's met and interviewed about 1,075 World War II veterans from Muskegon, most of whom have now passed away.
"We always say we'll never forget the men and women who gave their lives to keep our nations free, but that is an almost completely empty phrase because most people cannot even name one of them," added Mullally. "Now, with the help of many, there are captioned military photos on permanent display for people to honor."
Mullally says this project will be his final mission in life.
"It's all-consuming, and sometimes I don't get much sleep because of it, but there's no way I'm stopping," said Mullally. "I'm doing this project free of charge, because what it would have cost me to do this was paid for already by all the veterans 75 years ago."
Harry Cleveland says Mullally can count on his help for as long as he needs it.
"I'm going to do it until I can't go no more," said Cleveland.
If you think you can help Richard Mullally with the Muskegon County World War II Veteran Project, he would like to hear from you. He asks that you send an email to remull@gmail.com.