It's been 40 years since the world was introduced to the characters Luke Skywalker; Princess Leia; Han Solo and his tall furry friend, Chewbacca; two droids and the evil Darth Vader. Nobody envisioned back in 1977, when the original movie was released in theaters, that this storyline would evolve into a cultural phenomenon that continues to influence generations today.
On Dec. 15, 2017, the next chapter of the Star Wars saga, "The Last Jedi," will drop in theaters, continuing the rich storytelling that has defined this movie franchise. The anticipation continues to build, thanks in part to so many questions that were left unanswered after the last installment of the saga, "The Force Awakens," two years ago.
While Star Wars fans are eager to find out who Rey's parents are, whether or not Luke Skywalker turns to the dark-side, or if Kylo Ren can be redeemed, there are also many unanswered questions that have been left to speculation surrounding the earlier saga movies, in particular the Original Trilogy ("Episode IV: A New Hope," "Episode V: The Empire Strikes Back," "Episode VI: Return of the Jedi").
"No one had ever seen anything like it before," said Dr. Gary D. Schmidt, American author, who currently serves as a professor of English at Calvin College in Grand Rapids, MI. "I remember seeing Star Wars for the first time when it came out in 1977, and my friends and I loved it so much, we hid inside the theater so we could watch it twice in a row."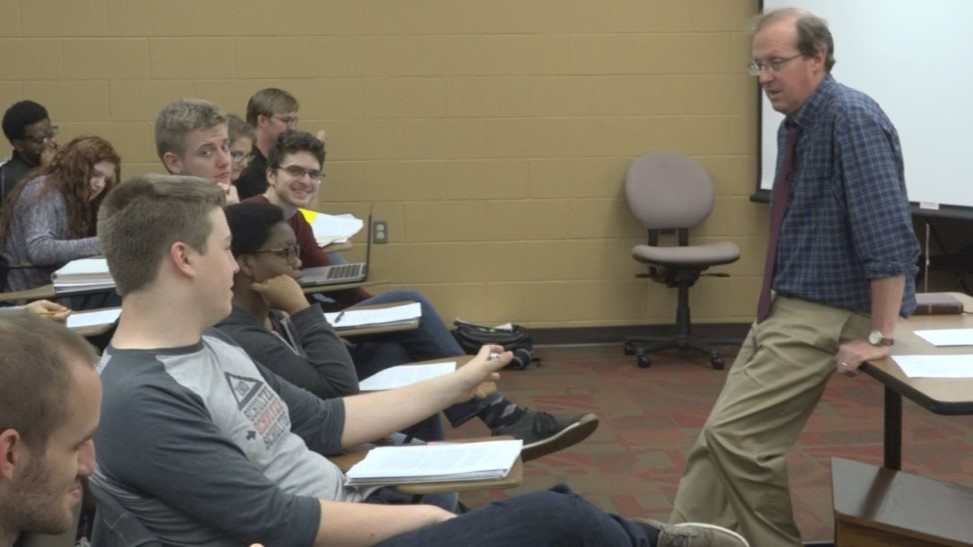 Dr. Schmidt currently teaches three courses at Calvin - Craft of Writing, Early English Literature and and Children's Literature.
When he's not teaching writing, he's doing it.
Schmidt has penned many books and novels, with several of them garnering honors and national recognition. In 2005, Dr. Schmidt's novel entitled, "Lizzie Bright and the Buckminster Boy" was awarded a Newberry Honor, which recognizes the "most distinguished contribution(s) to American literature for children." In 2008, he was awarded a second Newberry Honor for "The Wednesday Wars." Three years later, he wrote a sequel to The Wednesday Wars entitled "Okay for Now," which was a National Book Award finalist.
Schmidt admits that what likely sparked his deep interest in storytelling was when he was taken to that "Galaxy Far, Far Away" more than four decades ago.
"No other series has done what the Star Wars series has done," Schmidt said. "Back then, we had to wait three years between movies, and it felt like forever, but it was so worth it when we got to see all those great characters back on the big screen again, and we as moviegoers got to experience their adventures with them."
Schmidt sees the Star Wars movie franchise as more than just an opera being played out in space.
"One has to look past the space ships, the creatures and the whole element of science fiction to truly see what's happening in Star Wars," said Schmidt. "Star Wars is about the search for who you are and discovering identity.
"At its core, I believe Star Wars a story about the journey we all take in life. In the original film ("Episode IV: A New Hope"), Luke Skywalker is this bored teenager who has no idea who is. He figures he's going to live the rest of his life on this desert planet drinking blue milk every day. He has no sense of anything beyond that, and then suddenly he discovers an identity he knew nothing about, and his life became larger and more meaningful.
"It feels like the same storyline may be playing out with the Rey character in the current trilogy."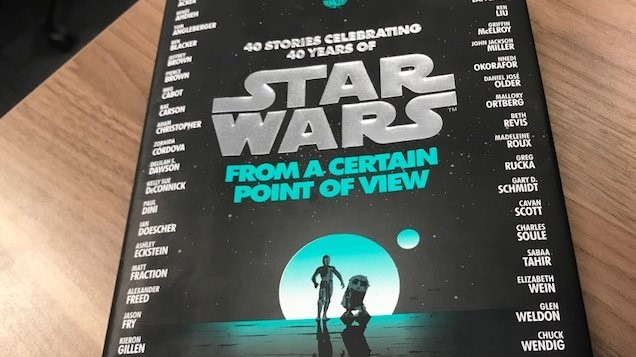 Despite his love for Star Wars, Schmidt never thought he'd ever write for the franchise, but that opportunity sought him out in 2015, through an extreme level of serendipity. A former Calvin student of Schmidt's, Elizabeth Schaefer, is a senior editor at Del Rey, a book publishing company in New York. Del Rey publishes Star Wars novels under the LucasBooks imprint (licensed from Lucasfilm). Schaefer told Schmidt that a book entitled, "Star Wars: From a Certain Point of View," was in the works.
The book would commemorate the 40th anniversary of Star Wars with 40 different stories from 40 different authors from around the country, with each story helping to fill in gaps and flesh-out storylines of certain characters the original movies didn't address. Once each story was approved by Lucasfilm, they'd become an official part of the Star Wars canon.
"Elizabeth asked me if I'd be interested in writing a chapter for the book," said Schmidt. "There was no way I could turn down an opportunity to write into the Star Wars world."
The folks at Lucasfilm collaborated to create the 40 stories they wanted each of the 40 writers to address.
"The idea was that the book would contain 40 stories, over the span of 40 years, all of which had to have happened," said Schmidt. "My assignment was to explain how Yoda finds out about the death of Obi-Wan Kenobi at the hands of Darth Vader."
Schmidt chose to use this opportunity to also address a burning, unanswered question he's had about the saga for 40 years.
"I have always wondered about Leia," said Schmidt. "Why isn't she trained in the ways of The Force, and why wasn't she able to become a Jedi Knight like her brother, Luke [Skywalker].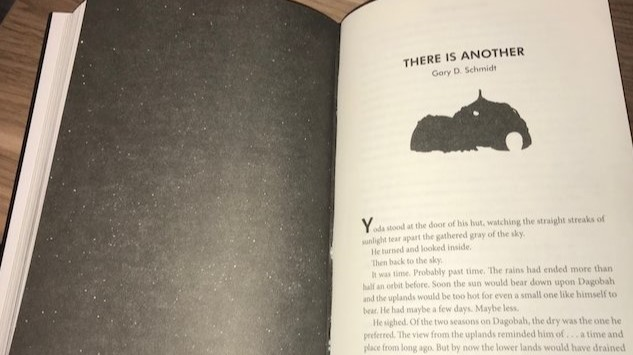 Schmidt's chapter in the book is called, "There is Another." It picks up with Yoda living in exile on the planet Dagobah. Obi-Wan comes to him in the form of a Force-Ghost, soon after his death at the hands of Darth Vader, revealing that he's passed on. Through the years, Yoda has always wondered what happened to the twins, Luke and Leia, but his interest was always training Leia in the ways of the Force, but Schmidt has Obi-Wan convince Yoda that Luke is the one who needs to be trained, and he's the twin who can bring balance to The Force.
"I have Yoda considering, 'If only, if only I had one more shot, one more Padawan, it would have been Leia,'" said Schmidt.
On his farm in Alto, Michigan, Schmidt had built a small hut. This hut is where he goes for solitude to write. The 60-year old also chooses not to use a computer, instead writing all his stories the old fashioned way - on a typewriter that was made in 1953.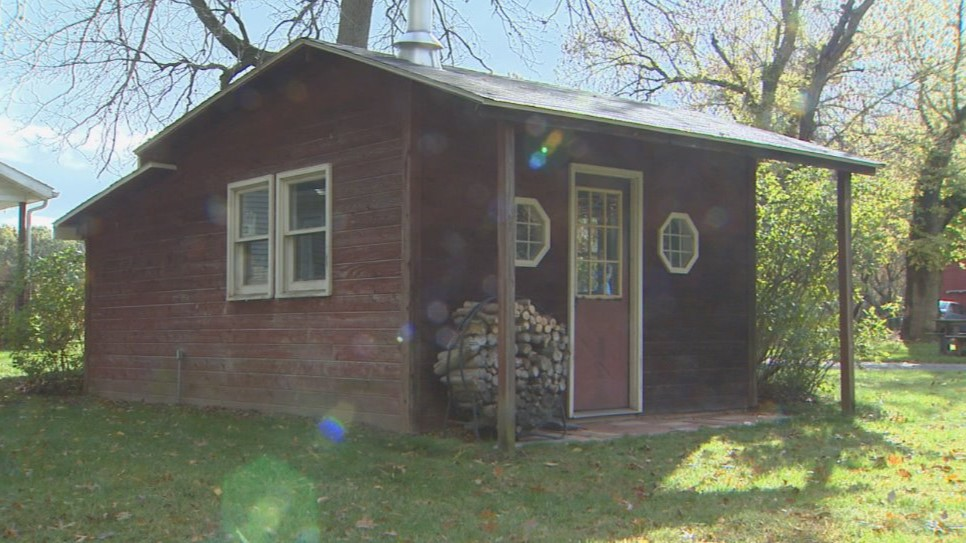 If Disney ever decides to do a one-off movie exclusively about the Yoda character, Schmidt says there's a likelihood the short story wrote for this book could be played out on the big screen.
"I supposed that could happen," said Schmidt. "Once something is set in the Star Wars canon, everything else has to take account of that."
Gary Schmidt hopes more books like "Star Wars: From a Certain Point of View" will continue to be written as the Star Wars saga goes forward. He also hopes that his work impressed the folks at Lucasfilm enough that if more books are scheduled that he'll be asked to write more for them.
"Oh my goodness, I'd jump at the chance again right away," said Schmidt.
"Star Wars: From a Certain Point of View" was published in October, and is currently available for purchase.
On a side note, typewriter ribbon for a 1953 Royal typewriter isn't easy to come by these days, so of anybody has any extra ribbon, Dr. Schmidt could use it. Feel free to send him an email if you can help, to schg@calvin.edu.