GRAND RAPIDS, Mich. — Thanksgiving is right around the corner and if you are still planning your holiday menu, take a cue from the 13 ON YOUR SIDE Mornings crew.
James, Kristin, Aaron, Shanna, Angela and Rhonda are passing along their family recipes in hopes of inspiring new traditions with your family.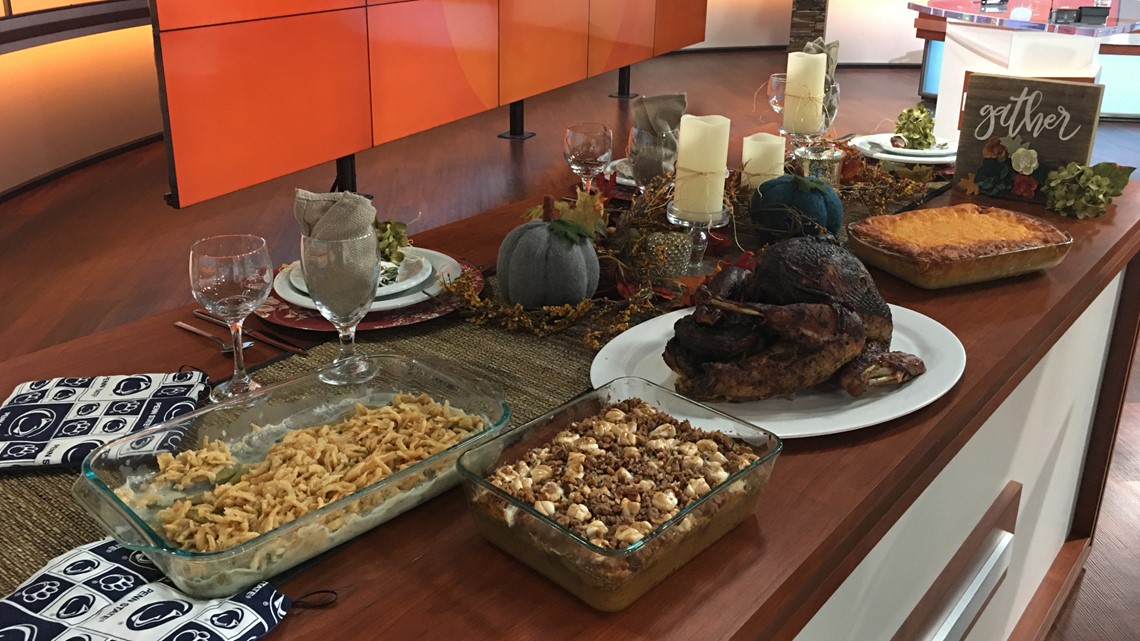 Green Bean Casserole
Recipe from Kristin Mazur. Serves 6.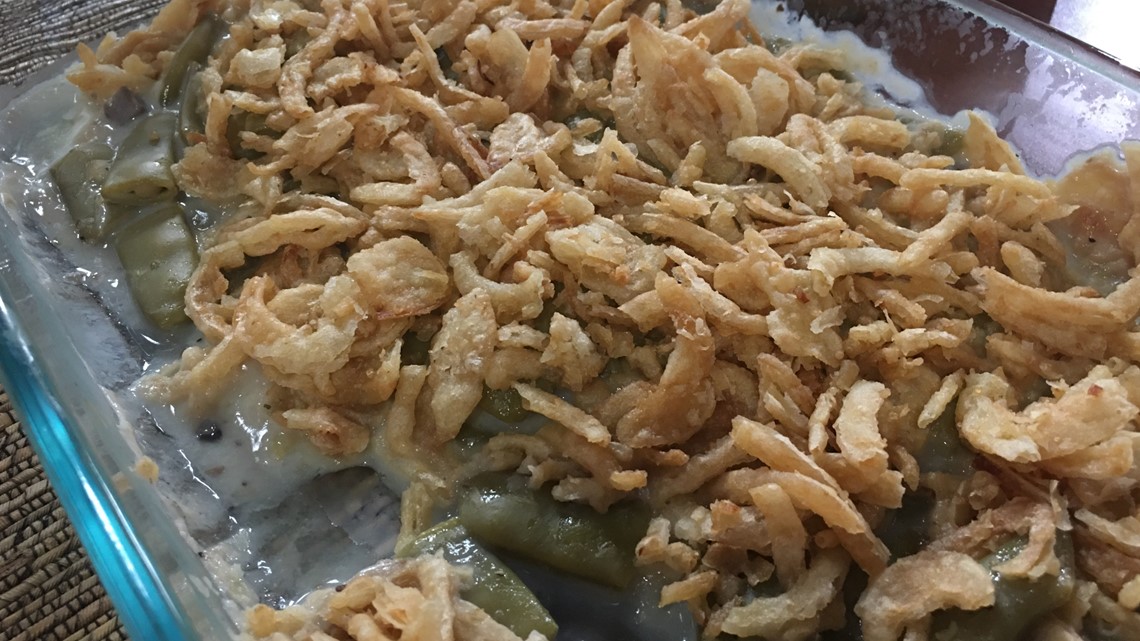 INGREDIENTS:
1 can (10.5 ounces) condensed cream of mushroom soup
3/4 cup milk
1/8 teaspoon back pepper, ground
2 cans (14.5 ounces each) of green beans
1 1/3 cups of crispy fried onions
INSTRUCTIONS:
Preheat oven to 350°F.
Mix soup, milk and pepper in a 1 1/2-quart baking dish.
Stir in beans and 2/3 cup crispy fried onions.
Bake 30 minutes and stir.
Top with remaining 2/3 cup onions.
Bake 5 minutes until onions are golden brown.
Southern Style Mac n' Cheese
Recipe from Rhonda Spencer.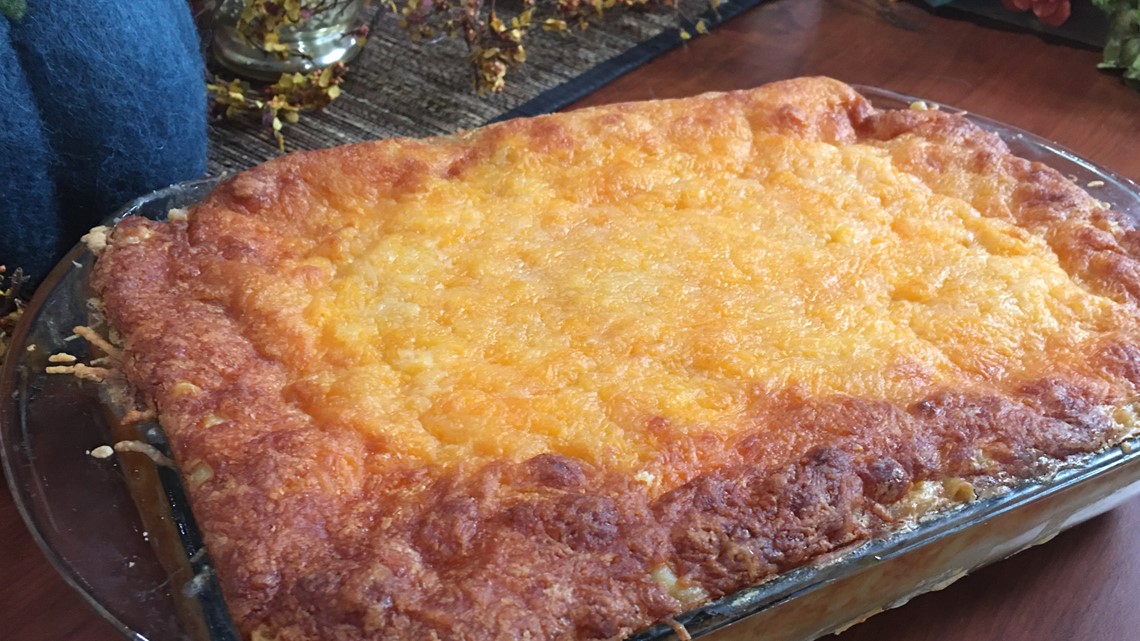 8 oz American cheese
8 oz Cheddar cheese, sharp
8 oz Colby jack cheese
4 oz Cream cheese
1 cup Half and half
1 cup Heavy cream
8 oz Mozzarella cheese, part-skim
2 Eggs, large
1/2 tsp Paprika, Smoked
1 tsp Garlic powder
1 tsp Onion powder
1/4 tsp Mustard powder
16 oz Elbow macaroni
Kosher salt and freshly cracked black pepper - to taste
1. Preheat oven to 350 degrees F. Butter an 8x11 baking dish and set aside.
2. Cook pasta just under al dente.
3. In a large bowl, mix the half and half, heavy cream, half of the cheddar cheese, half of the Colby jack cheese, all of the mozzarella cheese, all of the American cheese, and all of the cream cheese.
4. Add seasonings and eggs until well incorporated.
5. Add the drained pasta to milk, cheese and egg mixture. Mix well.
6. Top the macaroni evenly with the rest of the cheddar cheese and colby jack cheese.
7. Bake the pan for 35 minutes or until the nicely browned.
Cherry Cheesecake Pie
INGREDIENTS:
1 8-ounce package cream cheese, softened
1 14-ounce can of Sweetened Condensed Milk
1/3 cup Lemon Juice
1 Teaspoon Vanilla extract
1 Graham Cracker Ready-Crust pie crust
1 Can Cherry Pie Filling
INSTRUCTIONS:
In a medium bowl, beat cheese until light and fluffy. Add sweetened condensed milk and blend thoroughly.
Stir in lemon juice and vanilla.
Pour into crust.
Chill at least 3 hours or until firmly set.
Top it with the cherry pie filling (only after it is firmly set) before serving.
Not Your Mother's Brussels Sprouts
Recipe from Aaron Ofseyer.
INGREDIENTS:
1 1/2 pounds Brussels sprouts, trimmed and cut in half through the core
1/4 cup good olive oil
Kosher salt and freshly ground black pepper
1 tablespoon syrupy balsamic vinegar
INSTRUCTIONS:
Preheat the oven to 400 degrees.
Place the Brussels sprouts on a sheet pan, including some of the loose leaves, which get crispy when they're roasted.
Add olive oil, 1 1/2 teaspoons salt, and 1/2 teaspoon pepper, toss with your hands, and spread out in a single layer.
Roast the Brussels sprouts for 20 to 30 minutes, until they're tender and nicely browned.
Toss once during roasting.
Remove from the oven, drizzle immediately with the balsamic vinegar, and toss again.
Taste for seasonings, and serve hot.