GRAND HAVEN, Mich. — September is Suicide Prevention Awareness Month and local non-profit Mosaic Counseling is working to support this multifaceted issue. This month, they are offering five free suicide prevention trainings in person and online.
"Suicide prevention is really about everybody, knowing what things to look for in their family, in their friends, and signs that they could be depressed or hopeless," said Executive Director Sarah Lewakowski. "This program empowers them to ask questions and refer someone to help."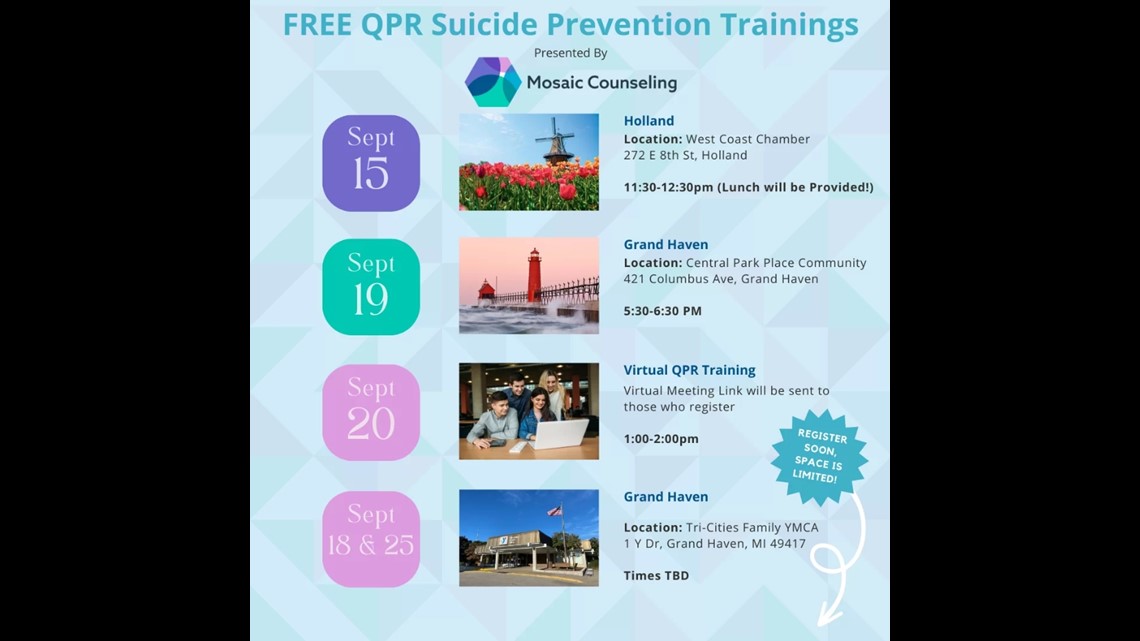 The first training is Friday, Sept. 15 in Holland at the West Coast Chamber from 11:30 a.m. to 12:30 p.m. Lunch will be provided. Additional training is being offered both in-person and virtually. Click here to register.
Programs like this are possible through fundraising events held year-round. Mosaic Counseling's next event is being held on Nov. 2 at the Grand Hall. Called "An Evening at Tiffany's," the event is a glamorous evening of fashion with food, cocktails, sweet and savory bites, music and more.
Doors open at 5 p.m., and the fashion show begins at 6 p.m. General admission tickets cost $100 and include a swag bag and $10 coupons for each presenting store: Down to Earth, Earth's Edge, Alegria, and Buffalo Bobs. It's suggested that you wear a little black dress or a suit!
Click here to donate to the silent auction. All donations support Mosaic Counseling's Mental Health Services, School Outreach Program and Suicide Prevention Training.