MUSKEGON, Mich. — A set of fans were working overtime Wednesday afternoon as a few dozen students gathered inside Muskegon High School to create an art project made of paint and glitter — lots and lots of glitter.
"We are preparing decorations for the Pride Parade. We have a bunch of pins and flags. I'm really excited for the Pride Parade and how it's going to look. It's really exciting. I've never been to a Pride Parade before," said Muskegon sophomore Ethan Brewer.
Ethan is a member of just one of several Gay-Straight Alliance (GSA) clubs from schools across Muskegon County to decorate a float for the parade.
"We get to be all together as one giant community and just contributing and helping out," said Muskegon sophomore Mars Pierce.
The Muskegon Pride Festival will take place on June 3. It's the second year for the event, but this is the first time it will include a parade. That parade starts at 10:30 a.m. at the corner of 7th Street and Western Avenue.
"It means a lot. I've never seen something personally on this scale. I've always seen on the news that there's been a Pride Festival in like California or something, but I never thought it could happen here in Muskegon," said Muskegon freshman Alyxander Buckner.
For many of these students, pride is all about showing people in the LGBTQ+ community that they're loved.
"Pride is just a beautiful thing and we deserve to have this. It's welcoming and loving and it's just a really important message to know that you are loved and accepted. That's what pride is all about," said Muskegon freshman Knox Pierce.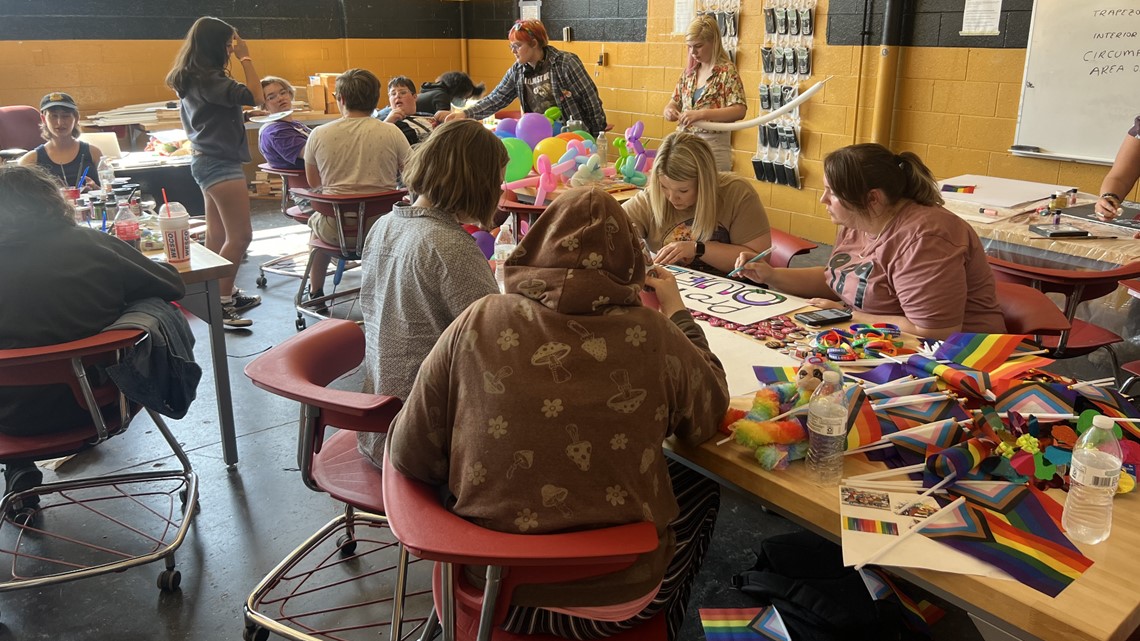 Some of the GSA organizations that showed up on Wednesday are fairly new, and decorating the float was one of their first official events outside of meetings.
"We came together in 2021 to start doing meetings and I was able to bring us together with our counselor at our school to start this GSA so that we'd be able to have a safe space at Ravenna for our LGBTQ students," said Kyren Passenier, a recent graduate of Ravenna High School.
Now that Passenier has graduated, junior Jester Baxter is hoping to help continue the GSA at Ravenna.
"It's super important to me to let people know that there's a safe space, even in such a small community like Ravenna, and that there's people that they can come to when they might not have support in other areas."
Another GSA in its infancy is the one at Oakridge High School. It started this year and junior Caleb Ogren is hoping it can help bring visibility and acceptance to LGBTQ students at Oakridge.
"We just want people to know that we are here and we are trying to just live our lives and we just need support from the people."