PORTAGE, Mich. — Less than a month into his presidency, President Joseph Biden made a trip to Michigan to tour a COVID-19 vaccine production facility and stressed the safety of the shot.
Friday afternoon, Biden toured the Pfizer manufacturing site in Portage, just outside of Kalamazoo. Pfizer and its German partner BioNTech have supplied the U.S. with 40 million doses since it first started distributing in mid-December.
"This a case of life and death we are talking about people's lives," Biden said as he took the podium after touring the facility and meeting with employees.
The president said he came to the state to thank Pfizer employees, Gov. Gretchen Whitmer, who accompanied him on the tour and others who have contributed to the vaccine rollout. He also stressed his plans to bolster vaccine administration and called on Congress to pass his nearly $2 trillion relief plan, which includes funds for vaccination efforts and stimulus checks.
"We're now on track to have enough vaccine supply for all Americans by the end of July," he said during his brief remarks. "It doesn't mean it'll be in all Americans arms, but enough vaccine will be available."
Biden stressed that he couldn't give a timeline for when he hoped to have vaccinated 70% or more of the population.
"This is going to be a continuous rolling effort," Biden said. "Over 600 million doses by the end of July, July 29 is the expected date. But, that could change," Biden said. "Look what's happening with the weather now for example it's slowing up the distribution, right now."
Extreme winter weather dealt a blow to the Biden administration's goal of speeding up the vaccine rollout, as shipments have been delayed all week out of the Kentucky and Tennessee-based distribution facilities.
White House coronavirus adviser Andy Slavitt said Friday that the weather has led to a three-day delay in shipping vaccine, or about 6 million doses, The Associated Press reports.
Slavitt said the vaccine won't spoil and is "safe and sound" in warehouses.
Michigan shipments were slowed as a result of the weather-caused delays. The state health department this week encouraged people to confirm their vaccine appointments before arriving, as a result.
But, most important, Biden said, is that people get the vaccine when they are able.
"If there's one message to cut through to everyone in this country is this the vaccines are safe. Please, for yourself, your family, your community, this country. Take the vaccine, when it's your turn and available. That's how to beat this pandemic, we're making progress
The president arrived at the Kalamazoo-Battle Creek International Airport around 1:45 p.m. Over a hundred people gathered to watch him arrive, including a group of demonstrators protesting the coup in Myanmar.
"We just want to welcome him, and then also we just want to ask for help, do something for Burma," said Tin Wim, who left the Southeast Asian country under similar circumstances decades ago. "A sanction is not enough for the military regime, right now."
Wim said him and others who joined him Friday are hoping the new generation can promote peace.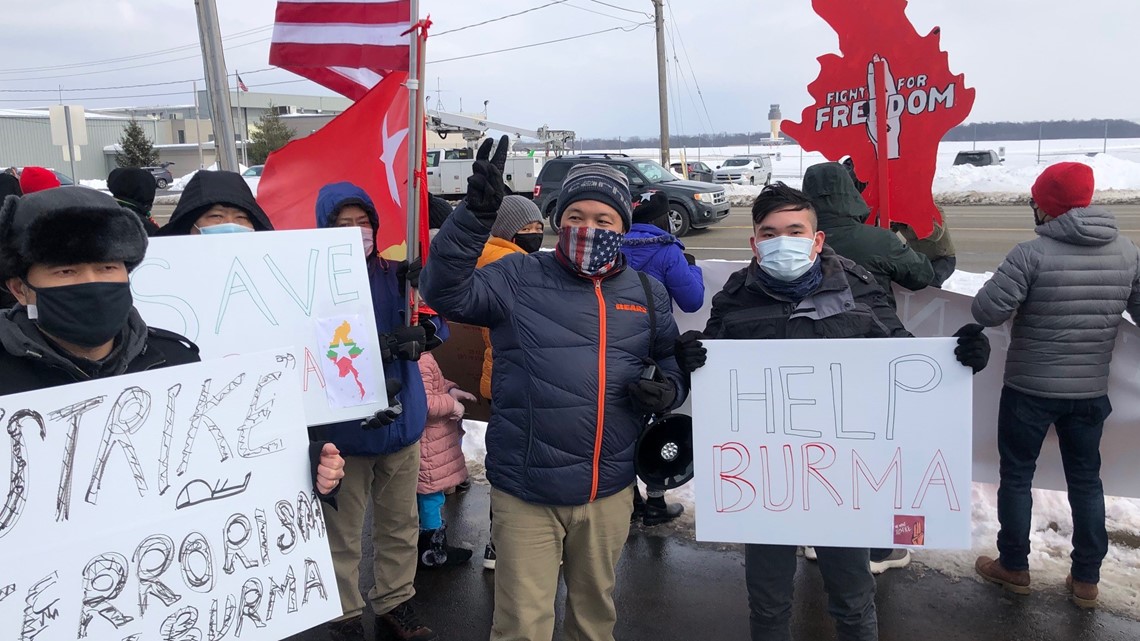 Carmen Gomez, a Portage resident, said she'd met Biden when he was on the campaign trail with former President Barack Obama.
"Oh my God, I am so excited, I can't believe he's coming here again," Gomez said.
Her husband used to work at the Pfizer plant. She said it's been a point of pride for the area.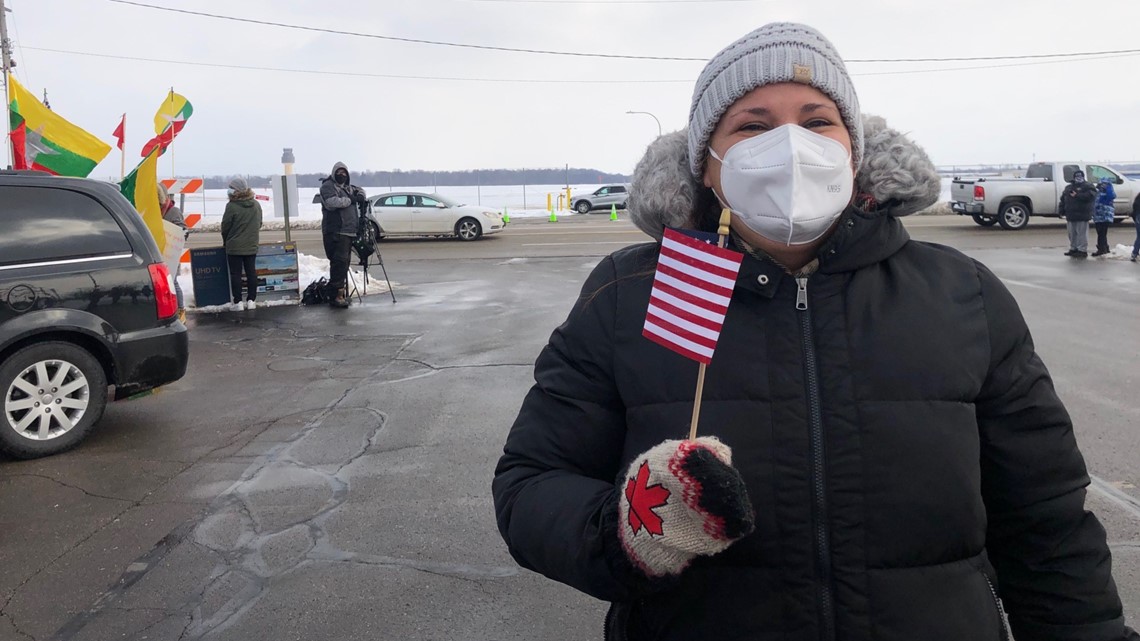 This trip was originally scheduled to take place Thursday, Feb. 18 but was postponed to Friday due to inclement weather.