WASHINGTON — Democratic House prosecutors made an expansive argument Thursday at President Donald Trump's impeachment trial that he abused power like no other president in history, swept up by a "completely bogus" theory about Ukrainian interference in the 2016 election.
The Democrats say that led Trump to demand that Ukraine investigate his rival Joe Biden — while he withheld crucial military aid as leverage. They said "no president" has ever abused power the way he did toward Ukraine.
The day ended with a passionate plea for senators to remember two words: "right matters."
Laying out its case for why Trump should be removed from office, the prosecution also used the words of some Trump supporters. In one instance, they played a video of Sen. Lindsey Graham from the 1999 impeachment trial of President Bill Clinton. Graham was a House member then and one of the managers prosecuting the case. Graham argued then that no crime was needed for impeaching a president. Trump's defense team is now arguing that the impeachment articles against him are invalid because they do not allege he committed a specific crime.
Prosecutors also relied on the same loops of videotaped testimony after Trump's allies in the Republican-controlled Senate blocked new witnesses.
The repetition as well as the long hours in back-to-back days of proceedings have left some senators yawning, stretching and pacing.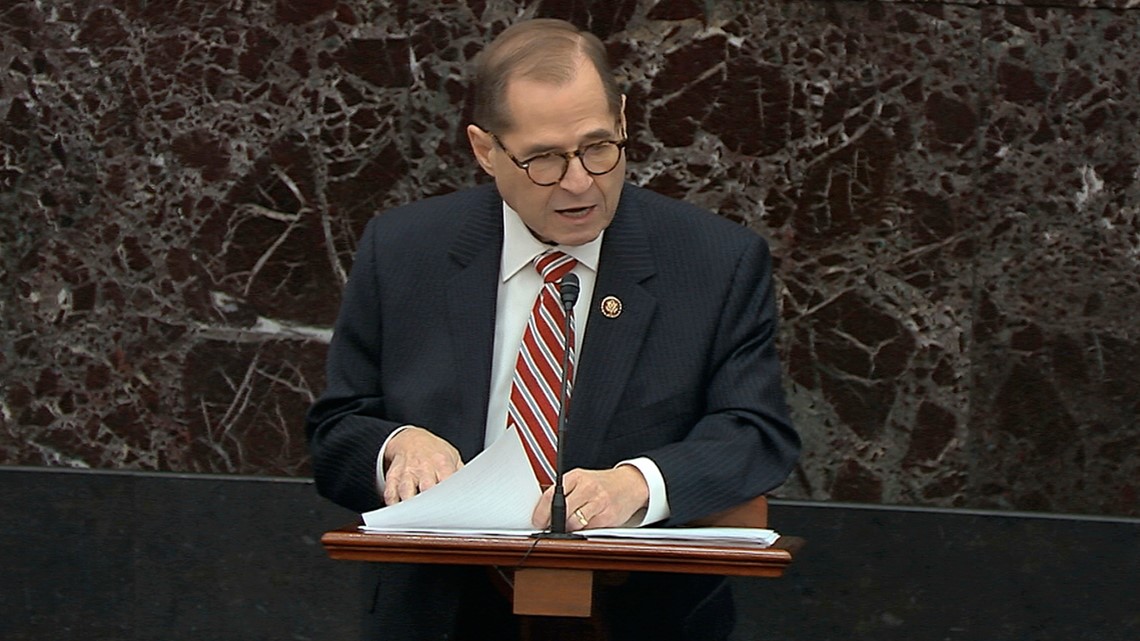 Sen. Roy Blunt, R-Missouri, praised the Democrats' presentation, but said, "There's just not much new here," according to the Associated Press.
Every Republican, including Blunt, voted Tuesday to table allowing new witnesses to testify and documents to be subpoenaed -- all of which likely could have brought new material to the trial. Those subpoenas may be voted on again later.
The day ended with House Intelligence Chairman Adam Schiff, D-Calif, telling senators in a late-night speech that "right matters." It was a quote from Army Lt. Col. Alexander Vindman, who testified in the House hearings. "Otherwise we are lost."
Schiff also warned that if Trump is not removed from office, he will do it again.
"And you know, you can't trust this president do what's right for this country. You can trust he will do what's right for Donald Trump. He'll do it now. He's done it before. He'll do it for the next several months. He'll do it in the election if he's allowed to," Schiff said.
Friday will be the House's last day of opening statements.
Trump's defense team will have 24 hours over the course of Saturday, Monday and Tuesday to make their opening statement. The Senate will not be in session Sunday.
Trump was impeached by the House last month for allegedly abusing his office by asking Ukraine to investigate Biden while withholding crucial military aid. And he was impeached for blocking the House from seeing documents or hearing from witnesses with direct knowledge.
Republicans have argued the impeachment was politically motivated and say what Trump did does not rise to the level of impeachment.
It's still not clear if senators will vote to hear from new witnesses including former national security adviser John Bolton. What is clear is that Americans want to hear from more witnesses with direct knowledge.
A new Reuters/Ipsos poll finds 72 percent of Americans agree that the trial "should allow witnesses with firsthand knowledge of the impeachment charges to testify." Reuters reports that includes 84% of Democrats and 69% of Republicans. An Associated Press/NORC poll had a similar response, with about 7-in-10 Americans calling for direct witnesses including majorities of Democrats and Republicans.
Seventy percent of Americans in the Reuters/Ipsos poll said senators should "act as impartial jurors," including 80% of Democrats and 73% of Republicans. All senators swore an oath to do impartial justice. However, Senate Majority Leader Mitch McConnell publicly stated weeks ago he would not be impartial.
Forty-four percent of Americans in the Reuters/Ipsos poll and 45% in the AP/NORC poll say Trump should be convicted and removed from office.
Schiff acknowledged Wednesday the case is dealing with two juries -- the senators and the American public.
"The American people are watching. The American people are listening. And they do have an open mind," Schiff said.