GRAND RAPIDS, Mich — Every 90 seconds a home fire starts somewhere in the United States. This week, National Fire Prevention Week, fire fighters across the country are educating people on ways to prevent those fires and how to survive them when they occur.
According to the National Fire Protection Association (NFPA), every three of every four fire injuries and 80% of fire deaths are caused by home fires. That's an average of seven people dying in a house fire each day.
"People should not only be practicing fire safety in their homes, but also practicing fire escape drills," he said.
And, that's the message behind this year's theme for National Fire Prevention Week: "Not Every Hero Wears a Cape. Plan and Practice Your Escape!"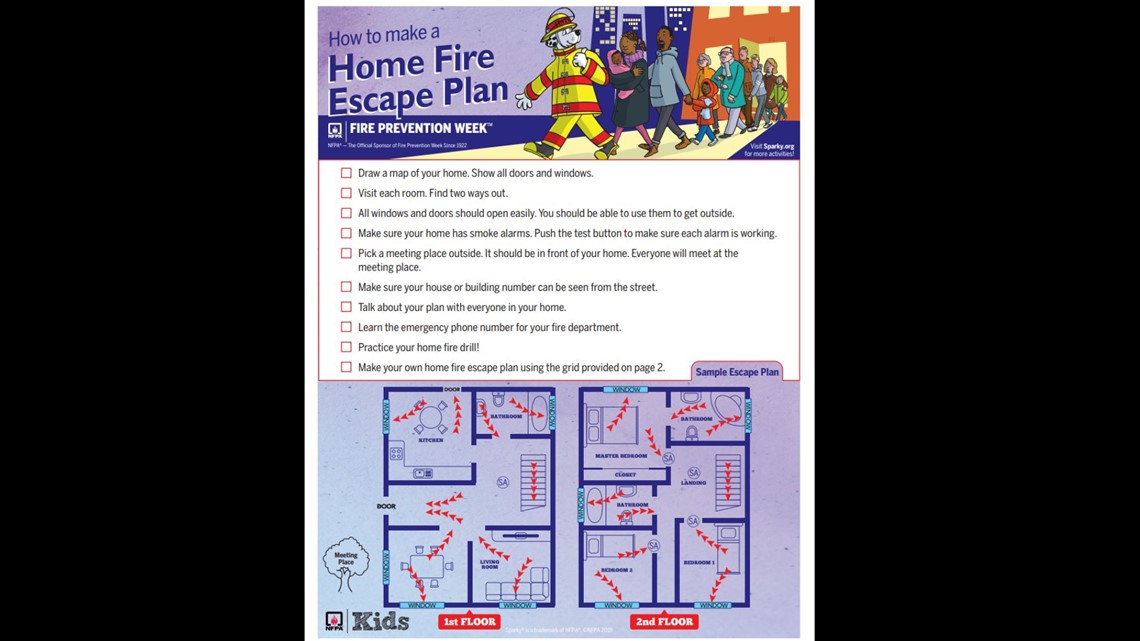 Sehlmeyer says, too often, people underestimate how quickly fire and smoke can spread in their homes. Seconds could be the difference between life and death.
"One of the things we are finding is you have less than three minutes to get out of your house. This has been shown time and time again," says Sehlmeyer. "That smoke building up in rooms, faster and darker, makes it hard for you to see. The other thing that happens is the displacing of oxygen. You can have the intention of moving toward your exit and getting out, but the oxygen levels are dropping and eventually you will pass out."
He says he's investigated numerous fatal fires where people perished just before reaching safety.
"We have to change things up a little bit. We have to talk about closing the door and compartmentalizing the fire so you can increase your family's chances of survival," says Sehlmeyer.
Sehlmeyer joins fire safety advocates and fighters across the nation urging people to craft plans to escape a house fire and then practice... practice... practice.
"This is an opportunity for your family to get together to talk and to say, 'if this happens then we will do that.' So, if a fire does occur, they can put that plan to work," he says.
A fire escape plan should include the following: a map or sketch of the house; two identified ways out of each room; a detailed escape route and a designated safe meeting place outside of the home. Experts say families should practice fire drills at least twice a year. And, they suggest families routinely check to make sure their smoke alarms are working properly.
NFPA recommends each home has "working smoke alarms on every level of the home, in every bedroom, and near all sleeping areas."
"Think about things you can do around your home to make it safer," she said. "For example, not leaving cooking unattended and making sure the multi-sixers where you connect your plugs is a good one, because that is where fires start."
In fact, a recent report showed "cooking equipment was the leading cause of home structure fires and home fire injuries and the second leading cause of home fire deaths" between 2012 and 2016.
Acton says part of their mission is to help fire fighters spread the message of fire safety and prevention.
"Many of them were instrumental in saving us," she said. "We want to give back and add our voice to their important work and to keep them safe. They don't like to be called heroes but many of them are going into the fires when we are going out. It is our duty as a community to get out. Practice your escape and be out of the house so they don't have to go in."
You can find more information on Fire Prevention Month, including fun exercises for your family, here.
Also, the Grand Rapids Fire Department is inviting the public to visit 10 of its fire stations as part of Fire Prevention Week. These open houses are great opportunities for residents to stop by and meet their neighborhood firefighters - as well as learn about fire prevention. The open houses will be held from 6 p.m. to 8 p.m. Wednesday October 9th at the locations below:
Bridge Street Fire Station
Burton Street Fire Station
Chester Street Fire Station
Covell Avenue Fire Station
Division Avenue Fire Station
Franklin Street Fire Station
Kalamazoo Avenue Fire Station
LaGrave Avenue Fire Station
Monroe Avenue Fire Station
Plainfield Avenue Fire Station
The Leonard Street station will also have an open house on Saturday, Oct. 12 from 1 to 3 p.m.